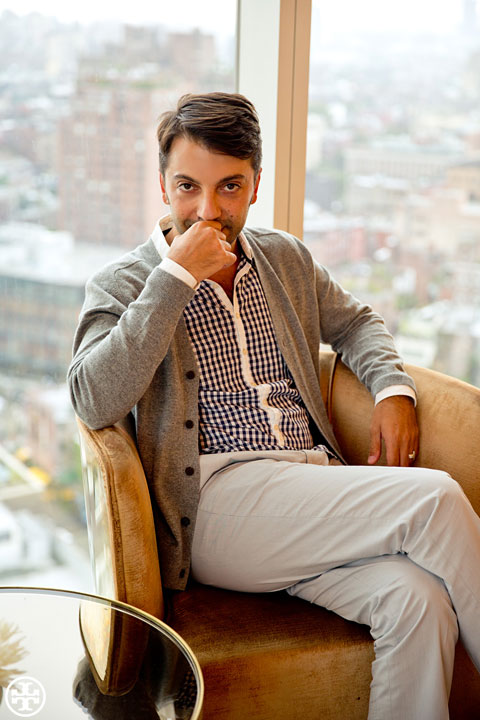 The one name to have on speed dial if you want in on chic after-dark action during Fashion Week? Joey Jalleo, Director of Special Projects at The Standard Hotels and overseer of the Top of the Standard, a.k.a the Boom Boom Room — the spot, 18 floors above the High Line, where models, musicians and designers alike go to burn off a little steam after the lights go down on the runway. Here, Joey tells us how he got his start and gives us a glimpse into his glamorous go-go life — including a tale of one-on-one dancing with Madonna.

Fashion Week in New York is…
One of the city's most exciting times. You don't get that kind of convergence of city-wide energy at any other time of the year.
Most anticipated opening this Fashion Week…
I'm very excited about the new Standard, East Village. The hotel is almost ready. The rooms are being redone, and they're beautiful. The garden is partially open and so lovely for a glass of wine and a small bite. But the most exciting part is later in the season when the café and restaurant come to life. You're going to die for the chicken.
Favorite Fashion Week memory…
When I first moved to NYC in August 1996, I had plans to become a buyer and to one day sit front row. That September, I went to Bryant Park and stood outside the tents to take in the spectacle. All I wanted was to be inside. Right at that moment, the booming bass from inside one of the tents, signaling the start of whichever show was taking place, pummeled me. My heart pounded, my mind raced and all I wanted to do was to rip through that tarp and catch a glimpse of what was happening inside. I guess you really do have to be careful what you wish for.
Wildest night ever during Fashion Week…
It was September 12, 2009. We opened the Boom Boom Room that night.
My Fashion Week playlist…
If I told you, you'd laugh at me, so let's skip this question.
Cocktail of choice…
There's only one go-to for me: Belvedere martini. Up. Slightly dirty. One olive.
Dream dance party guest…
I once danced one on one with Madonna in the Boom Boom Room to her song Celebration. I stopped dreaming about dance party guests after that.
Nightlife icon…
In general, it would have to be Steve Rubell of Studio 54, only because I wish I could have experienced that New York moment in time. For me personally, it's definitely Amy Sacco of Bungalow 8. Those late nights that we shared together in the early aughts were some of the best of my life. If only I could remember them though…
And style icon…
Not to be cliché, but Steve McQueen really does it for me. I've never been one for suits and jackets — his understated sense of casual style is what I aspire to.
Tips for entry into the Boom Boom Room…
Most people don't know that we open at 4 PM for sunset cocktails, which I personally prefer over late night. There's an incredible supper menu in the room and we have a robata grill on the roof. But if you're still intent on getting in after 11 PM, I would dress the part, be nice to the door girls and have an even ratio of boys to girls.
If I'm looking to escape the crowds…
One of my favorite spots in the city is The Frick Collection. It houses the largest collection of Vermeers in the world. It's never crowded, and it's never overwhelming. I just go there there and lose myself in its rooms and my fantasies of what it would be like to have lived in that mansion.
Fashion Week survival must…
I've recently started to practice meditation.  It really does set the tone for the day. I also keep a tube of Berocca tablets in my bag at all times. And if I need to keep up with everything we're doing, when I can't keep up with everything we're doing, I read Standard Culture for the most up-to-date happenings of downtown Fashion Week. How's that for a shameless plug?!
Join the conversation on Twitter, Facebook, Pinterest and Instagram: #toryspring14 #nyfw
More to explore in
Entertaining