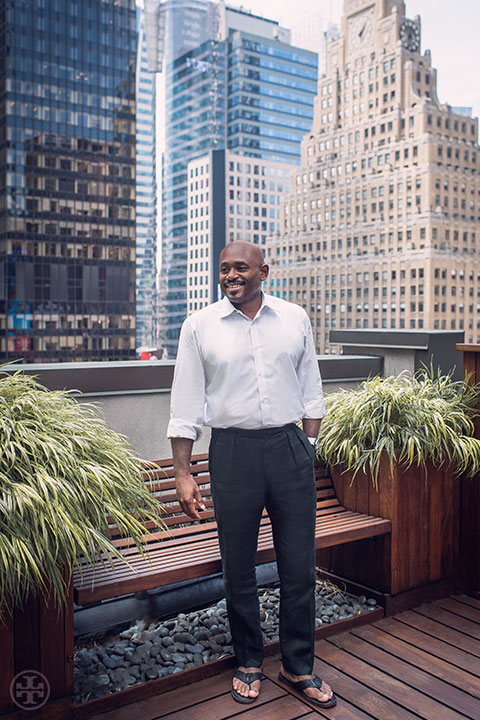 The former music executive and founder of pioneering ad agency Translation (his business partner is Jay-Z) lays out his best business advice and his favorite artists.
When starting a company you must…
Have full understanding of what success looks like. You must be able to stay focused on that goal and not let the noise of naysayers disturb your path.
The best business advice I've ever received is…
"Don't look for love in all the wrong places." My mentor and friend Jimmy Iovine used to tell me this all the time. He was referring to your preconceived notions of what you want versus what you're willing to do to find it.
I love what I do because…
I'm making a difference; the impact of my contribution has significantly merged the worlds of entertainment and advertising. I dreamed that this could happen, and now we're living in that world — which is why I named my company Translation 10 years ago.
Never be afraid of…
Following your gut instinct. Not following your gut instinct is the biggest risk you can ever take.
My best talent is…
Knowing what I don't want.
My biggest challenge is…
By far, working on my patience.
I have overcome this by…
Therapy and trusting the process.
The secret to getting my point across in 30 seconds is…
Storytelling — people love stories and the cadence of a great storyteller. It makes the 30 seconds memorable.
The best, strongest message is one that…
Deals with human insight and is transparent and truthful.
The album that changed my life…
Lovers Rock by Sade. It's when I first heard a voice that made me say, "I need this in my life."
My first concert was…
Going to see Janet Jackson and sneaking in to the after-party at 21 Club, knowing one day I would be invited.
The artist I most admire is…
Beyoncé. She is simply the hardest-working, most detail-oriented artist I have ever seen. She is a classic perfectionist. Coldplay's Chris Martin is one of the most culturally curious people you will ever meet. He is constantly looking for new ways to change music and sound. I have much respect for his craft.
Three album covers I'd hang as art on my wall…
On the 6 by Jennifer Lopez — she looks outrageous. Illmatic by Nas — just simple and smart to use his photo as a baby, ghosted over the housing projects he grew up in. Midnight Marauders by A Tribe Called Quest — brilliant and high concept.
New favorite commercial…
The Close Call by BMW 3 Series.
More to explore in
Experts