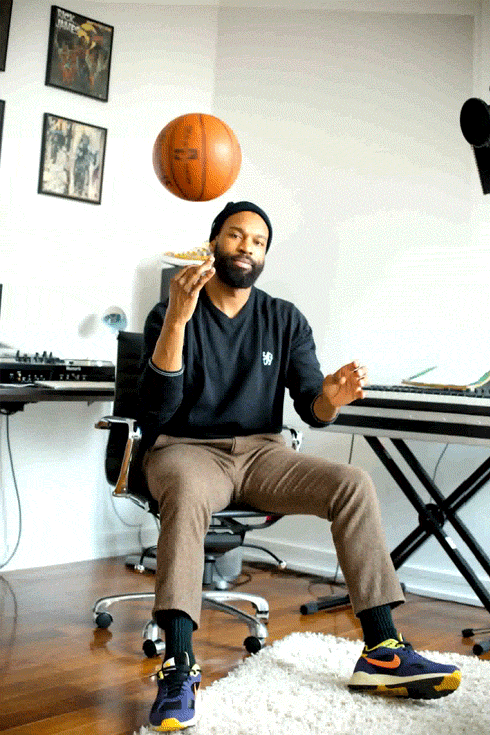 We chatted with the Knicks guard — host of a new Esquire Network style series this summer — about being an L.A. son in NYC, his nonprofit Rising Stars of America and a beloved pair of kicks.
Welcome to New York! When you're homesick for L.A., what do you do?
I haven't found that place yet. I walk around in TriBeCa. It has a Santa Monica feel to it. It's hard to find a place. I wish I had more time to spend in Central Park. I'm fascinated by it. There's a zoo! It's beautiful and it's in the middle of the city. Where can you find something like that?
Favorite neighborhood place?
The Hideaway, a little sports bar. I like Sarabeth's. The Greenwich Hotel. Hugh Jackman's coffee shop, Laughing Man. Nobu.
Favorite places to shop…
I guarantee you this — I can find something to buy in any store.
What's the story behind the gold sneakers on the speaker behind you?
These are a gift from a friend. She made me a special pair for the Knicks and the L.A. Unified, which I started. It's complicated. I was in Africa and I was thinking about how I can give back — how do you create a Movement? I called my brother who plays for the Sacramento Kings. Our city has no Magic Johnson. We're all pros. We need to do something. We came up with the name L.A. Unified. It's a collection of athletes and celebrities, and we're trying to do the same thing that the Garden of Dreams Foundation is doing.
Your brother plays basketball, too?
I was raised by all women, so when I meet a guy, we are all brothers. If you're going to do something in L.A., whether you're an all-star, you play overseas or whatever, we all support each other. We all go to Benihana together.
How long have you played basketball?
Since I was three. I've always played. It was my escape. Growing up in South Central L.A. was intense. There's a lot of tension; it was my place of refuge. I was raised by my grandparents. My grandfather built me a court when I was young. I loved my grandfather. He loved baseball. He hated basketball. I'm a huge Dodger fan because of him. I was not good at baseball.
What was behind the launch of your nonprofit foundation, Rising Stars of America?
I am committed to giving back to the community and want others to be given the same opportunities I was given as a young boy. The game of basketball provided me with many experiences and opportunities and I want to provide the same opportunities for others.
And how did you get involved with MSG's Garden of Dreams?
I wanted to do something to give back to the kids. The good thing about kids is that they're honest. You have to win them over. They know if you're just doing it for the press or if your heart is really into it.
What kinds of things do you do with them?
We went the Rockettes show. We went backstage and met them. We went to a Knicks game. Before the game, I let them take shots.
How would you describe your style?
I like time periods more than a particular style, like the Twenties, Sixties and Seventies.
Who are your style icons? I'm noticing a wall of your favorite musicians here….
Michael Jackson, I would say, when he was young. Anyone on my wall — Marvin Gaye, Bob Marley, Miles Davis. These are my fashion icons… except for Rick James. That's a good in-house outfit. Can you imagine if you walked in and your man was dressed like that?
Who are your favorite musicians?
John Lennon, Amy Winehouse, Aretha Franklin, Janis Joplin, Tupac.
You're a musician?
I DJ. I really enjoy that. I write songs. I will do parties.
And if you didn't play ball…
I'd be an entertainer. I think I can be kind of funny.
More to explore in
Experts