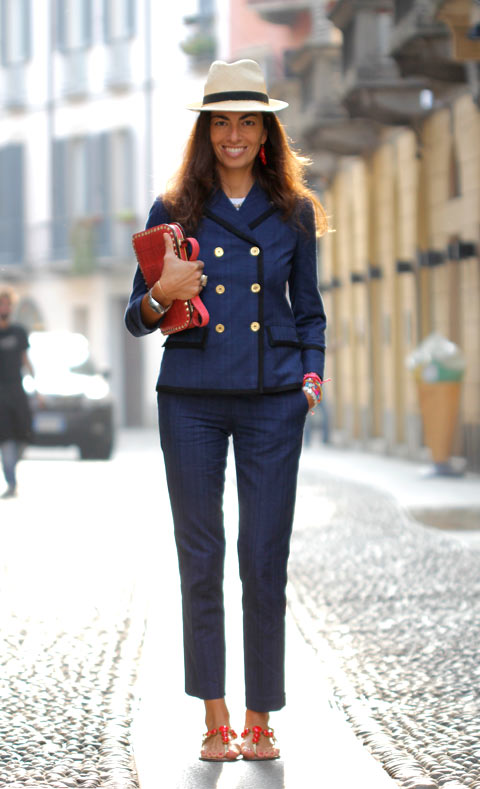 The Milan-based stylist and Contributing Fashion Editor for Vogue Brazil on Italian style and the menswear look.
My style is…
A happy and sunny Italian-Seaside Mood.
My fashion motto…
A big smile is the best accessory.
I love menswear-inspired fashion because…
A woman in a tailored style can have the greatest allure.
My style tips to wearing this look…
Avoid skinny pants. Remember hands in the pockets.
When it comes to accessories…
Wear a sporty men's watch, a big one or an old one.
And for evening I wear…
A smoking jacket like a dress — like this one from YSL. It's one of my masterpieces.
Favorite menswear-inspired style icons…
Lauren Hutton, because she is conscious of her age and her beauty. And Iris Apfel, because she goes crazy and always wears flats.
Favorite fashion blogs…
The one by Garance Doré — she's a dreamer, she's a fashion novelist, she's the one.
The movie that shows Italian style the best…
I am Love by Luca Guadagnino. It's a picture of chic and sophisticated Italian bourgeois style.
The one thing every Italian woman has in her closet…
Something from her mother's closet. Italian style is all about heritage.
The best (non-fashion week) scene in Milan is…
Salone Internazionale del Mobile in April. During those days there are the best and coolest people from all around the world. It's much more democratic than fashion week — all the events are free and open to everybody. No invitations, no fake exclusivity.
And the best place to be seen…
In front of your house door, when you're putting the key inside the keyhole, that second before you go inside your home to be happy and relaxed. This means that I hope there's no place where you want to be seen because, if you want to be seen, there are some problems.