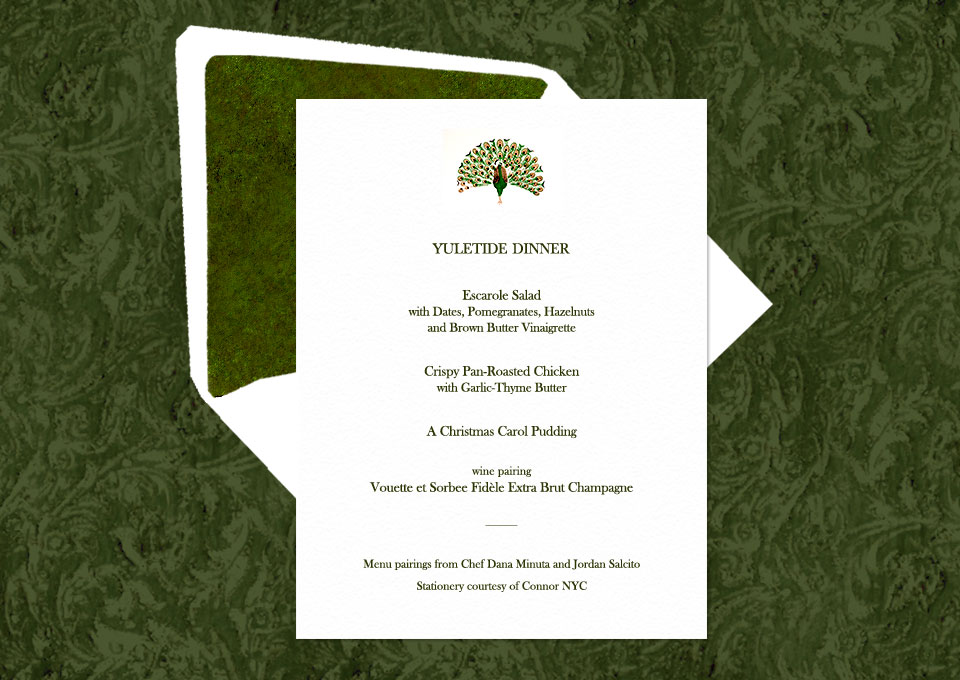 Holiday meals have always been about more than just great food. There are the memories and stories that go with them, like with the two recipes below. Lorraine Wallace's roast chicken is part of an almost decade-long tradition with her husband
Chris
. Every single Saturday night, before he goes to sleep early since he hosts Fox News Sunday, she prepares him a chicken dish for dinner. (Her book
Mr. Sunday's Saturday Night Chicken
has another 100 recipes.)
Then there's a special Yuletide pudding, straight Tory's favorite holiday book, Charles Dickens' A Christmas Carol. It's from the scene in which Mrs. Cratchit caps off her holiday feast with a show-stopping pudding "blazing in half of half-a-quarter of ignited brandy." We asked Yummy Books blogger Cara Nicoletti — who recreates literary dishes, like the lemon soufflés from Evelyn Waugh's Brideshead Revisited — to reconstruct the recipe (sans the brandy fire hazard). "The creepy coziness of Dickens," says Cara, "is enough to put even the bah-humbugiest among us in the mood for some holiday cheer."
If you're looking to tackle your own fictional foods, "don't get too caught up on following the author's exact words," she adds. "Use your imagination and creativity to make something that you will actually enjoy eating. Have fun with it." After all, those are the memories you'll remember.

Crispy Pan-Roasted Chicken with Garlic-Thyme Butter
One 3 1/2-lb whole chicken
1 tablespoon coarse salt
1 tsp freshly ground white pepper
2 tbsp extra-virgin olive oil
2 tbsp unsalted butter, at room temperature
1 tsp minced garlic
2 tsp finely chopped fresh thyme leaves
1 tsp finely chopped fresh rosemary
1 tsp finely chopped fresh oregano
Preheat oven to 400° F. Remove breastbone, backbone and wing tips of chicken. Cut remaining chicken into four pieces. Rinse chicken with cold water and pat dry with paper towels. Season chicken pieces on both sides with salt and pepper.
Set a large, ovenproof cast-iron skillet over high heat and when it is hot, add oil. Add chicken pieces, skin side down, and sear until golden, about three minutes. Transfer skillet to oven and roast chicken until it is nearly cooked through and the skin is crispy, 15 to 17 minutes. Turn chicken over and continue to roast, skin side up, until it is cooked through, about five minutes more.
While chicken is roasting, combine the butter with garlic and spices in a small bowl and stir well to blend. As soon as chicken is removed from oven, spread the garlic butter over skin and serve immediately.

A Christmas Carol Pudding
Makes 12-15 mini-cakes
Date Pudding
16 oz dates, pitted (buy them with the pits if you can, the pitted ones are much tougher and less flavorful)
4oz unsalted butter, softened
8 oz sugar
2 eggs
2 tsp good vanilla
13 oz flour
2 tsp baking soda
2 tsp baking powder
1 tsp salt
Pre-heat oven to 350°. Pit dates and put into a heavy-bottomed pan. Cover in 3 cups of water and boil until dates are tender and start to shed their skins (about 10 minutes). Strain dates, reserving two cups of the water they were boiling in. Place the boiled dates and the two cups of water into a blender and blend until very smooth. Sift all dry ingredients together (flour, baking soda, baking powder, salt) and set aside. In a mixer fitted with a paddle attachment beat softened butter and sugar together until light and fluffy. Add eggs and vanilla and beat until smooth. Alternate adding the dry mixture and the pureed dates to butter mixture in equal parts and beat until well-incorporated and smooth. Coat a cupcake tin with nonstick spray (even if your tin is nonstick) and scoop batter into tins until they are about 2/3 full. Bake until edges of the cakes begin to set (12 minutes), remove from oven and scoop a small tablespoon of rum sauce (recipe below) into the center of each cake. Return to oven and bake 10 more minutes. Once done baking, allow them to cool completely before removing from the pan. Once cool, run a knife along the edge of each cake to loosen and turn them out onto a cooling rack. To serve, cover in more warm rum sauce and a dollop of citrus crème fraîche (recipe at bottom).

Rum Sauce
24 oz dark brown sugar
16 fluid oz heavy cream
2 fluid oz dark rum
4 oz unsalted butter, soft
1 tsp salt
Melt butter in a heavy-bottomed pan. Add the rest of the ingredients and stir until smooth. That's it!

Citrus Crème fraîche
Makes about 2 cups
1/4 c full-fat buttermilk
1 c heavy cream
Zest of 1/2 an orange
Mix buttermilk and heavy cream together and transfer to a large container (mixture will expand as it thickens). Cover and let sit at warm room temperature for 24 hours. Mixture should be the texture of sour cream at this point. Stir and refrigerate overnight. When ready to serve, stir in the zest of half an orange.

More to explore in
Entertaining