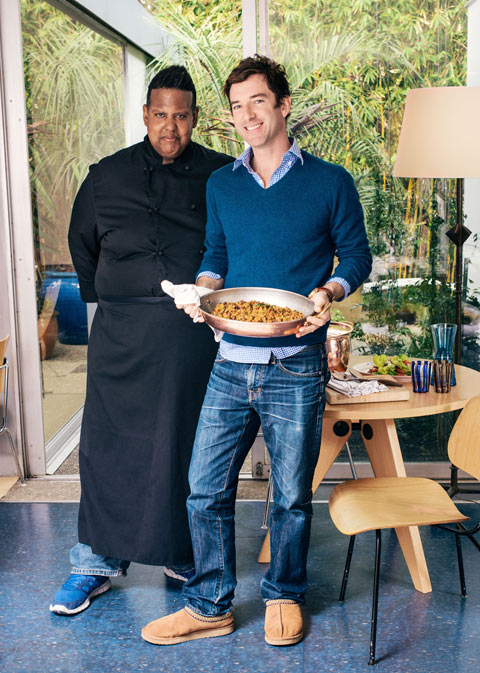 The LA decorator (right) recalls childhood Christmases on the Upper East Side, and recreates them with a little help from friend and chef Reggie Southerland.
"It's no use fighting the journeys life takes us on, so you might as well learn to love them.
"I grew up in New York City on the Upper East Side, which in the early Seventies was a mighty different thing than it is now. I might describe it by saying there was less material wealth…but more formality. And Christmas was a very formal event; even for small children, who were trussed into ties, blazers and gray pants earlier in the day than on the other 364 we had to wear that crap.
"Now I'm free of it all, living in a glassy Richard Neutra house in the Silver Lake neighborhood of Los Angeles with a wife and two daughters who break into hoots of laughter when I describe the rituals of my youth. Dinner at home circa 1975 sounds to them like the movie Dark Shadows (and just as boring). Indeed, it is all ancient history. By the standards of my old neighborhood, today I'm broke, and as I write this I look down and find myself dressed like Larry David. Fifth Avenue and 83rd Street might as well be on Mars.
"But don't count me out completely. One of the few indulgences of my California lifestyle that relates to the early years in New York is that we have a truly gifted chef. His name is Reggie Southerland, and he cheerfully works with me here to recreate the lost WASP cuisine of my youth — including some dishes Swifty's wouldn't even resurrect (blanquette de veau, anyone?).
"It's Christmas, and you've been good, so here's one of my best holiday secrets: Based off my memory, Reggie's recipe for oyster stuffing. A 19th-century dish, it's very unusual to find anywhere anymore — even on Fifth Avenue, let alone in a glass box in LA. But surprise always makes things more delicious, don't you think?
"Note: to be correct and adhere strictly to tradition, this dish is best accompanied with half a pack of Kent cigarettes and a bottle of Cutty Sark."
David Netto & Reggie Southerland's Oyster Stuffing
1 loaf crusty white bread, cut into 3/4-inch pieces (8 cups)
3 tbsp unsalted butter, plus more for baking dish
1 medium yellow onion, diced medium
2 large celery stalks, diced medium
2 large carrots peeled and diced medium
4 garlic cloves, roughly chopped
1 c packed drained smoked oysters (from three 3-ounce cans)
1 c crumbled cooked smoked bacon (from about 8 slices)
2 tbsp chopped fresh thyme leaves
2 tbsp sherry vinegar
Coarse salt and ground pepper
1/2 c roughly chopped fresh parsley leaves
3 large eggs, lightly beaten
3 c low-sodium chicken broth
Preheat oven to 400°. On two rimmed baking sheets, arrange bread in a single layer. Toast until dry and pale golden brown, 10 to 12 minutes. Let cool. Lightly butter a 9-by-13-inch baking dish. In a large skillet, melt butter. Add onion, celery, carrots and garlic, and stir until they soften, about seven minutes. Add oysters, bacon, thyme and vinegar and stir, one minute. Transfer to a large bowl and season with salt and pepper. Add parsley, eggs, and bread; stir to combine. Add broth in two additions, stirring until absorbed after each addition. Season generously with salt and pepper and transfer stuffing to dish. Bake on middle rack until deep golden brown on top, 25 to 30 minutes. Let sit five minutes before serving.
More to explore in
Entertaining