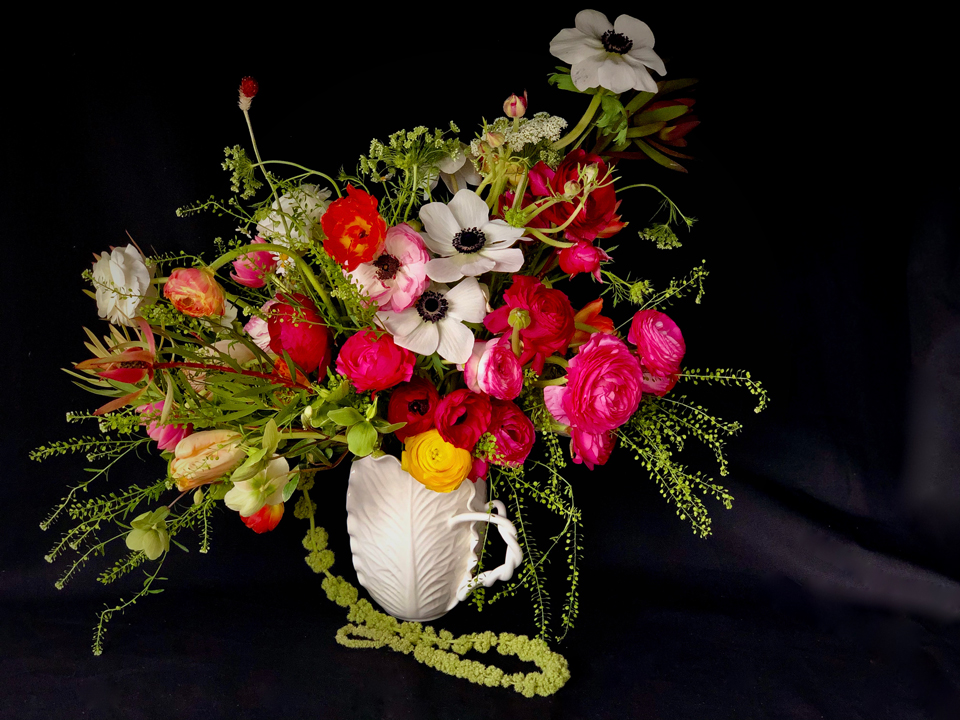 This past year has felt at times like a barrage of bad news. In launching St. Theresa Florals, Maggie Kramer found a creative outlet to add some much-needed brightness back into the days. "While starting a business during an economic downturn and worldwide pandemic didn't seem like much of a good idea, it allowed me to focus my creative brain on something during the darker days and take my time to learn as much as possible about the process," says Kramer. St. Theresa Florals — named for the patron saint of flowers as well as Kramer's late mother, whose middle name was Theresa — is the ultimate pandemic passion project.
Scrolling through Kramer's Instagram feels like a stroll through a museum. Her romantic arrangements resemble Rennaissance oil paintings, with colorful flowers set against dark backdrops for an especially dramatic effect. Special for Tory Daily, Kramer created one of her signature arrangements — pictured above — and talked to us about her new business and the ultimate way to spend Mother's Day.
I was inspired to launch St. Theresa Florals because…
Truthfully, why not? We were facing a global pandemic and it seemed like life was somewhat at a stand-still. I have always loved flowers — the symbolism, the grow process (although I have a terrible green thumb), and of course the end product. Flowers bring happiness and spread love, something we all needed, especially this past year.
My pro tips for the perfect floral arrangement …
Think about core design principles — color and contrast, proportion and scale, texture, negative space, and how they affect one another.
And how to make it feel special for Mother's Day…
Putting some thought into and describing your mom's personality can help immensely! Flowers are a personalized gift — it could be as simple as remembering her favorite color, type of flower, thinking about her space and where it will live, that will help a regular arrangement feel more special. It could also be digging a little deeper and thinking about a flower that reminds her of a special time in her and your lives or using a vessel that is sentimental… Finding meaning behind your arrangement can really step it up a notch.
The most important lesson I've learned as a mother, so far…
Being a parent is HARD! Social media can sometimes have you in a constant state of comparison, and that includes parenting! Being confident in yourself and knowing that there will many bumps and shortcomings along the way keeps me sane.
One lesson I hope to pass on to my children…
Empathy and the importance of recognizing and righting wrongs.
I will be spending Mother's Day…
My first Mother's Day, we lived in Nolita and went to the playground thinking we'd see a lot of other moms, kids, families there. When we got there, it was all dads, pushing their kids on the swings. I wised up after that and realized Mother's Day with your kids can be the first and last thing of the day, and everything in between is yours to enjoy. My plan is some self-care, relaxing, and reading the stack of magazines that have piled up over the last 6 months.
The last year has taught me…
Take it one day at a time, because if this year has taught us anything, it's that things can both change overnight, and stay the same for what feels like forever — you really have no idea what tomorrow will bring.
My words of encouragement for mom's during this time…
Don't be too hard on yourself — you are doing GREAT! Sounds like a bumper sticker, but a lot of times we are our own worst critics. The saying 'it takes a village' is real, and, this year, it's been almost impossible to lean on whatever your village normally looks like.
More to explore in
Entertaining