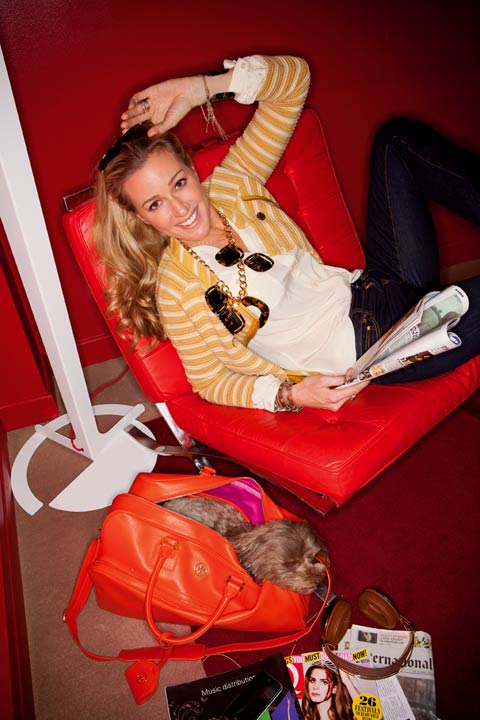 Spotify, Italian and Greek getaways, music and a little Havanese poodle named Teddy. This is what Assia Grazioli Venier, CEO of London music management company Flypaper Media and host of an upcoming event in our London store, loves most.
I am…tired from all this flying and traveling!
In this picture I am wearing… Tory Burch's Edie Cardigan, Super Saturated Skinny Jean, Resin Square Necklace and Stacked Square Wrap Bracelet.
Style mantra… Be true to yourself, who cares what people think, and have fun.
I love my job because…It's creative. The music industry is evolving on a daily basis. I get to listen to great music all day. I meet eccentric and eclectic people, and there is never a dull moment!
Favorite Getaway… Il Pellicano in Tuscany. Nothing encapsulates la dolce vita like this slice of heaven.
Favorite Cocktail…Espresso martini
Favorite bands of the moment… We Are Augustines, Chew Lips, Japanese Popstars, Keaton Henson, Tune-Yards, Rhye, Planet Funk, Capital Cities, Boxer Rebellion and Kyla La Grange.
Soundtrack to my life… I'm obsessed with Spotify — for work I listen to my 'chilled' playlist; for pre-party, my playlist inspired by the NY-London venue of debauchery, The Box.
My favorite charity…NSPCC (National Society for the Prevention of Cruelty to Children), I'm on the committee. I'm looking forward to our upcoming Art Ball in London!
My sign… Leo, through and through. With this mane on my head would you expect anything else?
More to explore in
Experts