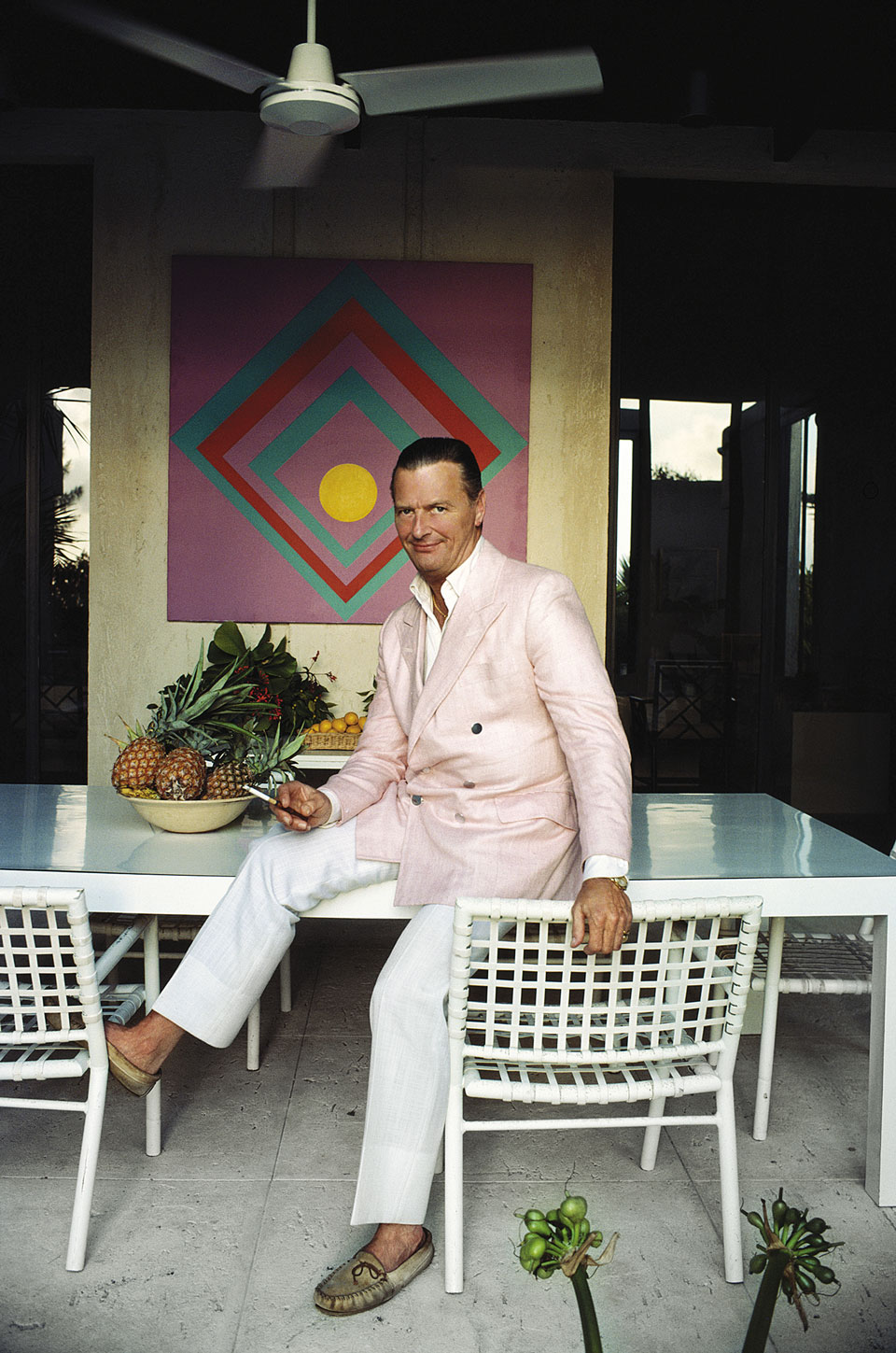 Our primer on the inspiration behind the Spring 2018 collection: David Hicks, who revolutionized interior design in the Sixties and Seventies.
The Basics, Please
Englishman David Hicks is a legend in the interior design world and changed the way people thought about color and pattern. In many ways, he was a rebel, breaking away from the then-de rigueur style of traditional English decor. Hicks wasn't afraid to go bold and mix things up, whether with contrasting prints or antique and modern furnishings. The look was unexpected, and brilliant.
Mad About Hue
Hicks had an unparalleled eye for color. For beauty doyenne Helena Rubinstein, for example, he famously designed a room with magenta furniture and purple tweed walls — the latter based on a silk Balenciaga dress she owned. "As with most great artists, he could extract a wonderful idea from almost anything he looked at," says Tory. "The pink walls of a client's living room in Portugal, for example, were the same shade as the lining of a thank-you note's envelope."
Not So Garden Variety
Hicks was as masterful with the great outdoors as he was with interiors, applying many of his signatures to en plein air spaces. The family estate in Oxfordshire, England, known as The Grove, boasts beautifully manicured hedges and greenery, all angles and precision geometry.
What's in a Word
Nowadays, "tablescape" is frequently used to describe a particularly elaborate table setting — but you'd be wrong to use it so. Not many people know that Hicks came up with the term and it means something very specific. His tablescapes had nothing to do with mealtime settings at all but, rather, a carefully curated arrangement of objects clustered together on a surface, often in multiples. Hicks describes it best in his 1979 book Living with Design:
"My passion for arranging masses of things together is part of the way I see objects and use them. It not only looks mean, but is visually meaningless, to have one bottle of gin, one of whisky, a couple of tonic water and a soda syphon on a table in the living-room, even though that might be perfectly adequate for the needs of one evening's entertainment.
"It is perhaps I who have made tablescapes — objects arranged as landscapes on a horizontal surface — into an art form; indeed, I invented the word… What is important is not how valuable or inexpensive your objects are, but the care and feeling with which you arrange them. I once bought six inexpensive tin mugs in Ireland and arranged them on a chimneypiece to create an interesting effect in a room which otherwise lacked objects. They stood there in simple perfection."
The Tory Burch Connection
Hicks has long been an inspiration here, beyond the Spring 2018 collection. Not only did his fearless love of color and geometry make an impact on the design of Tory's store interiors — our original orange-and-brass motif stemmed from a bedroom and powder room Hicks designed — but it influenced the brand's logo, too.
Extra Credit
Hungry for more? Hicks wrote nine books dispensing advice on everything from home decoration to garden design to flower arranging. For the full-body plunge into the minutia of all things Hicks, we also suggest picking up the recently released David Hicks Scrapbook, out by his son, Ashley.
#ToryDaily
More to explore in
Entertaining