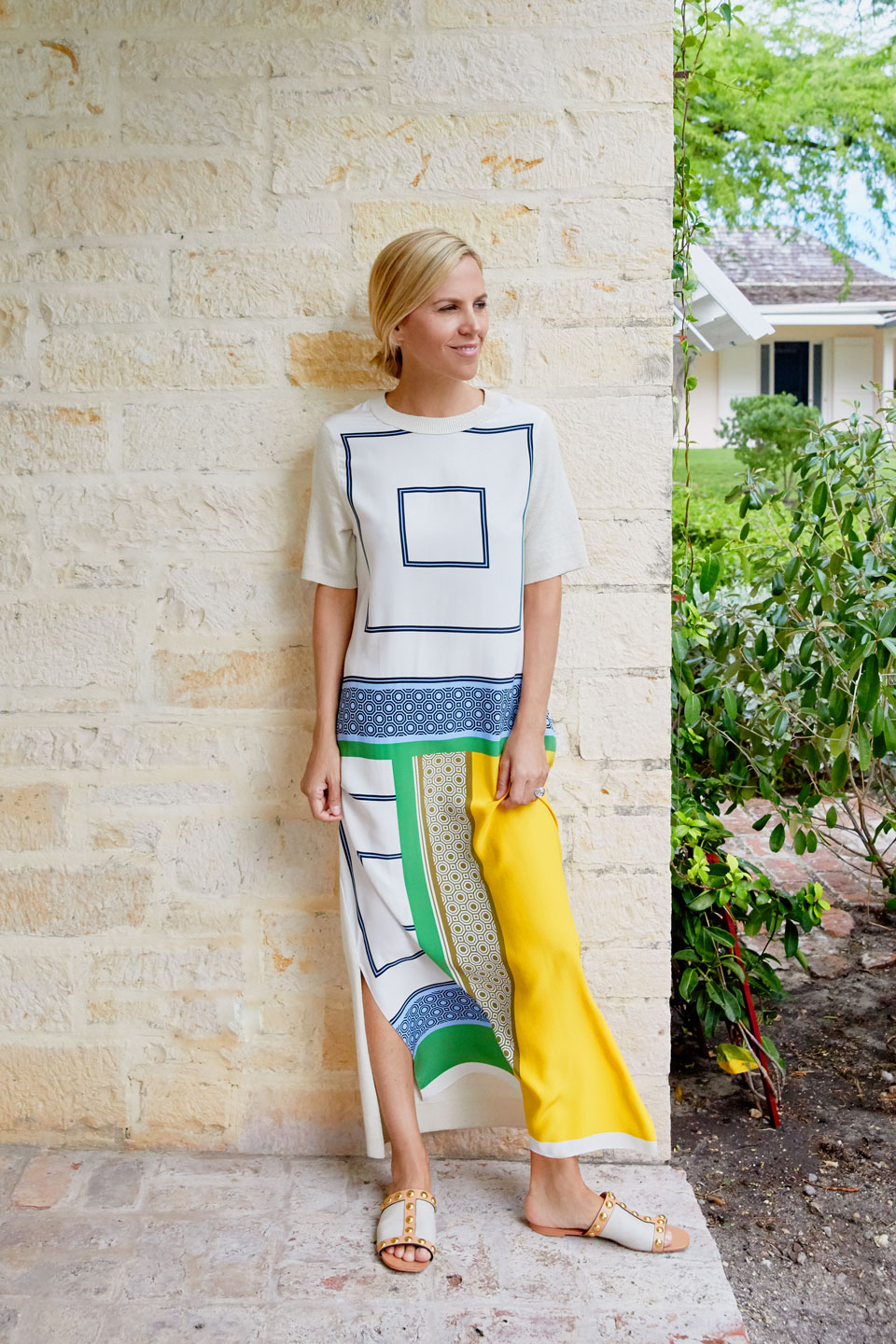 Wearing the Greer dress and Blythe slides, Tory talks about the new collection, from the inspiration to her favorite looks.
What inspired you for Spring/Summer 2018?
We were inspired by the scrapbooks of English interior designer David Hicks. He had a fearless take on color and pattern, with humor as well. I love how our team really took that inspiration and reimagined it for a modern woman.
How did that translate into the collection?
David Hicks was known for contrasting borders — he even did it in his gardens — and you can see them throughout the collection: lace pockets and contrast paneling on slip dresses and tops. We picked out the things we love that Hicks did and then thought about how they would make sense on the body. Geometrics was another one of his signatures. We weaved it into the collection as a print and by using it as borders for other prints, like in the scarf print dress I'm wearing.
How did his love of print come into play?
We interpreted a geometric, inspired by his designs, on terry shorts and tops and as guipure lace and metalwork on totes. We also referenced his love of gardens — he could design gardens as brilliantly as he did rooms — with a beautiful floral.
What's your favorite?
Our scrapbook print, which I wore on show day on a silk pajama pant and top. It's a collage of some of his sketches and prints — and some prints from our archive. I love it because it shows how we mixed our aesthetic with his. It was a really creative way of looking at prints.
Can you tell us about the silhouettes?
The silhouettes are unfussy and easy, from wrap dresses to caftans made out of T-Tile towels from our home collection…
And the palette?
The palette is bright and happy, perfect for the season. We wanted an explosion of print and color.