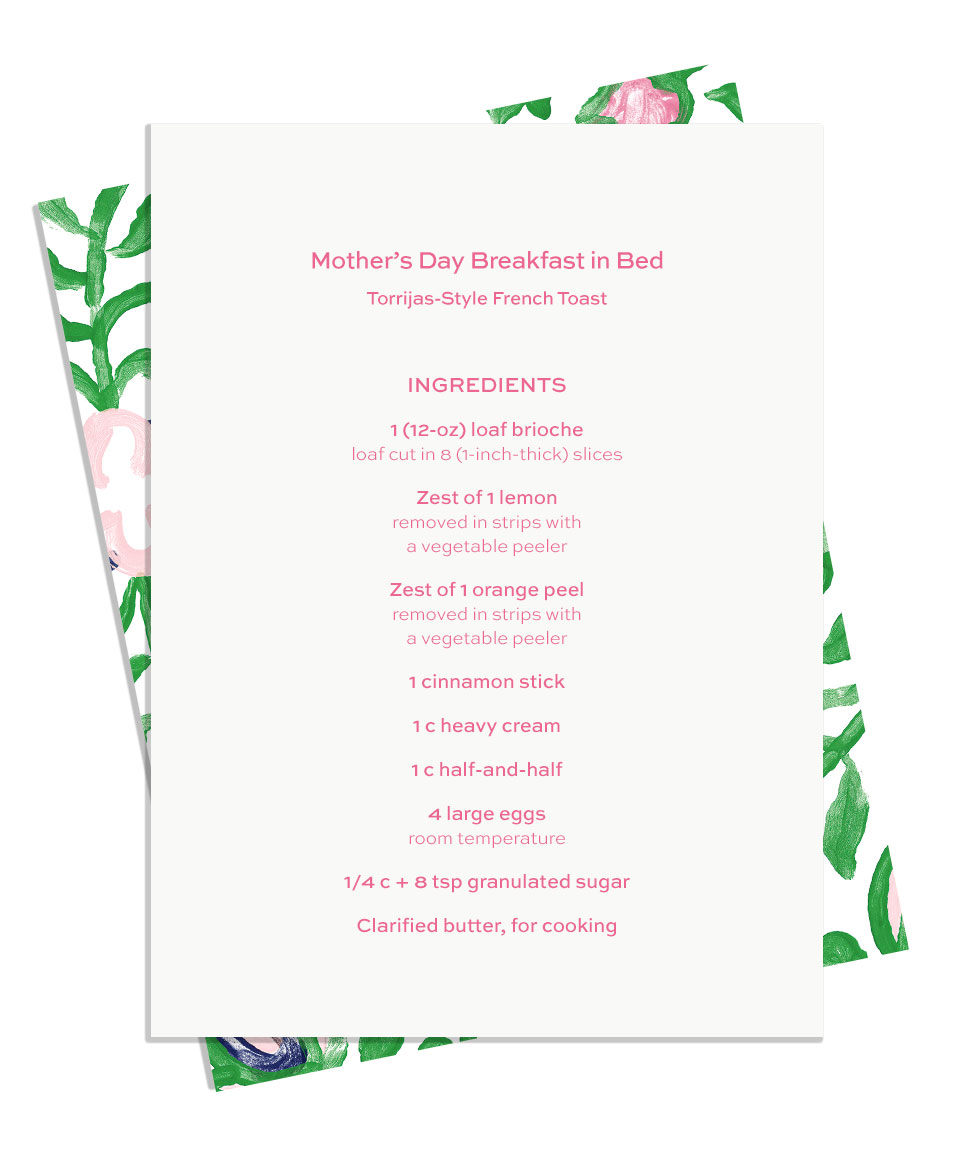 We called upon Chef Katie Button of Cúrate and Nightbell in Asheville, North Carolina, to share a recipe for a Mother's Day favorite. The José Andrés and Ferran Adrià alum, and author of the Cúrate cookbook, surprised us with an inventive take on a breakfast-in-bed classic: a Spanish version of the traditional French toast.
"Nothing says 'Happy Mother's Day' better than dad getting up with the kids and making breakfast in bed for mom," Button says. "That's my dream Mother's Day, followed by an afternoon where I get to plant flowers and herbs in my garden. In Asheville, Mother's Day marks the weekend you can be sure there will be no more freezes, so you are free to plant your gardens. While it makes our season a little bit later than some others, it has been a sacred tradition that started with my mother that I have continued. I am so looking forward to that day! And if only someone would make torrijas (Spanish French toast) for me — hint hint to my husband."
Torrijas: Spanish French Toast
Serves 8
Ingredients
1 c heavy cream
1 c half-and-half
Zest of 1 lemon, removed in strips with a vegetable peeler
Zest of 1 orange peel, removed in strips with a vegetable peeler
1 cinnamon stick
4 large eggs, room temperature
1/4 c + 8 tsp granulated sugar
1 (12-oz) loaf brioche, loaf cut in 8 (1-inch-thick) slices
Clarified butter, for cooking
Directions
Bring the cream, half-and-half, lemon zest, orange zest, and cinnamon to a simmer in a medium saucepan over medium heat. While the mixture heats, whisk the eggs and 1/4 cup sugar in a large bowl. Slowly add the hot liquid to the egg mixture in a steady stream, whisking constantly.
Lay the brioche slices in a single layer in glass or ceramic baking dishes. Slowly and evenly pour the egg-cream mixture over the bread, scattering the zest and cinnamon evenly over the bread. Cover tightly with plastic wrap and refrigerate overnight.
Uncover the soaked brioche and discard the zest and cinnamon. Heat a thin sheen of clarified butter in a large nonstick skillet over medium heat. Add a single layer of soaked brioche slices and cook, turning once, until evenly browned on both sides and cooked through, about 6 minutes. Transfer to a half-sheet pan. Repeat with the remaining brioche slices, coating the skillet with clarified butter between batches. If the brioche browns before the center is heated through, reduce the heat.
Sprinkle a teaspoon of sugar evenly on top of each cooked slice. Using a kitchen blowtorch, caramelize the sugar on eat piece of brioche as you would creme brûlée. Serve immediately.
More to explore in
Entertaining