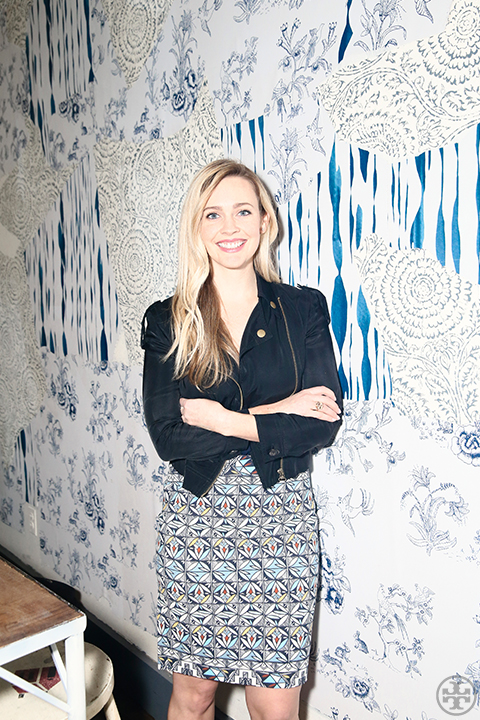 You can order groceries, call a car and make a reservation with a click — why not plan a party at local venue that way? Enter entrepreneur Peyton Ladt, here wearing Tory's ponte pencil skirt, and her new start-up Bashed…
Bashed is…
The only place online where you can customize and instantly reserve venues in New York City for private dinners and group events. We're eliminating the hassle of the back and forth with venues, and putting all of the necessary information you need (menus, pricing, photos of the space) up front, so you can search, discover and reserve the perfect venue for your event, all in a matter of minutes.
And the initial inspiration behind it…
I have always been the unofficial planner in my social group and, after living in New York for several years, finding that underground secret bar with the jalapeño cocktail, or the veggie burger that tastes like the real thing (almost), became a hobby of mine. In parallel, I was running business development at a company called Jetsetter, and constantly searching for places to entertain my clients or meet colleagues for after-work drinks. After planning several group events over the course of a busy month, it finally hit me: the current group booking process was broken and unnecessary. From researching endless restaurants and bars, to the emails back and forth with several venues at a time discussing menus and pricing, to the complicated contracts — it was a drain on both time and resources. I realized this was a problem I needed to solve.
Most exciting part about owning your own business…
For me, it's two things: seeing my vision become a reality and the opportunity to meet so many extraordinary and talented people along the way that I may have never met otherwise.
And the most challenging…
Prioritizing. There are so many things that have to be done and, at times, everything can feel like it's the most important.
And how to overcome the above…
I am a big list person. I have both monthly and weekly goals and I try to prioritize my daily to-do list based on what will help me achieve those goals. I will also say that crossing things off those lists is satisfying.
When starting a company, you must…
Find a business partner that balances your strengths and weaknesses. My co-founder, Brandon Feldman, is the business yin to my yang. We have extremely diverse but complementary skill sets that have allowed us to move the company along much more rapidly than if we were going it alone.
And never be afraid to…
Follow your gut. If you have an idea and a vision to execute that idea, there's a good chance you see something that other people don't.
Best business advice received…
My stepfather loves to remind me that it's not only important to listen very carefully to what people say but to also observe their body language while they are saying it, because people don't always say what they mean.
My top five venues in New York…
White Street for entertaining clients, Harding's for getting together with friends, DBGB when I want celebrity chef food in a downtown vibe that's foolproof, The James Hotel for their dynamic use of space and incredible mix of urban concrete and horticulture, Public when I want something elegant and Shelter when I want to feel like I'm après-skiing out west.

More to explore in
Entertaining