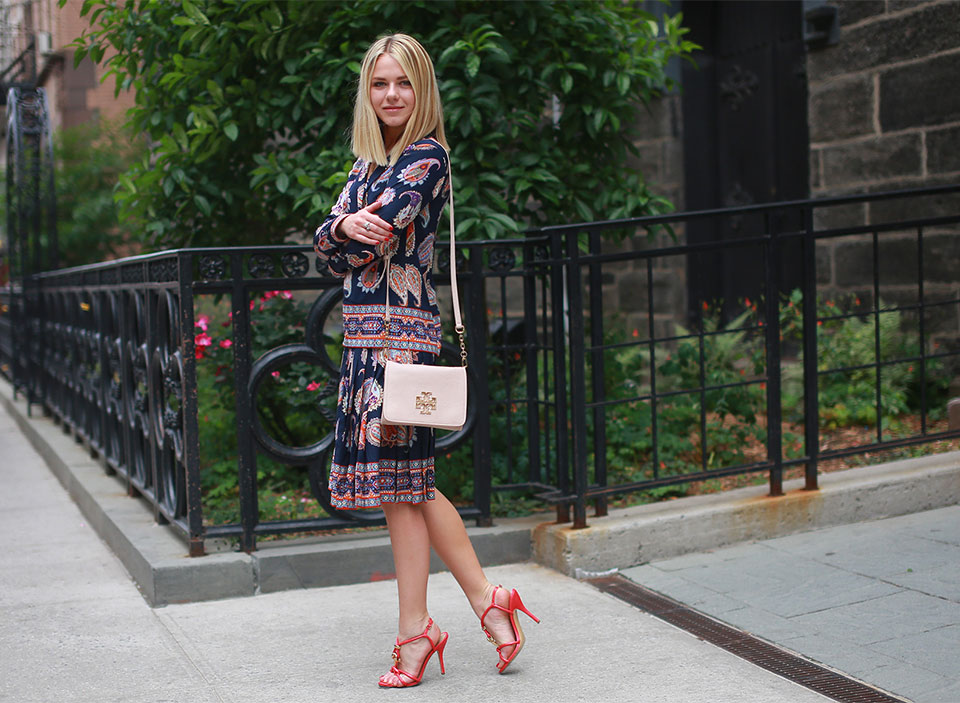 The Kiev-born, Paris-based blogger behind Tsarina Maryna — here wearing Tory's silk tunic top and short skirt with the Britten combo crossbody bag — talks shop and shares some style advice.
My style blog Tsarina Maryna is…
A classic mix of effortless chic, combining high and low, creating what I call relatable royalty. Relatable refers to high street brands and royalty refers to luxury brands — both of which I enjoy combining.
And the story behind the name…
Russian tsars were kings of luxury, who built empires based on their vision, persistence and determination. Since I was born in the Ukraine and possess similar traits of vision and an educated appreciation for luxury, I figured the feminine form tsarina was appropriate.
My style is…
What I wear depends on my mood, but it's always classic. Sometimes I wear colorful clothes, sometimes black and white. But I never forget my red lipstick.
My personal styling tip…
Heels always help me to carry myself a little better. They slim my silhouette, lengthen my legs and produce a more poetic walk.
And when it comes to accessories…
I never leave home without my bag and my sunglasses.
The key to mixing prints and patterns…
1. Start bold. The first step to building your ensemble is finding the star piece — whether it be a loud floral skirt or a leopard-print blazer — and use this piece as your jumping-off point.
2. Choose a color family. Similar colors and palettes will help blend your prints, while still making a statement.
3. Avoid three. I always suggest limiting your mixing to two patterns. You don't want to go overboard. If your look calls for a third piece, go with a white blouse or a simple cardigan to tone down your prints.
Best fashion advice ever received…
"Don't follow a trend when you know it doesn't suit you." — Dijana Savor, designer
My style icon…
The definitive Hitchcock blonde-turned-fairytale princess: Grace Kelly. She had a natural, quiet elegance that shone through both on and off screen.
First fashion memory…
When I got my allowance at 11, I went shopping without friends, without family, and bought and styled an outfit on my own. It was a chic all-red sporty top and bottom combo. After that, I saved my money and bought a Louis Vuitton bag when I was 13. Shopping has never been the same since.