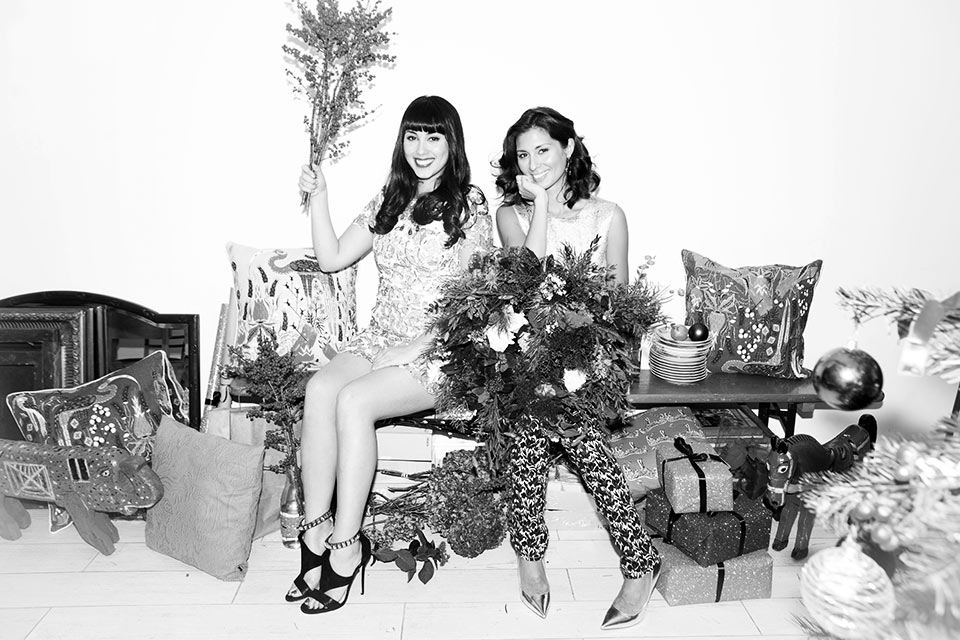 It may seem like Melissa, left and Jasmine Hemsley, London-based cook-author sisters with fashion backgrounds, are spouting foodie heresy. Use coconut oil and butter (or even super-fatty ghee) to cook, they espouse in their new book The Art of Eating Well. But what they say is true and sane — using all natural stuff is their motto. And obviously in moderation. We asked the Hemsleys, whose site Hemsley + Hemsley is a mix of recipes by the course, event and season as well as kitchen wares they can't cook without, for their holiday entertaining plans.
Favorite holiday tradition…
MH:
Watching period dramas all day — the best is Ang Lee's
Sense and Sensibility
.
JH:
Scooping up the fallen pine needles from the tree. I love their smell and used to add them to my toy pots and pans when I was little and 'cook' with them.
And holiday memory…
MH: Lying under the Christmas tree and looking up into the fairy lights!
JH: Dressing Mel up in tinsel when she was little. She'd be ready for bed in her dressing gown and begrudgingly let me decorate her.
And holiday song…
MH: All I Want for Christmas Is You by Mariah Carey.
JH: Santa Baby, Driving Home for Christmas, I Wish It Could be Christmas Everyday… Aaah, I'll stop there!
Best gift ever received…
JH: I loved Legos as a child — I'd circle the item in the Argos catalogue and then hide it in the house and draw a map for my dad to find it. Since the house was fairly straightforward it meant that I tried to complicate the route by making dad go in and out of rooms and cupboards. I didn't think about the fact that he'd probably just go straight to 'X marks the spot!'
Gift we're giving…
MH: We're giving our nearest and dearest Hemsley + Hemsley Spiralizers, which turn courgettes into courgetti and make carrot and cucumber noodles.
Our signature hostess gift…
MH: Homemade mini mince pies. We use the natural sweetness of dried fruits, fresh apple, orange and lemon in our mince. Our other twist is a bit of coconut oil to keep it moist. We like to finish the pies with a dusting of coconut sugar.
Favorite holiday cocktail…
MH: Spiced Apple Brandy Punch from our book The Art of Eating Well. There's something so comforting about this brandy-laced smoothie in winter, and the ginger and cinnamon give it that boost! Just leave the brandy out for the kids.
JH: Our Blueberry Lime and Lavender Cocktail is refreshing and floral. The coconut water base and pink color make it a poolside favorite! Equally, sipping this drink reminds me of holidays even when home on a wintery night. Everyone loves it. It's actually been renamed Love Juice by all my friends and it went down a storm at my last New Year's Eve party.
And holiday flower…
MH: I love a rose hip and ivy wreath from the amazing florist Flora Starkey.
JH: Snow drops.
Favorite color…
MH: Black and white.
JH: Green and blue. Or silver with anything.
And the color that best describes our personalities…
MH: I love red, it's a big color and it's the color of love!
JH: Yellow was my first-ever favorite. And my flower namesake comes in yellow, too. Oh, and I love butter!

More to explore in
Entertaining