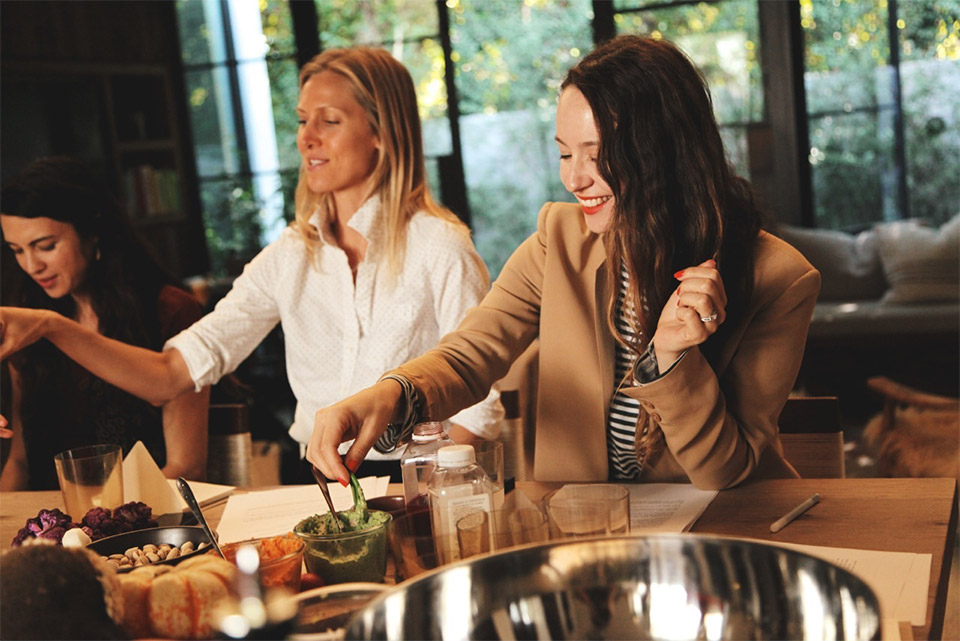 Jenni Kayne puts the same kind of meticulous details into her tables and parties as she does her L.A.-based collection. Every breakfast, brunch and dinner, every birthday, holiday or just-because-it's-Saturday at her house is a fun, mini event with an elegant decor and menu that Kayne has pored over. Here, her take on the holidays.
My go-to hostess gift…
You can't go wrong with a great bottle of wine or a Diptyque candle — both are sure to be enjoyed after all the guests have gone home, whether it be later that evening or sometime down the road.
A way to make a gift feel personal…
By making it yourself. Last year for the holidays, I made infused olive oils as beautiful as they were delicious. This year, I'm thinking of trying my hand at some homemade hot sauces or floral syrups this year.
I get guests comfortable by…
Not wearing shoes and being relaxed… A relaxed hostess makes for a relaxed get-together.
My advice to the would-be host or hostess…
Do as much prep work ahead of time as possible. That way, you aren't stressed and can just enjoy.
The key to a good cocktail party…
Great music. And, a great tip that Annie Campbell shared with me and I have implemented ever since: Make guests their first cocktail, then provide them with the recipe and all of the ingredients so they can make their own. This gets your guests in on the fun and keeps you from having to play bartender all night.
My favorite holiday flowers…
White peonies that come from New Zealand or South America this time of year, mixed with eucalyptus.
The best hostess gift ever received…
A thoughtfully assembled homemade box of goodies that a friend put together with me in mind.
My signature party look…
It depends on the event, but comfort is always key — a pair of black slacks and a shell or button-down with my new flat Jenni Kayne mules… or, a long dress or skirt without shoes.
More to explore in
Entertaining