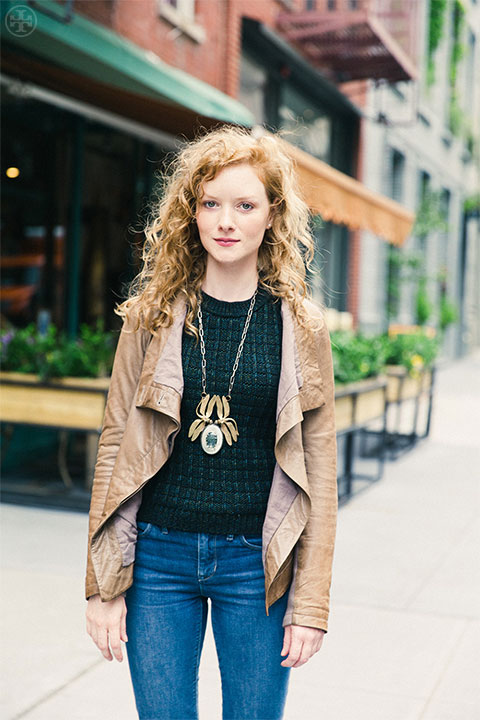 We catch up with the BE actress, who plays the wife of the disfigured Richard Harrow, before she shoots her new film Preservation, with Pablo Schreiber and Aaron Staton.
The acting bug bit when…
I was little. I loved performing for pretty much anyone sweet enough to give me the time of day — and even if there was no one around. I never canceled a show, if you know what I mean. I guess I never grew out of it.
The biggest impact on my career…
Working with a phenomenal teacher named Bob Krakower. Taking classes with him changed the way I look at acting and how I work.
Best acting advice received…
"It's always about the other person." I've heard that from many teachers, but most recently from Bob.
Behind-the-scenes anecdotes from Boardwalk Empire…
Any time Jack Huston makes a joke — in full Richard Harrow get-up, including the voice — it has me and most everyone else on the floor. I also remember the day when it became hard to rehearse scenes with Jack if he wasn't wearing his mask. All of the sudden, seeing both of his eyes was too much, because I'd become so used to just being able to see his right eye.
Most memorable audition….
The Master Builder, with John Turturro. I realized that the actress who booked the part would be the person who had the best chemistry with him and that was something out of my control. Then it became "Just enjoy whatever happens between the two of you. Hell, you get to act with John F—in' Turturro for ten minutes!!!" It's probably the most fun I've ever had in an audition.
If I could be one of my characters in real life for 24 hours…
Oooh, too hard to chose. Could I put them all in a blender and go with whomever that person would be?
My guilty pleasure television show?
Nashville. And I've been blowing through Jane Campion's Top of the Lake with Elisabeth Moss.
If I could be on any show…
House of Cards, Treme (pretty much anything David Simon does), The Newsroom, Quarry (if it gets picked up) and Powers (if that goes well). I love all these shows because the writing is unbelievably good and the creative teams are AMAZING. I'd work on anything Boardwalk Empire's Terence Winter, Howard Korder and Tim Van Patten do next, if they'd have me again.
And in any play…
I'd play a spear carrier just to work with The Master Builder's John [Turturro] and Andrei [Belgrader] another time. Also, I've always wanted to play May in Sam Shepard's Fool for Love. That play, it's a hell of a mountain to climb.
More to explore in
Culture