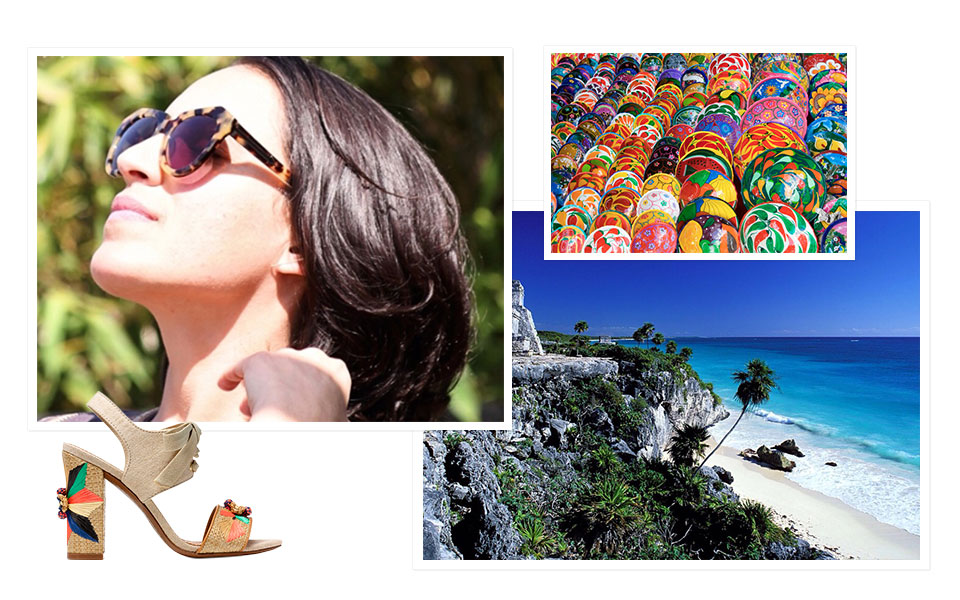 Tulum is…
The ultimate place to relax.
My uniform there is…
Eres swimsuits, long Marni skirts, Greek sandals.
Best place to stay…
Coqui Coqui, a small boutique hotel right on the beach.
Most romantic spot…
Walking along the moonlit beach after dinner.
Best slice of beach…
There's not a bad slice to be had.
First-time visitors must spend a day at…
The Gran Cenote, an underground network of caves connected by pure freshwater rivers.
Favorite place to find local treasures…
The Perfumeria at Coqui Coqui, where I stocked up on candles and perfumes in tropical scents like orange blossom and coconut.
Best destination for art lovers…
A visit to Coba, the city ruins of Pre-Columbian Mayan culture.
Best side trip…
A day trip to the colonial town of Valladolid. After stopping into textile and pottery shops, we enjoyed lunch at the historic Hotel El Meson del Marques. The regional specialty, cochinita pibil, served with a basket of piping hot tortillas, is not to be missed!
Favorite local eats…
I still fantasize about the desserts at Hartwood, which are inspired by the Yucatan: coconut cake and mango crisp with ice cream, to name a few.
Secret only a local would know…
Following a tip from a local, we sought out down-home Mexican food at a spot called El Camello Jr. This place was heaven, thanks to its $2 ice cold beers, plates of fried fish and grilled squid sautéed in a mojo de ajo (garlic sauce).
How a perfect day in Tulum begins…
Wake up with the sunrise and wander over to Uno for a morning yoga class, followed by a healthy breakfast of fruit, cheese, fresh bread and juice. Wander back to the beach and spend some lazy hours alternating between reading and swimming.
And then…
Walk over to El Tábano for a light lunch of fish tacos and ceviche. Then back to the beach for more relaxation, followed by a Maya Massage with a view of the ocean at Ana y Jose.
And ends…
With dinner at Posada Margherita, an Italian restaurant that happens to be one of the best in town. Who knew freshly-made taglierini with shrimp and zucchini goes so well with a margarita? Trust me, it does.
More to explore in
Travel