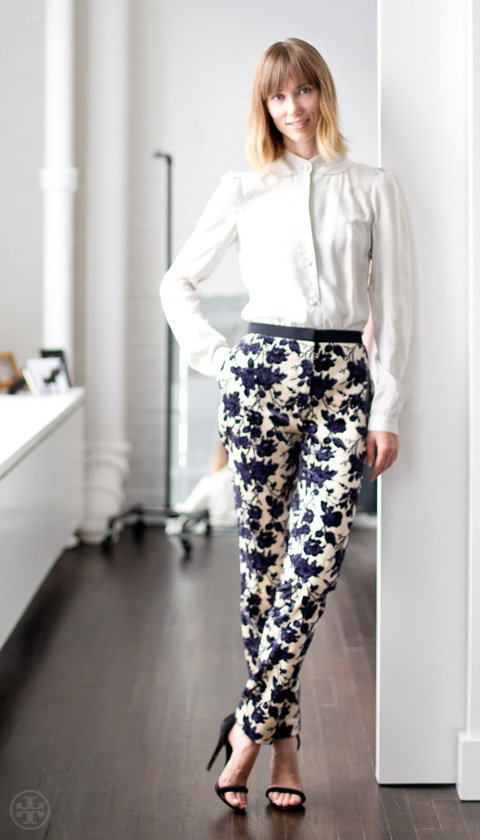 We got the scoop on everything the ever-chic Fashion Director of Tatler Russia and Allure Russia will be doing (and wearing) this New York Fashion Week.
My style is…
Minimal chic and effortless.
My personal styling trick…
I always try to wear high heels. And I like pulling up the collar of my jacket — it makes me look tougher than I am.
Here I'm wearing…
Tory's Dayton pant, Rochas blouse and Céline shoes.
My style in Moscow vs. New York vs. Paris…
Moscow is about wrapping up and being warm, so I wear more fur and coats. Here, I like to embrace the sports-chic America is so famous for. In Paris, I can be a little bolder. But really, I'm very free in what I wear regardless of the city I'm in. It just depends on my personal mood and where I'm going.
Best style advice I've ever received…
It's better for a person to know themselves, be realistic about their body and accentuate the best parts.
During Fashion Week, you can expect to see me in…
I just got this vintage Yves Saint Laurent coat from the original Safari collection in the Sixties. I'll be wearing that.
Fall trend I'm most excited about…
Oversized — it's one of my favorite trends ever.
And my style tip for wearing this trend…
Keep it simple. If one part of the wardrobe is oversized, then the other part should be skinny — for example, an oversized sweater goes well with skinny jeans.
My favorite spots during Fashion Week…
Soho House is brilliant for brunches — they have everything from oysters to omelets. I have lunch at Cafe Gitane — I love the chicken and orange salad. For drinks, the Bowery Hotel or Soho House.
Between shows…
I work! I answer emails, get ready for shoots….
My fashion Week playlist…
I don't really have one. Now it's all about Russian kids songs for me.
During fashion Week, my non-fashion distraction will be…
Watching Breaking Bad. That and The Larry Sanders Show are my favorite shows.
And I'll unwind by…
Sleeping.
Join the conversation on Twitter, Facebook, Pinterest and Instagram: #toryspring14 #nyfw