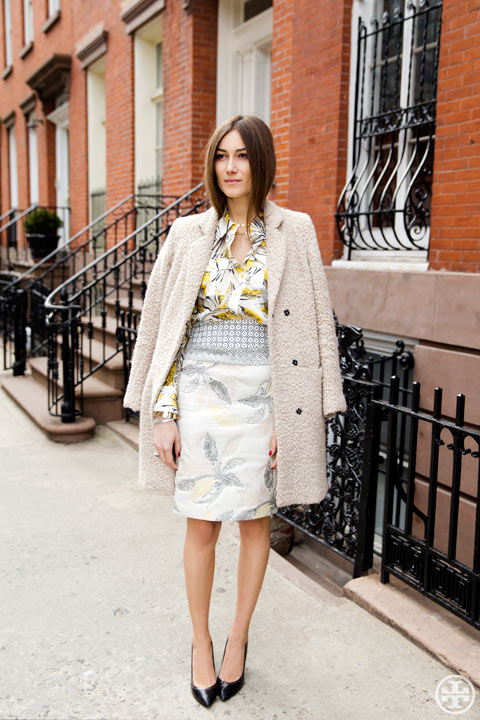 The Italian designer behind coat collection Rêve and Like My Mother, a line of lace dresses inspired by her grandmother, talks to us about style and nonna.
My style is…
Minimal and androgynous but with a feminine touch. I like to be natural and spontaneous, not to think too much about what to wear before going out; keep my hair a little messy, and wear light makeup.
And my personal styling trick…
To be elegant without wearing girly dresses, like a blazer and pants with sexy heels.
The inspiration behind Like My Mother…
First thing, I love lace. It's sexy, feminine and modern. And my grandmother used to have a lot of beautiful lingerie and lace dresses so, with this memory, I thought it would be interesting to create a collection just made of lace. I think every girl has these kind of memories; I just wanted to make them real.
My style influence…
I get a lot from my grandmother's style. My mum always tells me that when she looks at me getting dressed, I act exactly like my grandmother, that I put things together as she used to do.
Favorite thing to borrow from my grandmother's closet…
Everything but more jewelry and bags. She gave me her beautiful black crocodile bag as a gift when I was 16 — I was so happy! I was looking at myself in the mirror as if I was a woman. That bag made me feel grown up.
Italian mothers are always…
Caring, loving, understanding, supporters and big teachers. Italian mothers have a strong sense of family and protection; they're our guides.
The best advice I received from my mother…
To be real and authentic in everything I do.
One Milan secret only an insider would know…
Everyone thinks Milan is a boring city just for business. Gray, with awful weather and no attractions. This is not true. Maybe it's not so immediate, you have to search a bit, but you can be incredibly surprised by the beauty of what's behind "closed doors." You can find marvelous courtyards, with dreamy gardens and stunning decorated houses that take you back to the past. I find them very romantic!
Quintessential item in every Italian woman's closet…
Any item that is passed on in generations — from grandmother to mother to daughter.
More to explore in
Mother's Day Issue