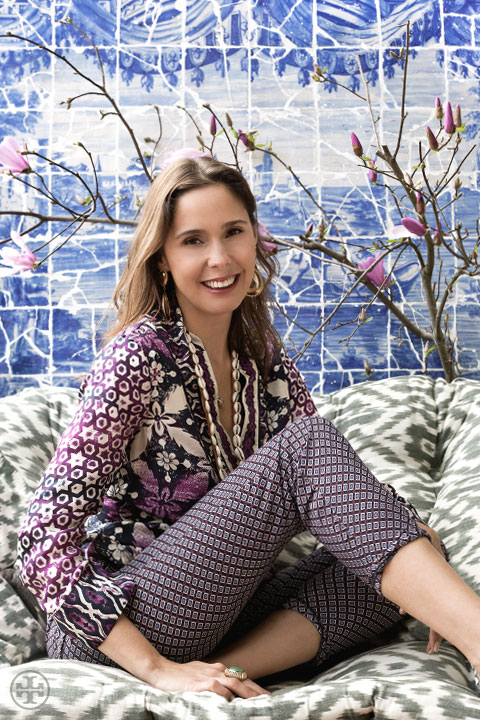 The Lisbon-based co-founder of Christophe Sauvat — which hinges on a romantic gypsy lifestyle — shares her bohemian essentials and dishes about a little-known insider getaway.
The gypsy lifestyle is…
Freedom.
My bohemian icon…
Lisa Vincenzini, an Italian book publisher. I have seen her ride cross-country dirt bikes in St. Barts in the midst of a thunderstorm, trek through India to help children in need and host the most elegant evenings in her Tuscan home. Her generosity, free spirit and amazing taste in clothes and interiors make her my ultimate style icon…and, of course, Frida Kahlo.
The bohemian essentials…
An open mind, a big heart and an even bigger suitcase so you can fill it up with every trinket, blanket, coin or medallion that you find along the way. (Even after all these years, I still have not mastered the art of "traveling light.")
And the bohemian fashion essentials…
1. A sarong! It is THE fashion essential. I have used mine as beach towels and cover-ups or as a scarf for chilly evenings. You can use it as a skirt, twist it into a top — I have twisted one into a turban when I have forgotten my hat. It has served as a picnic blanket and even as a bedspread when the need has arisen. I have used it as a full-body and face cover-up on flights. I have used and abused mine….
2. The cotton dresses from Christophe Sauvat that my husband [Christophe] designed for me. They have ended up being one of the best sellers we repeat every season.
3. Shoes, hats, glasses, iPod, books. I do have a tendency to transfer absolutely everything into an "essential."
The key to mixing print, pattern and color is…
To assume it. There is nothing worse than someone who doesn't own up to their choices. Even if you make a mistake, it really doesn't matter.
My favorite summer getaway…
I am torn between two places. Greece where I grew up — the magic of its history, the sea and the sun, the islands and its people truly make it the land of the gods — and Comporta in Portugal.
One little-known bohemian getaway…
Comporta, Portugal. A secret "gypset" bohemian hideaway one hour from Lisbon. Probably the most low key, understated, elegant jewel in the international bohemian itinerary. Think St. Tropez in the days of Et Dieu…. créa la femme.
My favorite thing about living in Lisbon…
The light. Any photographer or film director who has worked in this city will testify to this.
Lisbon defines the gypsy-bohemian lifestyle for me by…
Its natural beauty. And by the fact that I cannot live too far away from the ocean. Don't forget that most cultures throughout history have traveled through here and left their mark, with Lisbon being the departure point for the great maritime explorations of the 15th and 16th Century. It is unavoidable to be here today and not feel that cultural melting pot. With Lisbon once again firmly on the international itinerary, it is one seriously cool town.
The inspiration behind Christophe Sauvat…
As always with Christophe, even in his Antik Batik days, the inspiration always comes from the mixing of cultures. We work with all these ancestral and traditional elements, colors, embroideries and techniques we have the fortune to come across in our travels — from far-off lands like India, South America and the Pacific — and translate them into modern and bright young pieces that women from all over the world can wear, be it in New York, Lisbon or South America. It has always been about bringing cultures together, regardless of boundaries.