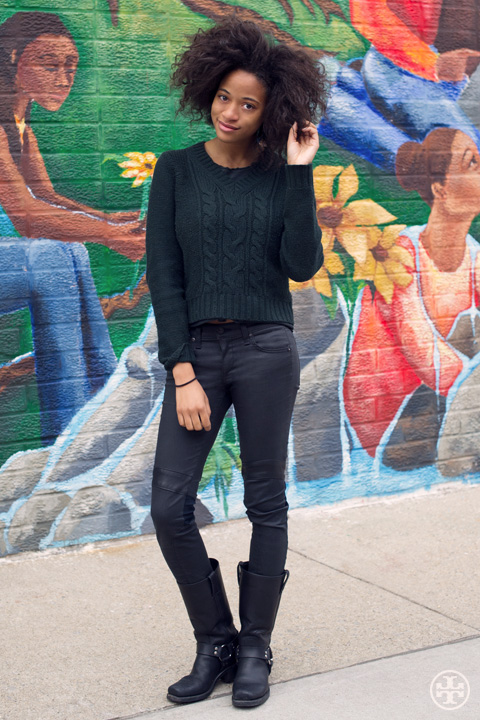 Florida native Kilo Kish — née Lakisha Kimberly Robinson — talked to us about her music, style and her stint channeling a certain genie in a bottle.
The story behind my name…
It comes from a rapper named Kilo Ali, who was popular in the Nineties and made Atlanta bounce music. I was really into him so I made my twitter name Kilo Kish. This was before I started making music, but when I did start, my friends were, like, "Ok, I heard that new song, Kilo Kish."
My music is…
Very organic and natural. Pretty conversational. I don't really write songs with anyone so it's all my own ideas about everything. I just want to sound like me and my personality. I try not to force things.
I write about…
I'm a big people watcher. I love to go to dinner by myself, sit at the bar and watch. I'll notice a couple having a conversation and I'll think about what they're talking about. I'll try to figure out what they do or what kind of life they live when they go home. I'm also really visual — I mean, I went to art school — so I try to describe places as best I can in my music.
For example…
My song Creepwave came from seeing the lonely people at a bar during the daytime. You wonder what they're doing there and why. And I got a kind of creepy vibe from, like, old dive bars and stuff. So I created this wood-filled bar with hazy yellow light….
Best places to people watch…
Lucky Strike. Cafe Select. La Esquina Taqueria.
Artists people should be listening to more…
Toro y Moi. And Kilo Ali, for sure.
The last album I downloaded…
Rihanna's Unapologetic.
My style is…
Comfortable. I just love skinny jeans and t-shirts. Sometimes it's a little preppier — I love button-ups, sweaters and all that. If I need something quick that's sparkly and girly, I'll go to Top Shop.
And my style onstage…
On stage I love wearing these sparkly Doc Martins I have — black with black glitter. They're like little Michael Jackson shoes. And I love wearing dresses or sequins. Something shiny on stage always works.
If I wasn't doing this…
I'd love to design stuff for home — I love color and pattern. In school [Fashion Institute of Technology], I never really wanted to be a fashion designer. If I had a store line, it would be a bunch of random objects, like coffee mugs, stationery, toothbrushes….
Best advice I ever received…
Just do you. Just do whatever you want and don't worry about what everyone else thinks of it.
As for my brief stint in an Orlando all-girl band…
I was in the fifth grade and our whole class was, like, "the fifth grade girls are going to start a group!" We ended up with a girl group, D*Angelz, that dwindled from 13 girls to me and three other girls. And they could sing — I could not. I talk to those girls now and they're, like, it's so weird that you ended up doing this — you were the least involved. I was so shy then. The only thing I really wanted to do was help write the songs and delegate tasks.
And we sang…
Christina Aguilera covers. Really, that's all we did.