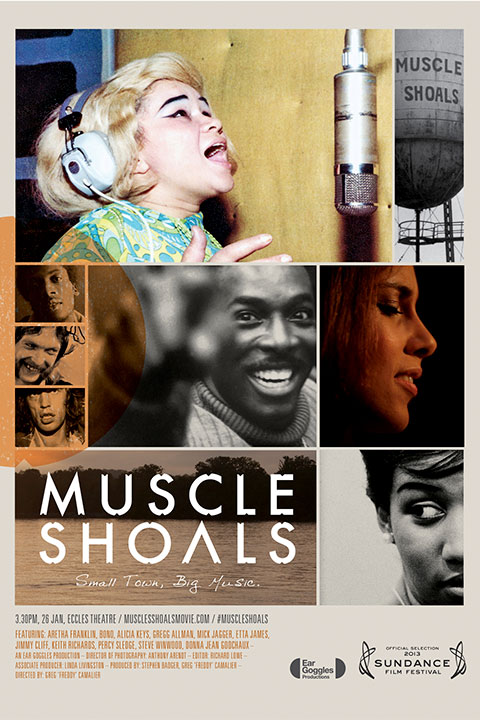 Filmmaker Greg "Freddy" Camalier talks about the legendary recording town featured in his new Sundance documentary.
FAME Studios is a fascinating subject because…
It's part of the overall Muscle Shoals story that speaks to a sound and incredible treasure of songs that both inspired and changed the world. FAME itself, like the other studios in Muscle Shoals, is part of a massive musical legacy that touched generations, races and continents. And FAME was founded by Rick Hall, an iconic character who's at the heart of the Muscle Shoals story.
And it's different from any other recording studio because…
The fact that these studios are located in a small rural town in America and were the birthplace for such a massive amount of seminal American music is spellbinding.
The Muscle Shoals sound is…
A blending of musical styles that's heavy on the bass and drums, with a propulsive groove.
My favorite songs recorded there…
Between all the songs recorded at FAME and Muscle Shoals Sound Studios, that's an impossible question to answer.
The biggest challenge we faced in making the documentary was…
Determining what aspects to focus on as there are so many wonderful tales and stories, many of which we couldn't fit in the film.
Most inspiring interview…
I have to say that every artist and interview brought something special to the story and, between them all, there's a tapestry created. So there really isn't any one favorite.
Most surprising or previously unknown anecdote the film digs up…
That's a hard question to answer, because so much of what's revealed in the film hasn't really been told before. But what I found perhaps most profound was that music was woven into this area's makeup from the very beginning, from when people first lived in the area. There was and is a legend of a native American woman who lives in the river and sings to those who seek her out.
That the documentary is premiering at Sundance means…
A tremendous amount on a number of levels, including, for me, the ability to share the film in a setting with so many wonderful films and filmmakers.
More to explore in
Culture