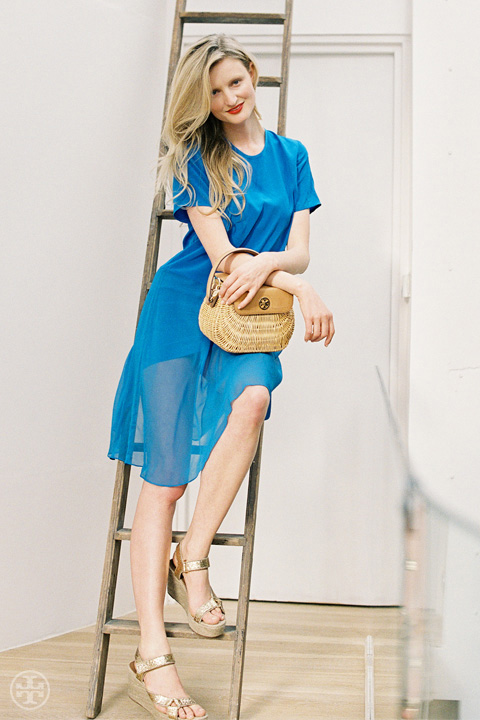 The London-based Australian photographer on career reinvention, style and kicking homesickness.
My backstory…
I had always wanted to go to art school but somehow ended up at law school. A couple of years in, I fell into modeling for designers like Louis Vuitton, Fendi, Chanel, Ralph Lauren and Versace. Serendipitously, the idea of a corner law office went out the window. On a Harper's Bazaar shoot I asked the photographer if I could assist him on his next shoot and that's how I began assisting fashion photographers and transitioned to the other side of the camera. I went back to university to study photography.
My style is…
Classic with a bold twist. I love classic lines paired with bold statement pieces with a loud pop of color. Think Meryl Streep in Out of Africa meets Ralph Lauren, with a little Prada and neon thrown into the mix. I live in leather pants as they are really comfortable to shoot in. I am 6 feet tall so I can get away with wearing flats, which are also another staple.
The key to great style is…
Have fun but don't divert too much from what your style is. I tend to wear pieces I feel comfortable in whilst still experimenting.
In this picture, I'm wearing…
A Gary Bigeni dress, Tory's Lacquered Rattan Basket and Daphne Wedges.
Best fashion advice I ever received…
Never try to be anyone but yourself.
Most stylish movie…
To Catch a Thief. Love, love, love.
Favorite places in London to shop…
Bond Street and Dover Street Market.
And to eat…
The Wolseley and my local pub.
And to see something cool…
British Museum, Tate and The Photographers' Gallery.
When I'm homesick for Australia…
I swim laps in my local London pool dreaming that it's actually the ocean — then go and eat some Twisties.
My sign is…
Capricorn.