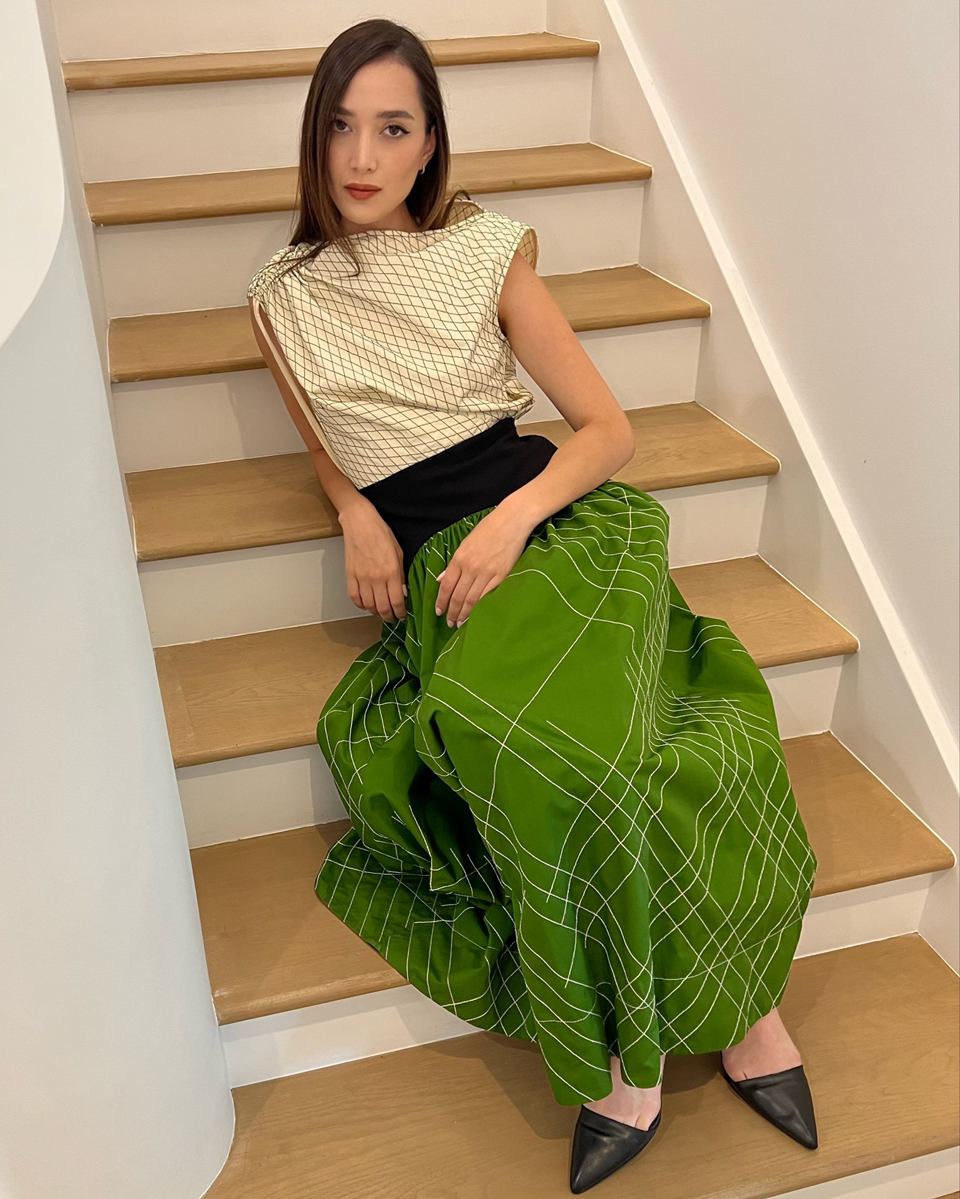 Behind every great song is a skilled wordsmith. Madison Love was still a student at New York University when she helped write the four-times-platinum song "Bad things" — a gig that led to her publishing deal with APG. "I was hustling in New York and LA, flying back and forth, doing meetings and sessions," she says. Love is proof that hard work pays off. At just 27 years old, the young creative has become a breakout name in the music industry, responsible for superhits like Selena Gomez's "Rare," Lady Gaga's "Sour Candy" and Ava Max's "Sweet but Psycho."
Love handwrites each song, building a story around a single concept or lyric. "I have drawers filled with notebooks I've been keeping since I was 13 years old," she tells us. "Every time I see a T-shirt with a slogan, drive by billboards, watch old movies or overhear a conversation it can trigger a song."
For Tory Daily's music issue, the powerhouse songwriter shares 10 tracks that have shaped her life and career so far.
1. "She" by Elvis Costello: My parents used to play this song for me all the time when I was young. I just love the juxtaposition and wordplay going on — "The beauty or the beast, the famine or the feast, the face of pleasure or regret…" Using opposite words that come together has become part of my own writing style. You can really hear it in the song I wrote called Sweet but Psycho.
2. "New York, New York" sung by Frank Sinatra: When I hear this record it transports me back to living in New York City in college (NYU TISCH), which was the happiest time of my life thus far.
3. "Quelqu'un m'a dit" by Carla Bruni: Listening to Carla Bruni's voice reminds me of walking through the streets of Paris after a breakup, feeling sad and hopeful at the same time. She sings, "Someone told me you still loved me… is it possible?" When I write songs, no matter how depressing or dark they seem, I always mix in plenty of hope, just like Carla.
4. "Bad Things" with Camila Cabello and Machine Gun Kelly: This was the first song I wrote that went to #1 on pop radio. It was a turning point in my career, from being a student/songwriter to a professional one.
5, 6,7 & 8. "One of Them Girls"; "Must Have Never Met You"; "Break Up in The End"; "More Hearts Than Mine": Country Music has become a huge part of my life. If you're ever on the road with me, it's country music only. I'm so inspired by clever and conversational lyrics.
9. "Go Easy Kid" by Monica Martin: A friend in the industry sent me this record one day. The lyrics "remind me to take it easy," have a message I should tell myself more often. Sometimes we overthink our work and put so much pressure on our art that we forget it's supposed to bring us joy.