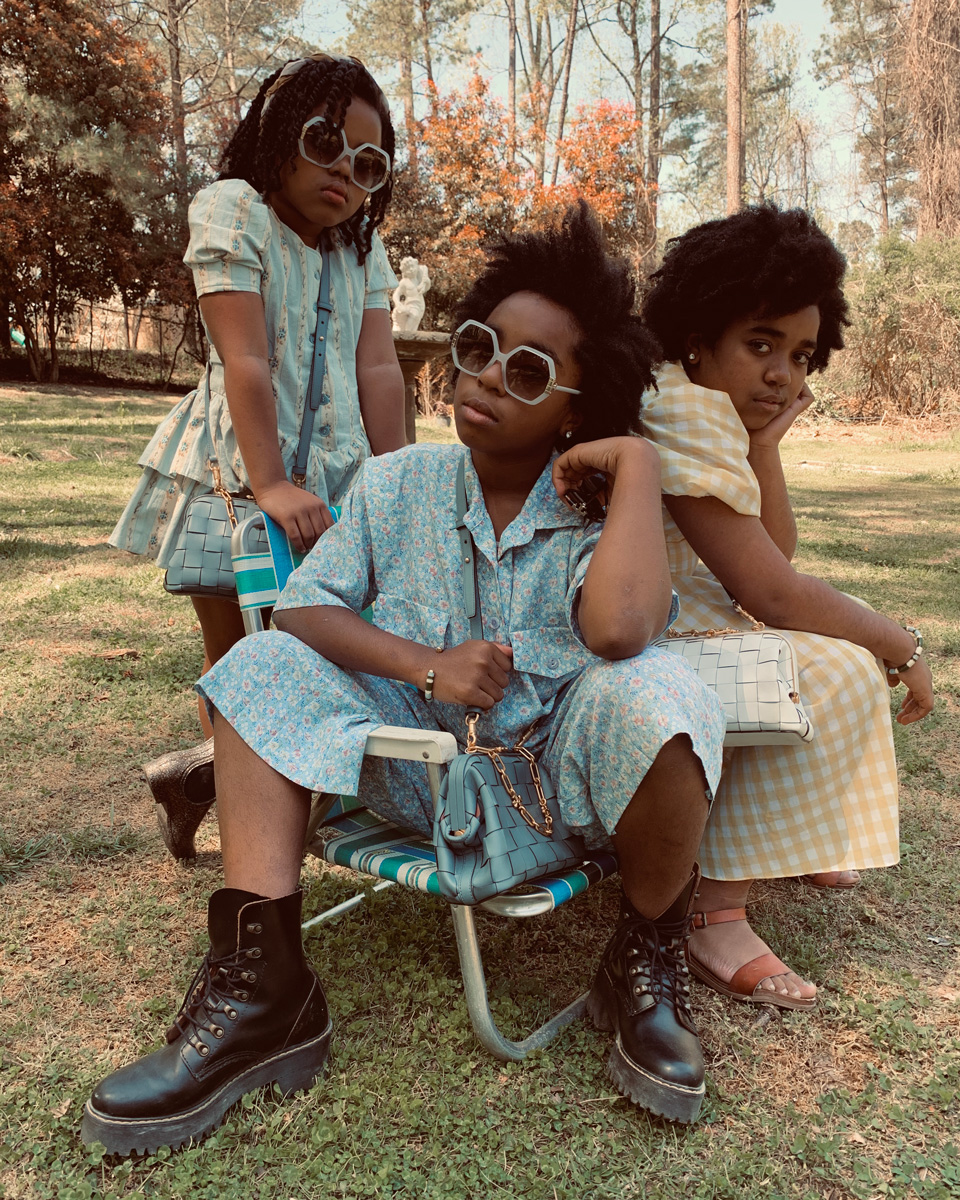 For Alissa Bertrand, fashion is a family affair. The Atlanta-based designer has been sewing for 20 years, but it wasn't until becoming a mom that she found the ultimate inspiration: her daughters, Jada, Jayla and Ella. With help from her young models and muses, Bertrand launched @JabellaFleur, an Instagram page dedicated to her fabulously retro designs and photography.
Since starting the account in May of last year, Bertrand has gained nearly 50 thousand followers, all eager to see her next vintage find and what she'll create with it. Using vintage, recycled and thrifted fabrics — including bedsheets, curtains and blankets — Bertrand sews mini puffed sleeve dresses, two piece suits, matching summer sets… And she's certainly not afraid of color or print. In a single post, you can find gingham, patchwork and polka dots; flowers, plaid and paisley.
From her home studio, Bertrand is building a magical world — one reminiscent of a bygone era — to share with her daughters and, thanks to social media, with all of us. For Tory Daily's Mother's Day issue, Bertrand did an exclusive photoshoot with her daughters, mixing Jabella Fleur clothing with Tory Burch accessories.
I was inspired to launch Jabella Fleur because…
I've always wanted to be a designer and my eldest daughter said people would love to see what I'm doing. I took a chance and it shows.
My tips for great style are…
Follow what you love and create your own trends. It's always fun to mix the old with the new, creating that look that's unique to you. Believe it or not, that's when the compliments will come in — when people see something new, but don't necessarily know where the look came from!
The thing I am most proud of…
I most proud of who I've become, as a mom and a designer. I truly would not have been who I am without my children and all the lessons I've learned along the way with being a mom. Jabella Fleur wouldn't exist, if I wasn't designing for my three youngest girls.
The most important lesson I've learned since I started on this journey…
Is to never change your identity and what you stand for. Not conforming or changing for the world around us and what they might want to see, rather what they have the privilege of seeing.
The most important lesson I've learned as a mother, so far…
Each child is a complex human being and learning who they are and understanding them without comparison to the next child is key. Nurturing each one's abilities, likes and dislikes shows I love who you are unconditionally and I appreciate everything about you, even from the ups and the downs and everything in between.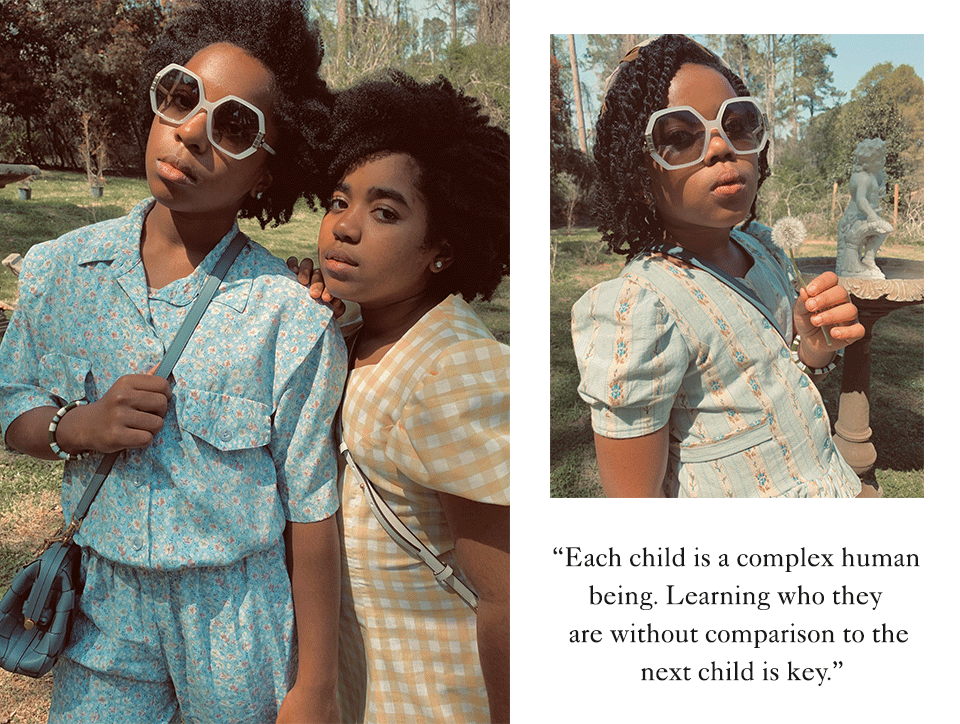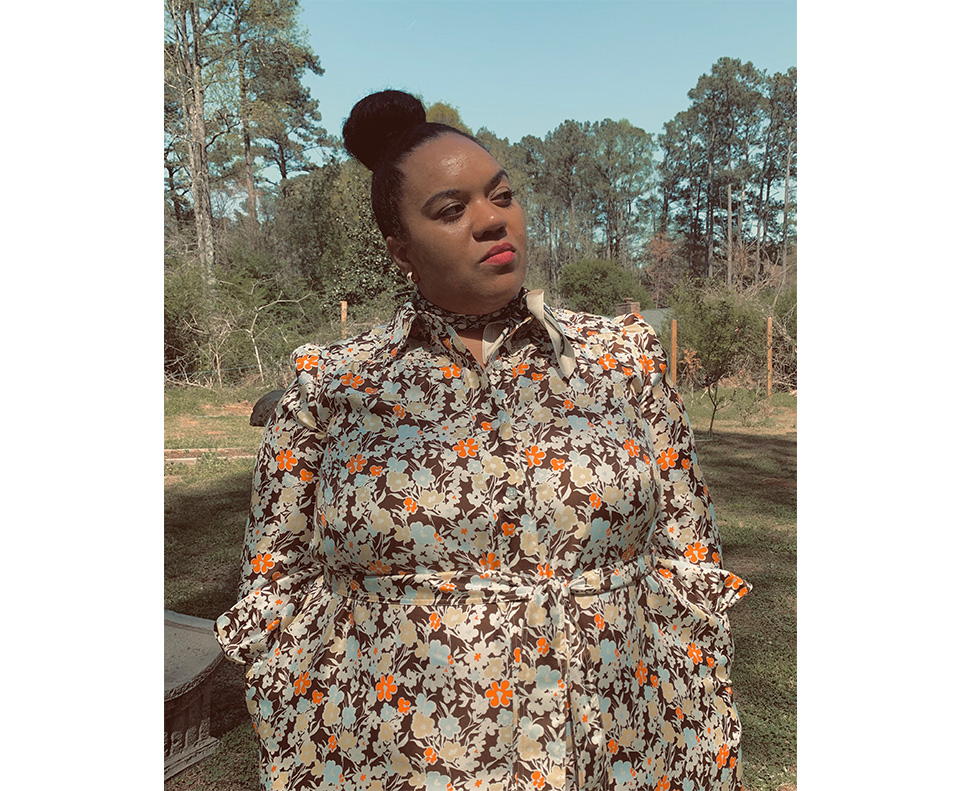 I hope I teach my children that…
Loving who you are starts early on in childhood. If I've taught them well enough, they'll never stop shooting for the stars and, when their consciences try to play mind games, they'll be ready for the fight!
This last year has taught me…
That being a superhero mom is inevitable! From the daily "hats" of being a teacher, gardener, designer, nurse, chef and so much more, we as mothers do it all! I'm proud to say I'm holding it together. I've had bumps along the road, but taking each new day as another day to learn from my mistakes is key.
My words for encouragement to other moms…
Learn to recognize your own personal feelings and signs for when enough is enough. We're always wrapped up in what everyone else is doing, but need to remember to think of ourselves and our needs as well. We need to remember to regroup and take a breather.
I will be spending this Mother's Day…
Just as I've always done — with the anticipation of being wrapped up in my Children's arms and smothered in handmade gifts, cards and picked flowers from our garden. For all life's moments, it's the simplest things that fill my heart with so much love and joy!