Tory has long admired design legend Robert Kime for his ability to create rooms that are perfectly imperfect. His work — and signature charm — has established him as one of the most-respected and loved interior designers, in his native England and beyond. Tory is honored to collaborate with Robert on this collection of fabrics and wallpapers, inspired by an incredible trip they took together to Japan.
After years of using Robert's fabrics in her home, the two finally met and immediately connected, a friendship that solidified during a decorating project for Tory and her husband Pierre-Yves's house in Normandy, which was recently featured in The World of Interiors. "Robert's approach is truly eclectic," Tory says. "He has no rules, and mixes objects from different centuries, countries and genres. Everything looks finished but undecorated — it seems as if it has been there for years."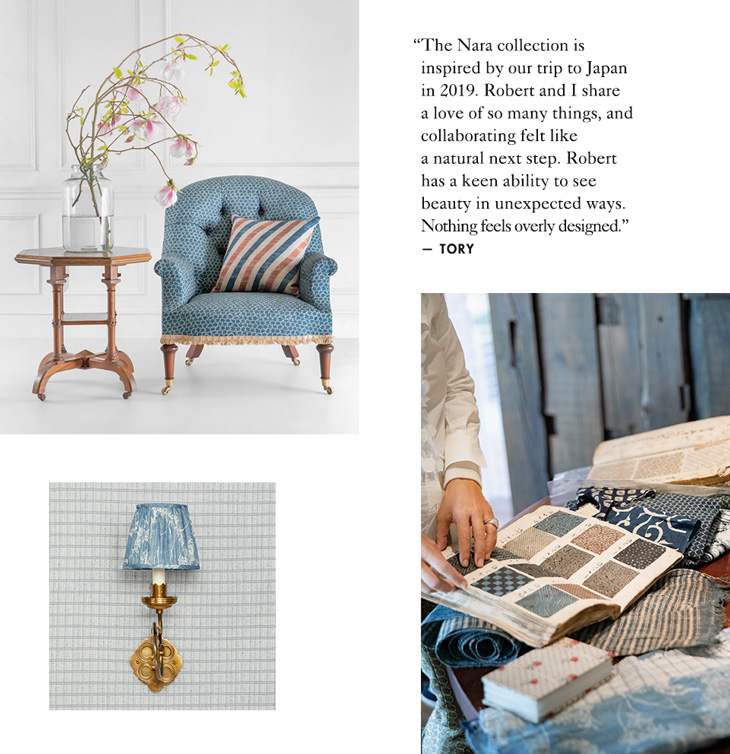 Tory and Robert share a love of many things, Japan being one, and a collaboration felt like a natural next step. They planned an inspiration trip in April 2019 that took them from Tokyo to Kyoto, and finally, to Nara, for which the collection is named. This ancient city — which Tory first visited when she was a college student on Semester at Sea — is home to some of Japan's oldest temples, shrines and ruins. Peaceful and idyllic, it is known for its serene gardens and sacred deer that roam about.
"I see indigo as Japan's universal color, so we leaned heavily into the blues," reflects Robert on the starting point for the collection. "It was a unique experience, digging into the textile history of Japan. Unlike the French and English, there isn't a lot of organization around the concept of documents in Japan, so we traveled to very out of the way places to look to understand the background and history." The duo explored flea markets and antique stores, rooting around in tiny shops, some not much bigger than a cupboard, uncovering a trove of extraordinary textiles.The collection, which consists of 11 fabrics and two wallpapers, incorporates elements of the natural world — cherry blossoms, butterflies, birds, bamboo. It is imbued with a humble beauty, influenced by Japan's rich traditions, unique artistry and, of course, impeccable attention to the smallest details. It is also true to the genius of Robert, who, as Tory says, "has a keen ability to see beauty in unexpected ways."
Where to shop The Nara Collection
From upholstery to pillows and lampshades, there are endless ways to transform your interior using the fabrics and wallpapers. The collection is available at Robert Kime in London. It is also available at Chelsea Textiles in NYC, Jasper in LA, Ainsworth-Noah in Atlanta and Wells Abbott in Dallas.