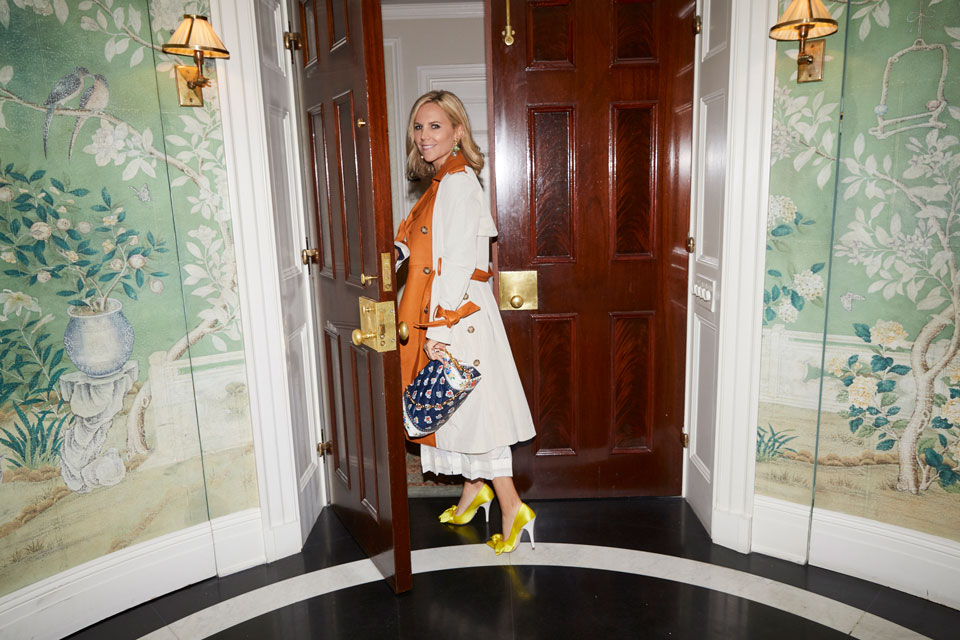 All work and a little play — Tory finds balance on the day of her Spring/Summer 2020 runway show. Even if it does mean waking up at 4:45 am.
4:45 am:
I set the alarm every season, but I'm always up before it goes off. Too many things running through my head. The clothes should be arriving at the venue — Brooklyn Museum — in about 15 minutes to be loaded into the backstage staging area.
5:00 am:
The hair and makeup crew arrive… We discuss yesterday's shows. I'm so grateful to Bridget Foley and WWD for the amazing interview and story they did the day before the show. Making the cover of WWD is a thrill for any designer. It's all the more special that this is our 15th year in business, and Bridget and I had a thoughtful conversation about the state of the industry, how we've grown as a company and how I've changed as a designer.
5:30 am:
For as many people as there are in the house — the YouTube video crew just arrived — it still seems quiet. This is the first September none of my three boys are here. So this is what an "empty nest" feels like…
6:30 am:
One last review of the show notes and inspiration: This season is inspired by Diana Spencer — her fearlessness, intelligence, and most of all, humanity. I have always been fascinated by her, and her legacy of giving back is something I admire most…it has been instilled in our Foundation and company since the beginning.
6:45 am:
My team is starting to pack up for the venue. Jen Livingston is taking photographs as we walk out. I'm always amazed at how she moves so quickly backwards. She is one of the best fashion photographers — I'm so grateful that we have worked with her for more than a decade during New York Fashion Week.
7:00 am:
Traffic! There's a marathon on Fifth Avenue. This early in the morning. Only in New York, kids. Only in New York.
7:45 am:
If you ever get the chance, take an early morning drive down the FDR. The views of the East River, with Queens and Brooklyn flying past beyond it, are perfect.
8:00 am:
We arrive at the Brooklyn Museum. This is one of the most beautiful spots in the entire city. The architecture feels European but the neighborhood is distinctly New York. The Botanical Gardens are right next door, and so is a school. I love the irreverent, bright yellow "YO" statue that welcomes you in the front and the giant Statue of Liberty replica that stands guard at the side entrance.
8:15 am:
Sound check. Michel Gaubert has put together another amazing playlist this year. A post-punk 1980s sound remixed to go along with the subtle Eighties moments in the collection.
8:30 am:
Filming for IGTV. Does anyone remember a time before social media?
8:45 am:
I need to check on the breakfast table out front. This year, Miranda Brooks has outdone herself. She not only created the beautiful greenery along the runway, but the English breakfast table, too, all served on our Dodie Thayer for Tory Burch pieces.
9:00 am:
Model rehearsal. And another model rehearsal. This is the only quiet moment of the morning.
9:15 am:
The first guests — Emily Blunt and Maya Hawke — arrive. Emily is one of the funniest, smartest women I have ever met. I have never met Maya before, but I'm a fan of Stranger Things!
9:30 am:
The first editors arrive for quick backstage interviews in between a last minute shoe swap out on one of the models.
9:50 am:
My family comes back stage for a quick hello and good luck before taking their seat in the front row. My mother, Reva, has never missed a show.
10:05 am:
And go! Nian Fish ushers out Natalia Vodianova, our first model. I'm thrilled to work with her for Spring/Summer 2020.
10:20 am:
It's a blur of hellos and well wishes. I'm so happy!
10:30 am:
Interviews with international press. I'm gearing up for a trip in October. I can't wait. I love traveling. Our whole international team is here from Europe and Asia. They bring a great energy to the week.
12:00 pm:
Indochine. My team and I have been coming here for over a decade. Every post-show lunch. We love it as much for the tradition of it as we do for the signature wallpaper and spicy beef salad and grilled eggplant.
2:30 pm:
Would you believe I have a design meeting? This one is quick. We're reviewing prints for 2021.
3:00 pm:
Pierre-Yves and I slip out and head back to the FDR and towards Flushing, Queens. This time there's more traffic.
4:00 pm:
The thrill of the crowd in Arthur Ashe Stadium at the US Open never gets old. We're watching the Men's US Open finals — Rafa Nada versus Daniil Medvedev. This is the perfect way to end Fashion Week.