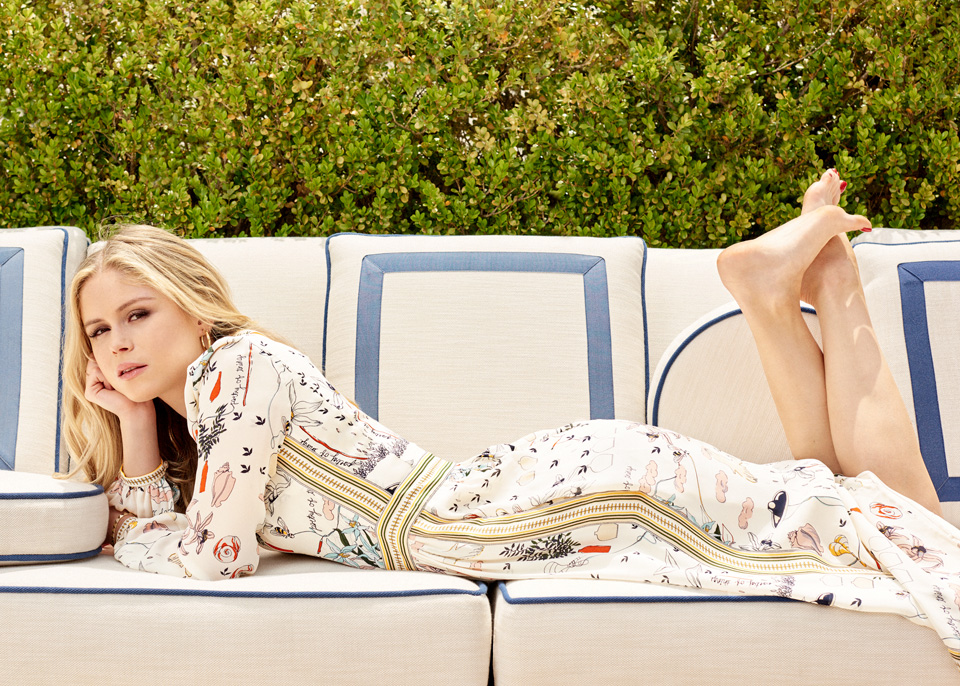 Superheroes, they're just like us. Or at least that is the plot of Amazon's new series The Boys, starring Erin Moriarty. The show follows a group of vigilantes determined to combat immoral superheroes gone wild. Erin plays Starlight, the newest member of The Seven, a group of superheroes. Starlight learns early on that she and the other supes have nothing in common. The Boys also stars Chase Crawford (he of Gossip Girl fame) and includes writing credits by Seth Rogen. If Erin looks familiar, she played Audrey Hart to Matthew McConaughey's Detective Cohle in True Detective. We caught up with her at the Tory Burch store on Rodeo Drive.
I first got the acting bug…
I've wanted to work on stage at some capacity for as long as I can remember. I booked the role of Annie in an off-off-Broadway production in New York City when I was 11 and I had never had so much fun in my life. I couldn't believe that pursuing this could be deemed a career and you could be paid for it. That experience solidified it.
My favorite acting memory thus far…
All these years later, I would honestly still say doing the film Kings of Summer. There was a collective energy on that set, a shared novelty amongst the cast and the director that was so special which I now know in retrospect I will never experience again. It was Jordan Vogt-Roberts' first feature and while the main young cast (Nick Robinson, Gabe Basso, Moises Arias, and myself) had all worked to some degree, there was this underlying understanding that this was our first passion project. Our first labor of love. We were SO young so we didn't quite grasp the magic of it until it went to Sundance and garnered the reaction it did. It was my first lead role and having always been drawn to character-driven indies, it was surreal. It changed my trajectory and upped my standards when choosing projects.
The actor I look to for inspiration…
Gosh, it can't be limited to just one. Some favorites: Carey Mulligan, Holly Hunter, Emily Mortimer, and Catherine Keener.
And my style icon…
My mother. She's able to be simultaneously bold (she's got a pixie cut and several tattoos) while also being totally elegant. A combination that I didn't know was possible but that I now strive for.
Best way to spend downtime on location…
Seeking out great local restaurants, coffee shops and bookstores. I read a lot more when I'm on location for two reasons: we tend to have a lot of downtime on set but also because you find yourself alone more often (not a complaint for this introvert!). I also have a dog, so I'm always on the hunt to find beautiful parks, hikes, or beaches for us.
If I weren't an actor I would be…
An interior designer. I love interior design so much. I just finished decorating my home in Los Angeles and I wish I had 10 more to decorate. I never wanted it to end (not that it isn't an ever-evolving space because of my neurotic mind).
The best career advice I've received…
To trust the slow burn. It alleviates the pressure of achieving everything that you think you need to achieve NOW and allows you to enjoy the moment more.
Favorite show to binge watch…
Fleabag on Amazon. Hands down.
If I could be a superhero, my special power would be…
A damn good protection shield. First, it makes me practically impossible to hurt or defeat. Second, I could travel to areas of the world  that human beings rarely go to. Like the bottom of the ocean or certain areas of the world that are deemed "unsafe" but that I'm fascinated by.
The 5 movies I never get tired of watching… 
Fargo (honestly anything early Coen brothers), Flirting with Disaster, Goodfellas, Jackie Brown, and Her.
My dream role, co-star and director…
I would just love to play some type of character who would be labeled as conniving or manipulative, even evil. It would be such a departure from every role I've played. Co-star? Hmmm. So many. If I had to choose, Phillip Seymour Hoffman. I will never get over the loss of that genius. He was so brilliant and it ties in with my director choice: Paul Thomas Anderson. I wish I could've at least been a fly on the wall for one of their collaborations.
More to explore in
Culture