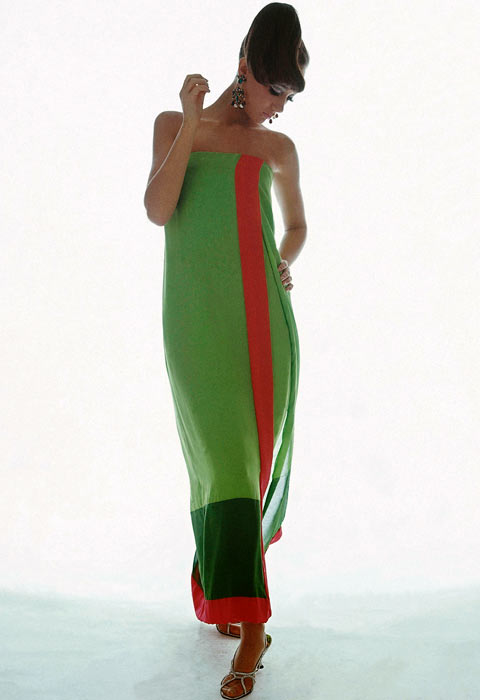 The style icon on her book, A Life in Pictures, her grandmother Elsa Schiaparelli and working with Saint Laurent.
Your book cover — the car, the pose, the Chanel ensemble…
It's timeless and it's very much of a woman. It's not a fashion picture even though I'm dressed to kill in a fabulous car.
My first magazine cover…
The Christmas issue of French Elle with my sister Berry. We were five and six. We wore dresses my grandmother made for us — red velvet with shocking pink bows.
And my influences…
Diana Vreeland was like my godmother. She taught me about life. I knew Audrey Hepburn when I was a child. She inspired me to become an actress and to do humanitarian work. My grandmother, of course. Visconti gave me my first chance in film. Irving Penn and Richard Avedon, whom I loved working with. Andy Warhol was a great friend. Halston was like a big brother — he gave me away at my second wedding.
Best piece of advice I ever received…
Diana Vreeland told me that one should have discipline in life. She was completely right.
My grandmother taught me…
Independence, strength and the desire to go out on my own the way she did.
My style is…
Baroque. I'm not a minimalist.
Favorite designers…
Yves Saint Laurent. I still wear some of my grandmother's things. Valentino, Antonio Marras, Donna Karan, Ralph Lauren, Alber Elbaz, Ossie Clark and Zandra Rhodes. And Tom Ford — how could I forget Tom?
Saint Laurent was…
A wonderful man. He was such a sensitive person and had such incredible taste and culture. He was a magician. He brought out the best in women.
Favorite Studio 54 memory…
Every night. Everybody knew everybody. It was glorious. We were just young and having a good time.
The secret to taking a good picture is to…
Slip into character. I like to be a chameleon, to play parts and be other people and have fun. I can be any woman I want.
My guilty pleasures…
Pleasures I have a lot of, but I don't feel guilty about any of them.