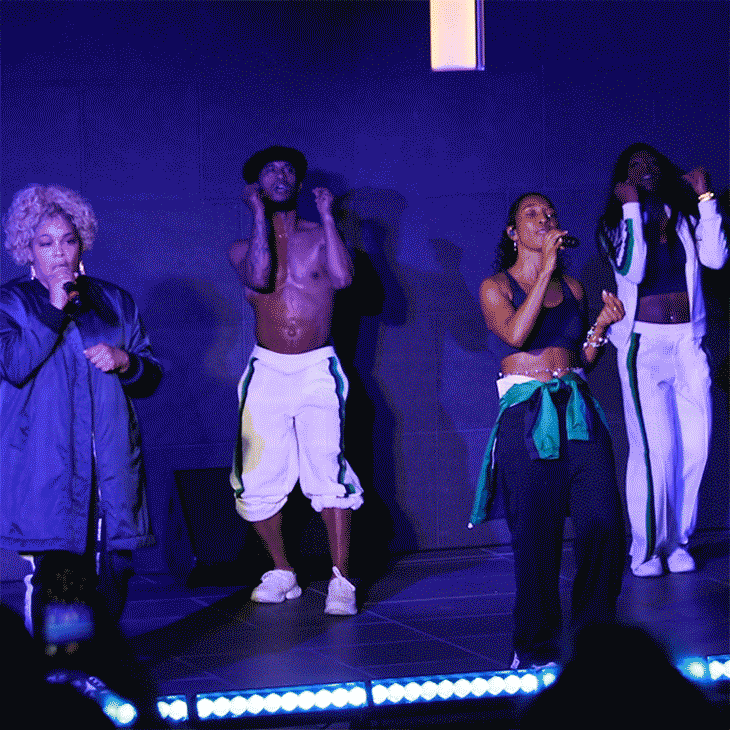 An intimate dinner at the Aman Tokyo ended with a pool-side performance by the legendary R&B duo TLC. Tionne and Chilli took to the stage wearing Tory Sport, and they had guests dancing with classic hits such as No Scrubs, Unpretty, Creep and of course Waterfalls. We had a few moments with them backstage, where they talked about why they love going on tour, what to do in Tokyo, and then they created an energetic playlist just for Tory Burch.
What is the best part of going on tour?
Chilli: Being on stage. That's when I really get to engage with the fans and give them what they want. That is the absolutely best feeling in the world to me.
Tionne: Meeting the fans! We have fans who come to shows everywhere to see us, it's amazing having that kind of support.
Top 3-5 favorite things to do in Tokyo?
Chilli & Tionne: Shop at Don Quijote! That store is crazy, they have different levels in there and all kinds of stuff, we spend hours in there! Eat! There's so much good food in Japan, it's unreal. Udon noodles are a must anytime we visit. And of course we hang out with the Exile boys!
What are you listening to right now?
For new music, we're really into Bruno Mars, he's so talented it's unreal.
アマン東京でのディナーパーティの最後を飾ったのは伝説のR&Bデュオ、TLCによるプールサイドでのパフォーマンス。ステージに登場したティオンとチリの衣装はトリー スポーツ。No Scrubs、Unpretty、Creep、そしてもちろんWaterfallsも含め、往年のヒットナンバーを披露し、ゲストも大盛り上がりの楽しい時間を過ごしました。バックステージでのわずかな時間のインタビューでは、TLCがツアーを愛する理由や東京でのプランなどについて答えてくれた後、トリー バーチのためにエネルギッシュなプレイリストを厳選してくれました。
ツアーの醍醐味は何ですか?
チリ:ステージと一体になること。その瞬間はファンと一緒に盛り上がる感覚があるし、それこそがファンのみんなが望んでいることだと思う。世界で何よりも素晴らしい感覚を私に与えてくれるの。
ティオン:ファンと会えること!私たちに会うために各地のショーに来てくれるファンがいるということが、ものすごく励みになるの。
東京でしたいことのトップ3は?
チリ&ティオン:ドン・キホーテでの買い物!あのお店はすごいのよ。いろいろなジャンルのものやあらゆる種類の商品がたくさんあって、あそこには何時間でもいられるわね!あとは食事!日本にはたくさんの美味しいものがあって、まるで現実の世界ではないみたい。来日したらうどんは絶対にハズせないわ。もちろん、EXILEのメンバーと過ごす時間も楽しみ!
最近聴いている楽曲は?
今の音楽だと、ブルーノ マーズにハマってる。彼にはこの世のものと思えない才能があるわね。
Marvin Gaye – I Want You
The Jackson Five – Let Me Show You The Way
Nirvana – Smells Like Teen Spirit
Michael Jackson – Off The Wall
The System – Don't Disturb This Groove
Art of Noise – Moments in Love
Cyndi Lauper – Girls Just Wanna Have Fun
Seal – Metaphors
Sade – The Sweetest Taboo
Billy idol – Rebel Yell
Prince – When Doves Cry
Michael Jackson – Billie Jean
Bruno Mars – Uptown Funk
James Brown – I Got You
Prince – 1999
Seal – Dreaming in Metaphors
Sade – Your Love is Kind