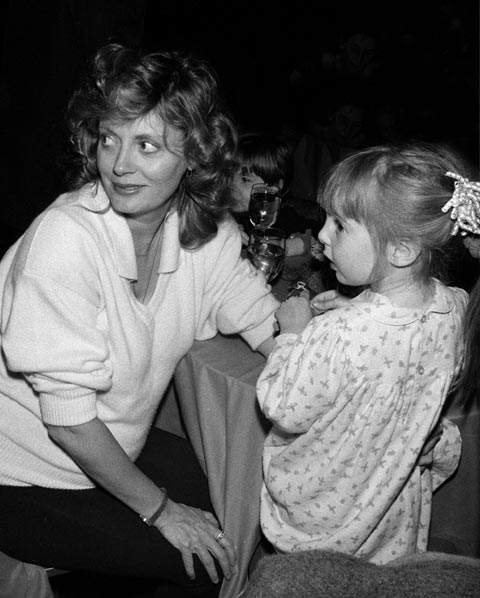 Susan Sarandon is as famous for her activism as she is her acting. She's passed both a sense of on-screen timing and social responsibility to her daughter Eva Amurri Martino — they've played mother-daughter in movies like
The Banger Sisters
and the upcoming (appropriately titled)
Mother's Day
, as well as campaigned together against human trafficking. For the Tory Blog, Susan and Eva discuss what they've learned from each other.
What have you learned from each other?
Susan:
That every day is a miracle.
Eva:
When somebody tells you who they are or what they want in life, believe them!
Favorite memory from Eva's childhood…
Susan:
The first time she managed to pull herself up to standing in her crib…her face showed wonder and empowerment.
Eva:
 On our birthdays when we woke up, my mom would have tied the end of a ball of string to our bedpost that trailed all over the house. We would follow it to find our presents in the bathtub, in a cupboard, behind a plant…. It was an adventure. It made our day so much more special.
The key to getting the next generation socially aware is…
Susan:
To educate them. Put faces on the issues, then give them the means to follow through once their imaginations and empathy have been activated. Please spotlight
Somaly Mam
— who is mother to so many.
Eva:
Philanthropy is something you can work in to your everyday life. Donate toys, canned goods or clothes to a local drive. Donate your time to a local soup kitchen or shelter. It doesn't have to be every day or some grand gesture. It's important to be aware of your community and to do what you can.
More to explore in
Culture