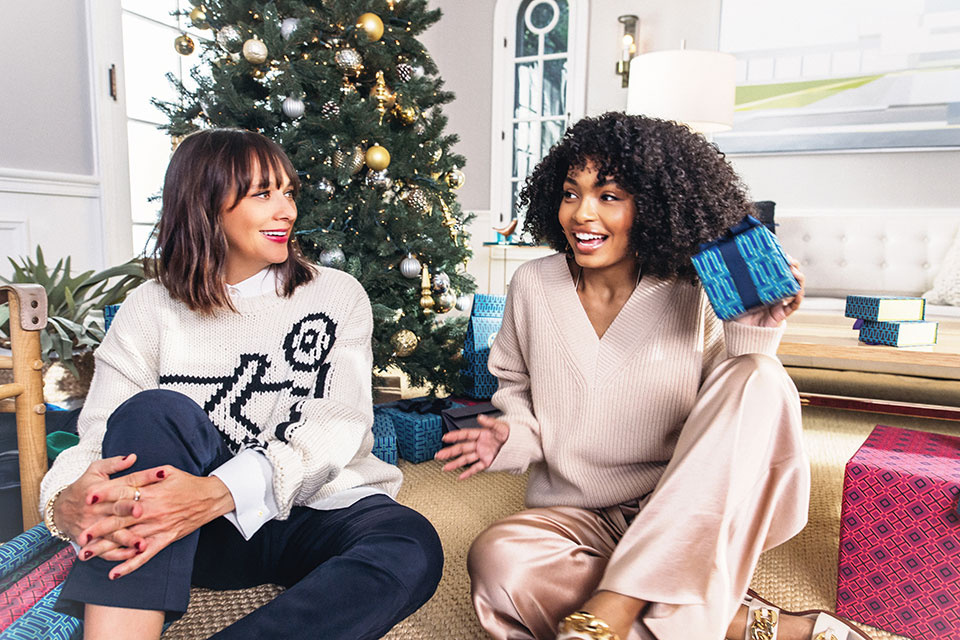 Tory tapped actress, activist and apparent comedic-genius Rashida Jones to write this year's Holiday 2018 video, "That's a Wrap," starring Yara Shahidi. We love Jones for a number of reasons — The Office and Parks and Recreation, to name a few — and her recent documentary film Quincy, about her father, Quincy Jones, that stole our hearts. That, and the fact that she used an all-women production company to produce "That's a Wrap." Here, we catch up with the star to talk holiday wins and hilarious fails (allergic reactions, and all…).
On a scale of 1-10, what are your actual gift wrapping skills?
This film is semi-autobiographical. I love to wrap and fancy myself pretty good at it. I'd say I'm a 7.
Did you learn any wrapping techniques on set?
Tory's paper is so beautiful. It's geometric, so it's important to line up the shapes to maintain consistency in the design. When done with precision, the results look professional!
When you were writing this script, was there someone or some event that inspired Yara's zealous wrapping in the film?
Yes, me! I stop short of wrapping myself, though. I'm not that talented.
What was it like working with Yara?
Yara is a dream and she has wonderful comic instincts. She's so intelligent and fun, and she added a ton of improv to the ending. She helped take the original premise to a whole new level.
What would you get Yara as a holiday gift?
Yara's a freshman in college, so she needs a comfortable bag for lugging around all her textbooks. The Tory Sport Grumps backpack is super cute & perfect for that. She loves music and had her own playlist in her room during the shoot, so I'd also give her an old school record player and include a couple of my favorite records — Stevie Wonder's "Superstition," Tribe Called Quest's "Low End Theory" and Michael Jackson's "Off The Wall."
You worked with Majority, an all-female production company for the holiday film. Tell us why that was so important for this project…
We live in a time where representation is a much-discussed subject. If I'm put in any position of authority, I feel it's my responsibility to do what I can to contribute to facilitating equality for women in my industry. The truth is, there's no good reason for women not to be in more positions behind the camera and Majority is committed to helping with this change.
Please share an anecdote or two from set…
I'd always envisioned Yara wrapped up in the end standing, but she had the idea to sit on the floor. It looks so much funnier than I had imagined. That's the shot we ended up using in the film.
What's the best and worst gift you've ever received?
The best gift I ever received was from my dad on my 21st birthday. He gave me a giant library of CDs (remember CDs?). It was all the music that ever inspired him. It ranged from Maurice Ravel to Miles Davis to Leonard Bernstein. It's still the cornerstone of my music collection (digitized now, obvi). In a way, the worst gift I ever received is probably a cake or holiday cookies because it always ends in a food apocalypse — I eat until I'm unwell.
What's the best and worst gift you've ever given?
The best gift I've ever given was probably the documentary film I directed about my dad. I feel like I don't really need to get him something else for a while. The worst gift I've given someone was a cashmere sweater to a person that was allergic to cashmere.
What's on your wish list for the holidays this year?
I know it sounds crazy, but I feel like I have everything I want. My only wish is that the people who suffered loss this year — whether it's the fires in California or the crisis at our borders — can eat a warm meal with their families.
Favorite holiday tradition?
On Christmas Eve, my dad's great friend John Clayton and his son come to play Christmas songs on upright bass and piano. They come to our house and play the jazz versions of the Christmas carols for us.
Favorite holiday song?
"This Christmas" by Donny Hathaway.
Favorite holiday movie?
Definitely, without a doubt, It's a Wonderful Life. It's the most amazing movie. Besides being an emotional story about a family, the theme of gratitude and the question of what constitutes success is something that is always relevant.
Can you name all of Santa's reindeer?
Rudolf, um, Dancer, Prancer, oh god…how many reindeer are there? Blixen? Dopey and Sneezy…Can I look it up now?
How will you be spending your holidays this year?
Sleeping. Seriously.
What was your best New Year's Eve in recent memory?
As long as I'm dancing, like really dancing — literally, sweating — I'm really happy. So that said, all of my best New Years have been spent on the dance floor.
What is your go-to holiday look?
I tend to overdo it with coats and jackets, so holiday dressing is my favorite. I typically rock an oversized sweater or cozy coat. For beauty, my go-to look is to keep my skin natural with a red lip and simple cat eye.