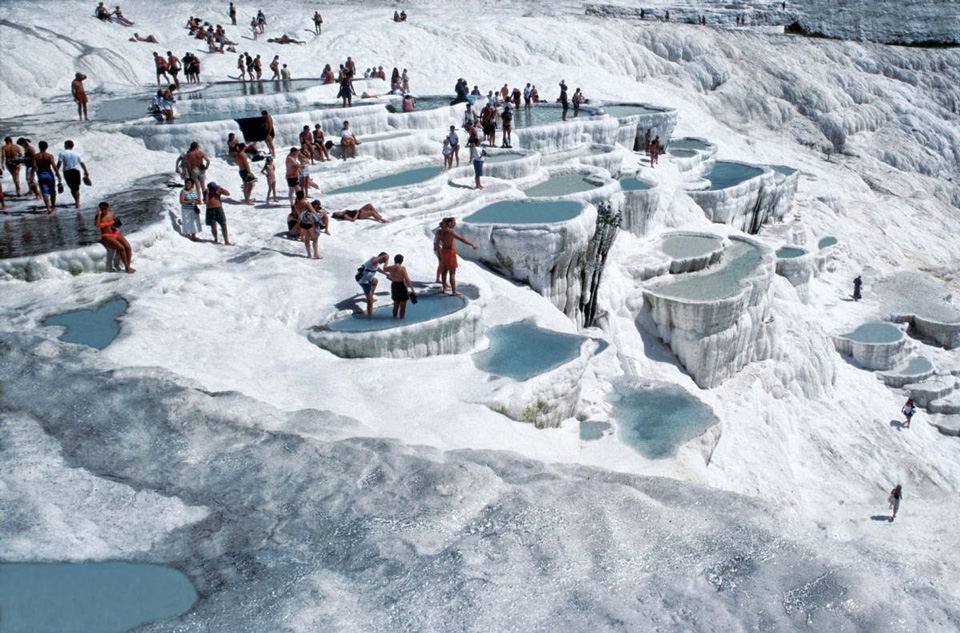 Need a little travel inspiration for 2018? Here are our editor picks on where you can relax and do the body good…
Blue Lagoon — Grindavik, Iceland
Soak up some R&R — and skin-boosting minerals — at this gorgeous geothermal lagoon named one of National Geographic's 25 Wonders of the World. New luxury developments include the Retreat at Blue Lagoon Iceland and Ian Schrager's Edition Hotel (coming in 2018).
Pamukkale Thermal Springs — Pamukkale, Turkey
The ancient Romans believed in the healing powers of the hot springs here, so much so that they built the sacred city of Hierapolis around it. The view, breathtaking rock formations resembling a frozen cascade of waterfalls, is as blissful as a dip in its calcium-rich waters.
Kinosaki Onsen — Kinosaki, Japan
Japan is a wonderland for hot spring lovers. There are thousands of terrific onsen ("hot spring") destinations scattered throughout the country: Yamanaka, Asahidake, Yamashiro, Kusatsu, Beppu, Arima… Our favorite is Kinosaki. In addition to the numerous ryokans (traditional Japanese inns) with their own private onsen, there are seven for the public — one for every day of the week, as the locals say — including one inspired the Kyoto Imperial Palace.
Puritama Hot Springs — Atacama Desert, Chile
The last thing you'd expect to find in one of the driest deserts in the world is a relaxing series of geothermal pools — but that's what makes Puritama Hot Springs so extraordinary; it's literally an oasis, with marvelous blue-green waters and ache-alleviating sodium sulfate waters.
Grotta Giusti — Tuscany, Italy
For a different take on the hot spring experience, try Grotta Giusti — the world's largest thermal cave. The moniker takes after Italian poet Giuseppe Giusti, who lived nearby; another famous Giuseppe — Verdi, the composer — dubbed the grotto "the eighth wonder of the world."
Mammoth Hot Springs — Yellowstone National Park, Wyoming
The most spectacular hot spring at Yellowstone National Park is the Grand Prismatic. With its intensely vivid rainbow colors — vibrant reds and oranges bleeding into saturated yellows and then cool greens and piercing blues — it's a surreal sight to behold. Alas, no swimming is allowed, so after you take in the stunning sight, make sure to stop by the nearby Mammoth Hot Springs, where you can unwind in its mineral-rich waters.
More to explore in
Travel