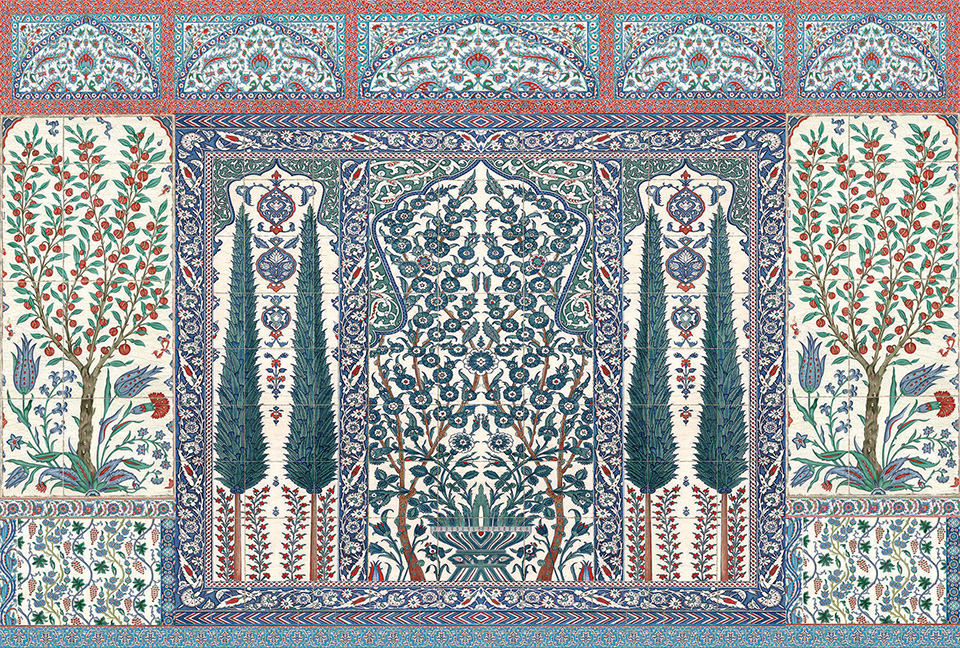 Wandering into a room decorated with Iksel wallcoverings is a lot like losing yourself in a good book — you're completely transported. Founded by Mehmet and Dimonah Iksel (partners in both work and life), the company has carved out a niche in the interiors world for its beautifully immersive decorative wallpapers. Picture hand-painted exotic scenes from 17th Century Japan or 19th Century Bologna — or opulent Ottoman tilework, as seen in our new store windows (read more here). Iksel Decorative Arts is an interior designer's not-so-secret secret to making a room come alive.
Mehmet and Dimonah's story begins, unbelievably enough, with a heavy dose of kismet. Dimonah was previously a jewelry designer based in New York; Mehmet worked in theater, both as a director and teacher, in Paris. But in the spring of 1988, both found themselves in Jaipur — she was on vacation while he was in town helping a friend, who was opening a hotel in the south of Turkey, source miniature paintings on silk. On April 1st, they met over breakfast at a hotel terrace. "It was such a powerful encounter," the two write via email. "We were both too mature to believe in love at first sight, but there it was!"
But the spark was more than just romantic — there was a jolt of professional inspiration, too. "We were so impressed with the result of Mehmet's search and custom-made miniatures for his project that we started imagining what could be done with local painters and their traditional method of painting," they continue. "The idea of making custom hand-painted frescoes came from Dimonah, who had recently been to a friend's wedding in Orvieto, Italy, and stayed in a hotel that had Neo-Classical hand-painted panels stuck on the walls as opposed to painted directly, and it seemed like such a good idea."
Here, the couple opens up about their work and the allure of the classics.
Iksel is…
Scenic, architectural and ornamental wallpaper that makes walls and ceilings look like they were hand-painted long ago, as a decor specifically for that room.
Our love of decor and interiors comes from…
As we were both dragged around the world by our parents — Mehmet's father was a diplomat and Dimonah's father was a diamond dealer who moved for business — we had both been exposed to so many different cultures and aesthetics in our youth, and later as adults. It seemed like a natural transition from our previous careers, to look closely at the decorative arts that had made an impression on us.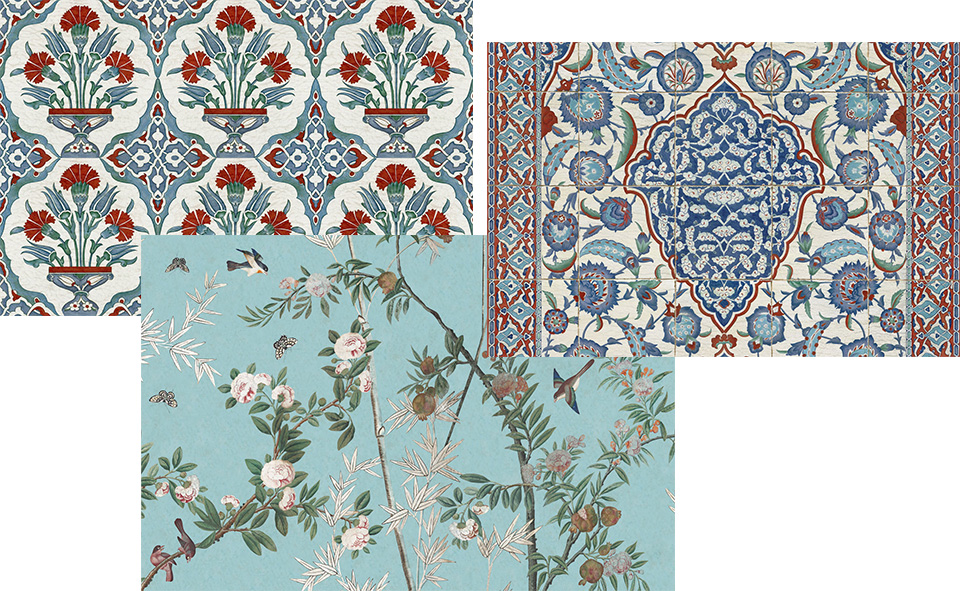 Our favorite decorative period…
We have many favorites. Let us say that Europe, the Islamic World and the Far East have produced marvels in the decorative arts. All of them deserve attention. We somehow unify them in our attempt at creating coherent decoration. We unify color schemes, textures and designs, which harmonize in a room. Yet elements from different periods and cultures can all participate in this harmony. For example, Kubilai's tent is made from an eighth-century Abbasid design, but it ends up looking like a Regency Marquee.
Why we prefer traditional decorative arts versus, say, more modern works…
As the 20th Century has had to deal with providing housing for billions of people, it has resorted mainly to concrete, metal and glass. These are cold materials that have made our environment quite inhuman. We are lucky to be able to counterbalance this situation in our interiors, where we can be reminded of our aesthetic heritage from eras that did not have to justify what Lewis Carroll called "uglification". As a Victorian himself, he was conscious of the disaster brought by the Industrial Revolution. So, at Iksel, we are pre-industrial in our sensibility, because we think that homes are secret places where we can indulge in our own sense of beauty. We also have all of the world history of art and of the decorative arts to be inspired from. We have been able to merge privilege of craftsmanship and modern technology!
Our favorite print from the Iksel catalogue…
Again, we have many favorites but D-Dream being the public's choice, we have a soft spot for it as well. It was Dimonah's first personal creation. Otherwise we are always excited by our latest novelty…
Most memorable project we've done…
Out of the thousands of rooms we've done, we have seen few photos of final installations. One of our favorites is Tory Burch's dining room because it was a challenge to fit our Iznik design into European-style moldings. When we approach a room, sometimes architectural givens define the search and give wonderful, unexpected results. We also collaborated with Tory through her designers who had much input in the process.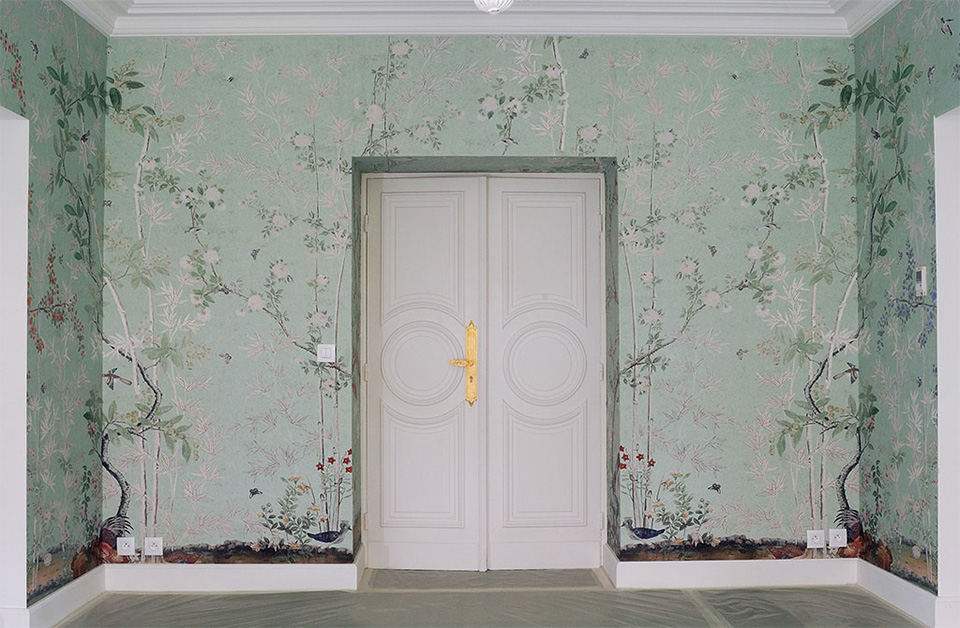 The most exciting part about owning your own business…
Probably the freedom to move in whatever direction you please with your creative enterprise. We made choices, like not taking on investors because we thought it would inhibit our freedom. We were not concerned with what was fashionable, only with what we found beautiful. Luckily, from the start, we had others who also found what we did beautiful, and that is what our concept of business has been for most of this adventure.
The other exciting aspect is how everything develops organically. One thing leading to another. So many people have told us what a great idea it was to combine hand-painting and high tech. It was not something we set out to do. Business is often seeing what the next step could be and how to make what you are doing more accessible. That is how we ended up with a huge digital image bank based on 30 years of hand-painting, in our own style, in our own studio, made with very talented people we chose as a team in Rajasthan, Istanbul and London….
And the most challenging…
It's like anything you care about intensely, it takes so much out of you in time, effort, concern, means, risks, energy, etc. But if you are passion-driven, it all flows and seems natural.
Best business advice received…
Our dear friends the Kasliwals of Gem Palace Jaipur probably gave us the most sensible advice, which was not to start a business without capital. We ignored them and went ahead with our excitement and conviction that we were different, an exception — little did we know how much hard work awaited us. Today we joke with our friends when we say we are actually much younger than we look!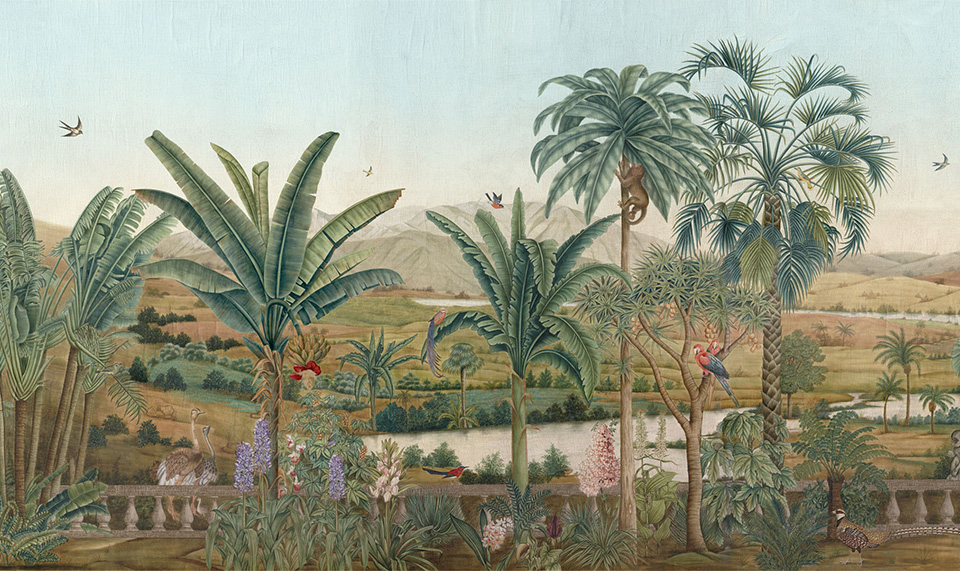 More to explore in
Culture