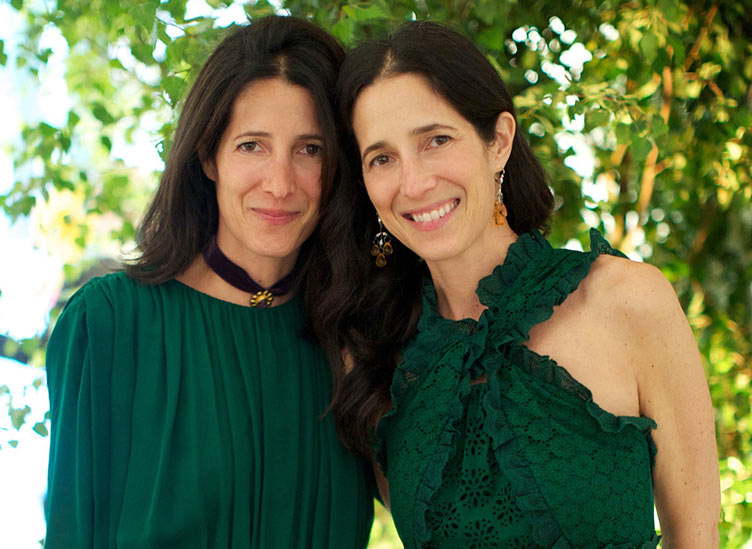 Even though Amanda Ross, left, creator of ARossGirl, lives in New York City and Alison Ross Green, the VIP advisor to Frieze Masters, calls London home, the twins spend as much time together as possible. A more simpatico pair you won't find, especially during the holidays when they share family time.

There's more! Keep reading for the full interview.
What I love most about the holidays…
Amanda in New York:
Getting family together, being with my husband and his children, decorating the house, building on traditions and adding new themes, shopping for presents for family and friends.
Alison in London:
The festive spirit starts early in London. Some local favorites: Winter Wonderland, Hyde Park, Christmas tree at Claridge's, Regent Street, fireworks along the Thames, London for New Year's Eve. I love spending time with my husband and sons. We mix up locations each year.
Favorite holiday tradition that you can only do in New York/London…
Amanda: Christmas Spectacular at Radio City Music Hall, Christmas carols at St. Bartholomew's Church.
Alison: The Royal Opera House's Nutcracker with my goddaughter; midnight mass at Westminster Abbey and St. Paul's Cathedral Charity Christmas Carol evening.
For a traditional holiday dinner, I always go…
Amanda: Home.
Alison: To Claridge's.
Favorite holiday cocktail…
Amanda: Champagne at The Carlyle Hotel.
Alison: Martini at 5 Hertford Street.
My go-to holiday outfit…
Amanda: Our ARossGirl x Kenyan Maasai Warrior Beaded Pendant
Alison: A vintage velvet Yves Saint Laurent skirt and vest from LaDoubleJ.com.
Street or neighborhood with the most inspiring holiday decor…
Amanda: Bergdorf Goodman and Saks Fifth Avenue's windows…
Alison: Mount Street.
Favorite spot to find the perfect holiday gifts…
Amanda:
The Neue Galerie gift shop, Wiener Werkstatte Textile pattern fabric bones and Dagobert Peche vase. Gold ornaments at St Bartholomew's Church. Creel and Gow — everything. Ladurée cameo candles, Bardith for blue and white Copeland Spode Greek pattern china. Tom Dixon rose gold table top gifts. De Vera books. Tiffany & Co for Elsa Peretti finger bowls and all size glass.
Alison:
Conran Shop. Venusrox for rocks, minerals and ammonites. Anderson & Sheppard scarves, hats, pocket scarves. Budd classic robes and pjs for my husband and sons. Vibi Venezia velvet slippers. My son Charlie's clothing brand of cashmere hoodies. Luggage tags, Mount Street Stationers, art books always, TukTuk Papier Maché Mistletoe for my door, Turquoise Mountain jewelry in Pippa Small's shop, Décor Babares blankets, subscription to
Cabana
magazine and Cire Trudon flourescent colored candles with cameos.
My gift-wrapping style…
Amanda: Brown paper with thick colored yarn; silver and gold paper looks so pretty under the tree.
Alison: I usually pick a theme. Last year was recycled brown paper with white stamped trees, pinecones and birch. This year is brown paper and lamé colored thread.
On my holiday playlist…
Amanda: Ella Fitzgerald, Bing Crosby and Frank Sinatra Christmas hits; Dean Martin and Sammy Davis Jr.
Alison: Neville Marriner's Baroque Trumpet Concertos; St Martin in the Fields; Christmas at King's College Choir; classic English hymns and Michael Bublé.