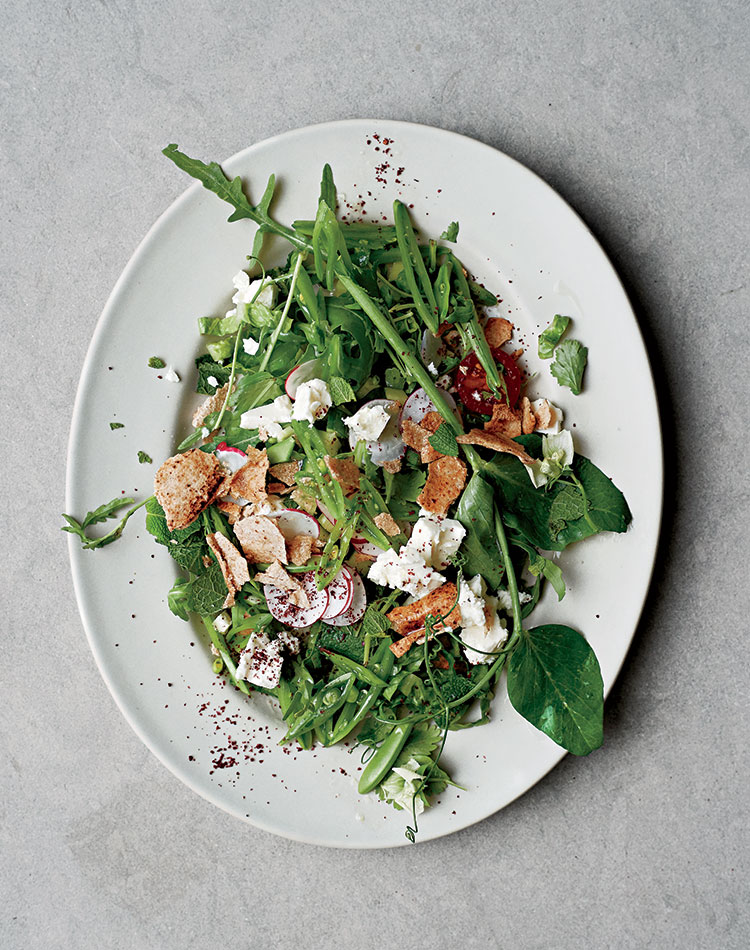 Three factors define all the recipes in Gwyneth Paltrow's It's All Easy cookbook: they're good-for-you healthy, absolutely delicious and rather effortless to prepare. As she writes in the introduction, "This book is meant to be a road map: a self-help book for the chronically busy cook…. Because even if life isn't all easy — far from it — sitting down and enjoying a good meal with people you really like can be. It should be." Here, Paltrow's recipe for a Middle Eastern fattoush salad, which she recommends pairing with chicken or fish for a main course.
Ingredients
2 tbsp olive oil
1 piece naan bread, torn into roughly 1/2-inch pieces
2 c snap peas, cut into 1/2-inch slices on a bias
1 c cherry tomatoes, cut in half
1 c chopped English cucumber (about 1/2 English cucumber)
4 radishes, thinly sliced
A large handful of arugula
1 1/2 c finely chopped romaine
1/2 c roughly chopped fresh cilantro
2 scallions, thinly sliced
A large pinch of sumac
4 oz crumbled feta (optional)
For the Dressing
1 large garlic clove, very finely grated or minced
Juice of 1 large lemon
1/4 c olive oil
Salt
Instructions
To make the dressing, whisk together the first three ingredients and season with salt to taste. Set aside.
To make the salad, in a medium sauté pan, heat the olive oil over high heat. Toast the naan bread in the pan until lightly browned. Set aside to cool.
Combine the toasted naan and remaining salad ingredients in a large bowl; add the dressing and toss to combine. Serves 4.