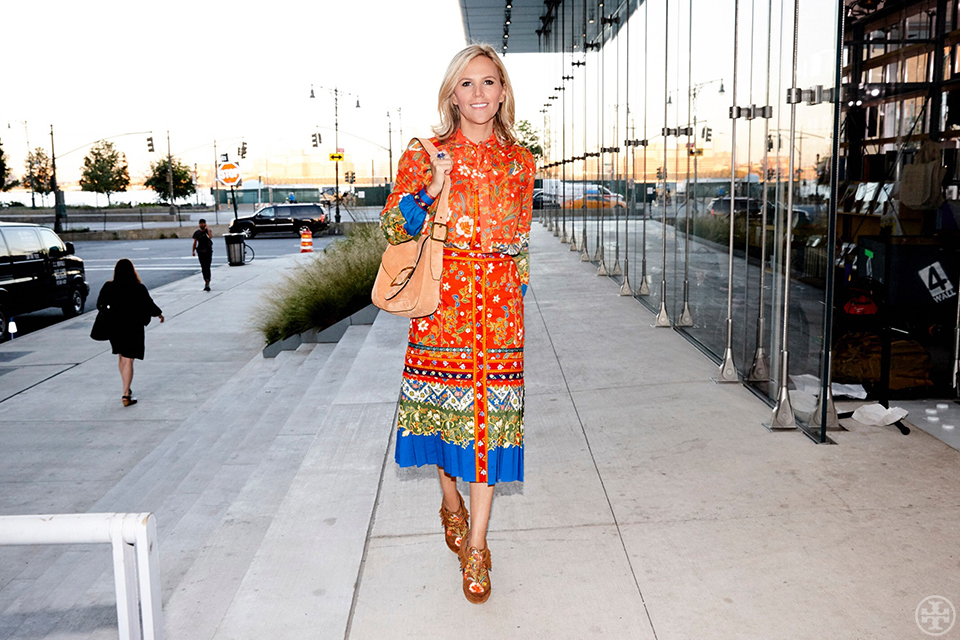 Relive Tory's show day, from sunrise to sunset — and beyond.

5:00 AM

The alarm! I always wake up five minutes before the alarm. It's a habit. Today is extra special — my twins are home from college to support me at the show.

5:15 AM

Sitting in hair and makeup is almost meditative. I can read the newspapers, review q+as and prepare for the day.

6:20 AM

I woke my three boys up to say goodbye before I leave for the new Whitney Museum. An art history major, I'm thrilled to show there for the first time.

7:00 AM

Walking into the Whitney, along the Hudson River, we stopped to look at the changing pink sunrise. It doesn't get better than this.

7:15 AM

The sound check is always my favorite. I love the mix of nostalgic, dreamy Bee Gees with the vibrant sound of Beyoncé and Young Thug. Spring/Summer 2017 is about contrasts, and it starts here.

7:30 AM

Checking a few last-minute changes to Taylor Hill's white eyelet top and skirt. Our design team and atelier are incredible — nothing fazes them.

8:00 AM

Final walk through. The models are wearing Tory Sport track suits we embroidered their names on. I love small details like that.

8:30 AM

It's so good to see my friend Jessica Alba — our models are wearing the makeup from her Honest Beauty line. She could be the California girl in our East Coast-meets-West Coast collection. She, our friend and stylist Tabitha Simmons and I look over the boards one last time.
9:15 AM

Show time! I'm really proud of the work we did on Spring/Summer 2017 — inspired by the contrast of East Coast prep on overdrive and West Coast bohemians. It's quintessentially American.

11:30 AM

At Indochine, the team and I are having our traditional post-show celebratory lunch.

3:00 PM

Back at the office, I'm being interviewed by editors who flew in from Asia. As long as my day is, the editors must have a longer week!

6:00 PM

On my way home, I call my mother Reva to get her take on the show. The pink caftan on the runway was inspired by a look my father Buddy's mother used to wear. We both remember her wearing it. She looked so effortless, and was the ultimate hostess.

7:00 PM

Groundhog's Day! I'm back in hair and makeup for a touch-up before a cocktail party I'm having at home to introduce our Gemini Link collection. It celebrates the dualities of life — of being a mother and a business owner, a designer and a CEO, like so many people juggle more than one thing at a time…

9:00 PM

Our first guests arrive…