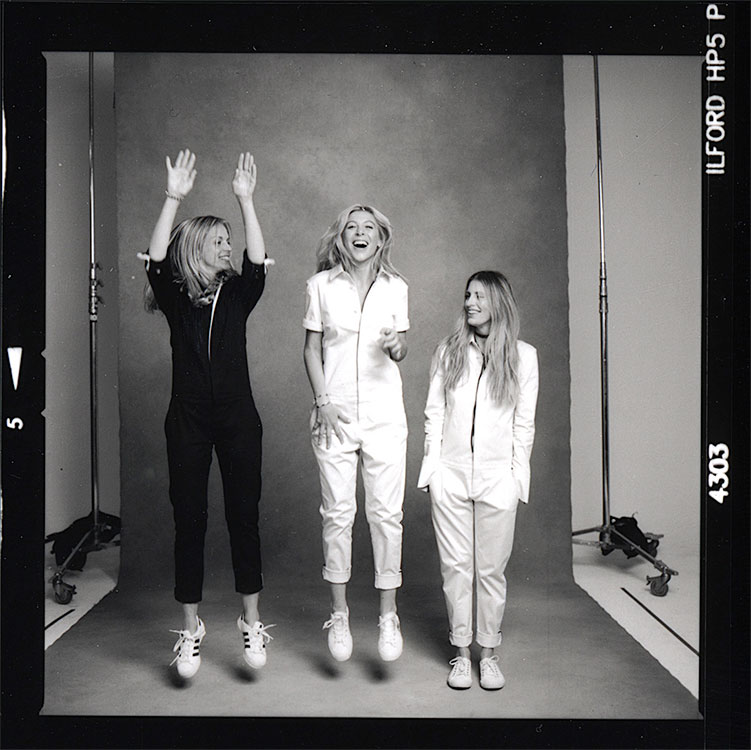 Have you ever met a fashion editor, designer, photographer or stylist who isn't obsessed with stripes? We haven't. Valerie Boster and Meredith Melling, former Vogue editors, teamed with Molly Howard, formerly of Rag & Bone, to co-found La Ligne, a tightly edited collection of stylish looks based off that most beloved of graphics: the stripe. A month after launch, the intrepid trio of re-inventors speak to stepping out of the expected line and striking out on their own.
La Ligne is…
MH:
A timeless brand defined by an iconic graphic: the line.
The inspiration behind the launch…
VB: Stripes are a classic design with a versatility that allows for endless interpretation. No matter the season, stripes have proven to be timeless and classic staples. With La Ligne, our goal is to become synonymous with the stripe and continuously explore its possibilities. When customers are seeking stripes — whether it's a classic design or new interpretation — we want La Ligne to be their go-to destination.
The most exciting part about owning our own business…
MH: We put a lot of thought into every aspect of the brand and seeing women respond so positively to everything, from the packaging to the content on the site, has been really rewarding.
And the most challenging…
MM: When Valerie and I were on the editorial side, we saw the ins and outs of how designers work. especially through working with the CFDA Vogue Fashion Fund. but it's been a learning experience to actually be involved in executing every aspect of the process — from design to production to supply chain and marketing.
We overcome the above by…
VB: We're learning something new every single day and are excited by the challenges that launching and building a brand comes with.
The best advice we received while launching La Ligne was…
MH: For us, La Ligne was really built by a community. We have three co-founders and we looked to our friends and family to really be our partners in there: from investing to participating in our In Line portrait series by modeling their favorite pieces from the Essentials collection. Our board of advisors is really a testament to those who have helped us build this brand by advising us on everything from where to source materials to where to find the best local manufacturers.
MM and VB: Some of the best advice we received was to keep a narrow focus for launch. We want to stripe the world and ultimately enter every category, but we realize how important it is for us to build the brand and get to know our customer before we do so.
The best lessons we learned working at our previous jobs…
VB:
Always look forward.
MH:
Don't sweat the small stuff.
MM:
Focus, focus, focus.
And never be afraid to…
VB: Wear stripes with stripes.
Our business icons…
MH: Anna Wintour, Andrew Rosen, Natalie Massenet and Tory, of course!
Our fashion/style icons…
MM: La Ligne is French for the line and our design inspiration comes from a European slant and attitude. Our muses include icons like Françoise Hardy, Jane Birkin and Brigitte Bardot.
Our long-term goals for La Ligne…
VB: While La Ligne aims to be the ultimate destination for all things striped, we also want to offer customers the best experience and a luxurious, high-quality women's collection. Ideally, our goal is to be a full lifestyle brand, with all items inspired by this iconic graphic.
Favorite pieces from La Ligne and how we style them…
MM: My favorite piece is the jumpsuit because of its versatility. For a dressed-up look you can wear it buttoned up with heels or you can keep it casual layering over a t-shirt and pairing with sneakers.
MH: The Fluid Line dress is just so comfortable! My favorite way to dress is in something that can take you from morning to bed if you wanted it to. You could wear it open over jeans, on its own with sneakers, belted with heels or as your pajama.
VB: If I could sleep in the Boudoir top and pants I would! I resist calling them pajamas because you can easily wear them for a black tie event if you pair it with the right blazer and heels. They're that luxe in terms of quality, design, and the way it feels on your skin.