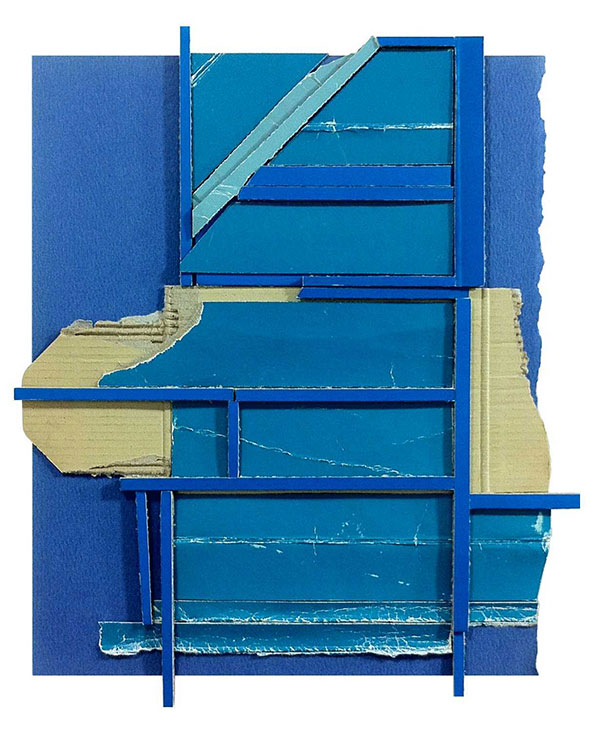 What's in a collage? For New York artist Ryan Sarah Murphy, plenty — she has made a name for herself in a beautiful patchworking of parts. But it's plenty fruitful for the viewer, too. Your eye wanders, as does the mind, with her abstracted takes, crafted from everyday materials like found cardboard and book pages. Is it architecture, is it terrain, or something else entirely? Decide for yourself and check out her works here and at The Drawing Board, a group exhibit currently on view at the District of Columbia Arts Center in Washington, D.C.
My interest in art began when…
I'm pretty sure it has always just been there…
I'd describe my style as…
Materials-based, process-driven, handcrafted, intuitive.
My signature technique and where it comes from…
Everything I make is born out of some form of collage or assemblage of particular objects. I like the act of constructing something new through a process that builds and destroys at once — where the addition of one layer can then subtract what's underneath. Each mark or maneuver dictates the very next step, so the process of making something is always very much in the moment.
My preferred medium…
I have always been drawn to found, recycled objects, items of little to no inherent value, the ephemera that comes and goes throughout the day. I respond to an object's history of use, the strange energy within a discarded thing that's lost its intended purpose. For me, the starting point of any artwork always exists within the material and it is my job to just pay attention and allow for the material to guide the process.
Favorite color combinations…
Pink and yellow are always vaguely uncomfortable together (in a good way) and shades of orange and blue can give a good jolt.
My very first art love…
I remember as a little kid going to the Museum of Fine Arts in Boston and seeing a Tony Cragg installation of small plastic objects arranged on the wall in this perfect rainbow of color. I remember feeling instantly connected and thrilled at the sight of it. It made the idea of "Art" and art-making suddenly seem so accessible and limitless.
Artist and/or work that changed the way I see the world…
Rachel Whiteread's House and Alma Thomas' painting Red Rose Cantata.
Must-read art sites/publications…
Hyperallergic, Art F City, Colossal, ARTnews, Architectural Digest.
And favorite creative accounts to follow on Instagram…
@annetruitt, @emilyjanehass, @robstrati, @healeymade, @disparateminds and @itsabandoned.
When I get the artist equivalent of writer's block…
I guess I find myself cleaning up my studio, and if I spend enough time casually rearranging stuff without overthinking things, eventually I can settle back into working again.
A good work of art should always…
Pull you in a couple different directions at once.
More to explore in
Culture