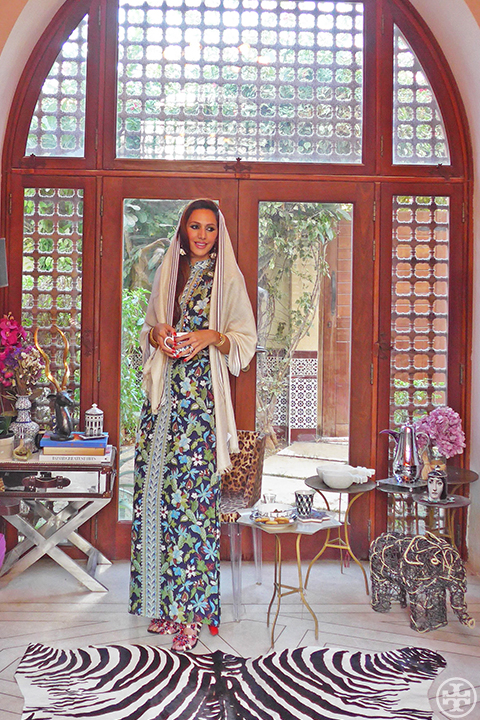 Here wearing Tory's silk dolman-sleeve caftan, Sheikha Raya Al-Khalifa, founder of Wajood consultancy, gives us a primer on the local culture in Qatar — from traditional dishes to the art and music scene.
Qatar culture is…
Rich, feeds all your senses and warmly hospitable. It is exotic and whimsical yet makes anyone feel at home.
The traditional cuisine…
Is greatly influenced by other countries, like Iran as well as India, with thanks to the history of trade. One main dish you will always find in a Qatari household is machbous, a traditional meal similar to biryani. It is made from meats or fish — my preference is chicken — cashews, caramelized onions and spices, all on top of rice. My favorite dessert would have to be umm ali, a sort of bread and rice pudding, served warm and topped with pistachios.
And music…
A trip to Souq Waqif on a Friday night will shed light on the poetic and ceremonial influence we have in our music. Traditional drums and ouds (a stringed instrument) play; lyrics are poetic and folklore inspired, and the Ardah dance — performed by men as they sing aloud, sometimes with their gleaming ceremonial swords, wrapped in tassels, being raised in praise — is joyful and fun to watch.
The art scene here…
Is just exploding right now. We are starting to see artists, both young and more advanced, thanks to the nurturing environment being created for them. And rightly so, as their works are like gleaming representatives of the country, its culture and the people. They break barriers, unite people and preserve our culture in the midst of rapid modern development.
Artists to know…
Yousef Ahmad — his sculptural paintings use local materials like rolled palm-leaf paper. Fatma Al-Shebani, whose impressive sculptures depict strength and beauty with delicate mosaic elements. Bouthayna Al-Muftah creates classic portraits and depictions of cultural beauties, like falcons and scenes of daily life at the souq. She also produces the loveliest prints from palm leaves and geometric designs to make artisan wrapping paper and fabrics. And Noor Abuissa, who produces remarkable sculptural furniture from motifs often seen in Islamic art. The designs are powerful on their own as works of art yet can easily become useful household furniture… which really illustrates the beauty and practicality of Islamic art.
Favorite museum or gallery…
That would be too hard to do here in Doha. Art is everywhere. And since I love both the classics and contemporary, I'm just spoiled for choice. We have the always awe-inspiring Museum of Islamic Art designed by I.M. Pei, which leads to the most beautiful park with Doha's sparkling city skyline as the backdrop and Arabian dhows dotted around. Not far from there is the newer Doha Fire Station, a gallery that invites local and regional artists to be in residence and really gets the community involved with workshops. Mathaf Modern is always a great place; I take my kids there for a dose of more avant-garde art. And Katara Cultural Village is just a wonderful experience where you can pop into galleries as well as exhibitions from upcoming Christie's and Sotheby's auctions.
And architecture in the city…
The new Jean Nouvel-designed National Museum, which is under construction, just fascinates me and I cannot wait for it to open. It literally resembles the rare beauty of a desert rose. It's immediately recognizable as this desert treasure but could have only been made in this modern manner. I think that really sums up the scene here. We are charging ahead, with our mind and hearts linked to the past, not inclusive of Qataris or Arabs, but rather to share our world with others, and not build barriers.
No Qatari home is complete without…
A maglis. Whether small or large, nestled in a room or a building itself, the maglis is a common place for people to gather. It's always open for passing visitors or familiar faces who come daily celebratory events or to casually gather. There is always a pot of qahwa Arabian coffee and tea as well as dates and other snacks to welcome you there. It really shows the culture and the nature of the people.
To learn more about the culture, I'd recommend reading…
Don't They Know It's Friday? by Jeremy Williams. The Middle Eastern approach is less direct than our Western counterparts. We go by the unspoken word and we are known for our hospitality and generosity… This book gives great insight into our ways and traditions. If you are coming for business, for example, don't expect to sign on the dotted line and go on with your day — you will be entertained, fed and welcomed like a family member! Other books that I would say to explore would be visual coffee table books on our beautiful landscape: Museum of Islamic Art: Doha, Qatar, the in-depth exploration of architect I.M. Pei's creation with J.M. Wilmotte interiors; Qatar: Sand, Sea and Sky, a divine visual escape, and any book on Arabian horses. They are beautifully majestic. You will, no doubt, be inspired.
And the films that show Qatar culture best…
The best films to watch would be historical accounts. I also love the cinematic images from Lawrence of Arabia — the clothing, which is much unchanged, the landscape and culture are all beautifully captured — and am also eager to see The Desert Queen, starring Nicole Kidman as Gertrude Bell. Additionally, I would like to mention a particular scene from Sex and The City 2 where ladies, in our national dress, the abaya, unveil their long black covers to show Western fashions and strong, educated and independent minds. Our women are a force of nature and sometimes that is not communicated through cultural appearances. It was wonderful to see that distinction because it is very true.
More to explore in
Travel