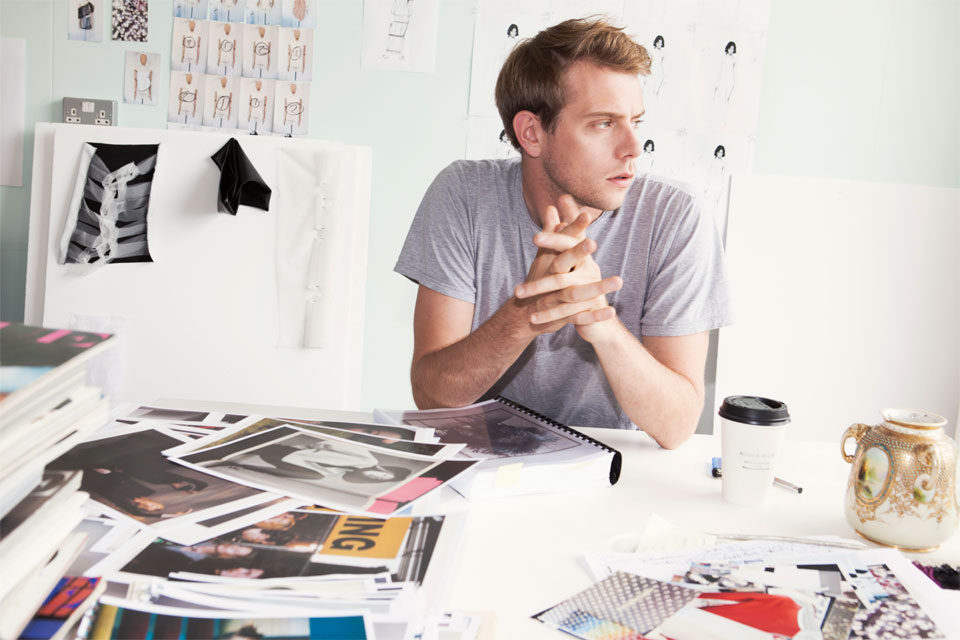 Few designers speak boy-meets-girl better than Jonathan Anderson, whose signature J.W. Anderson men's and women's collections have won him fans for their masculine/feminine silhouettes, subversive details and impeccable tailoring. And now that Anderson has also taken over the design reins at venerable luxury brand Loewe, the young designer's Fashion Week has gotten even busier. We managed to grab him for a few minutes to discuss the inner workings of a typical pre-show schedule with him.
Favorite Fashion Week memory…
I think my favorite memory would be when I did my first women's wear show in London, at Somerset House. It was a room that fit 40 people, and it was a collection that we had taken directly from the men's. That kind of moment of newness made it very exciting, because it was where everything began.
I stay sane by…
Going home at a reasonable hour and being able to turn off completely and not actually thinking that I'm doing the job that I'm doing.
My pre-show rituals…
For women's, usually we like to go over the board… over and over again, to the point we change the running order until its right. And post-show? Drink with the team.
I balance designing collections for two different labels with…
Time management.
In the studio, I listen to…
A lot of the show music on repeat.
People would be surprised to learn that during FW, I…
Sometimes have too much time.
If I could attend any show in history…
I would like to have seen an Yves Saint Laurent show by Saint Laurent himself.
The first thing I do after FW is…
I start the next show.
My FW by the numbers…
Hours slept per night on average: I'm quite good in terms of time management now… compared to what I used to be. I usually have a full night's sleep, a good eight hours.
Take-out dinners: Always take-out dinners (haha), I never cook.
Coffees/teas per day: 5+
Models seen: 400+
Interviews given: 20+
Looks started from scratched or scrapped all together: 0