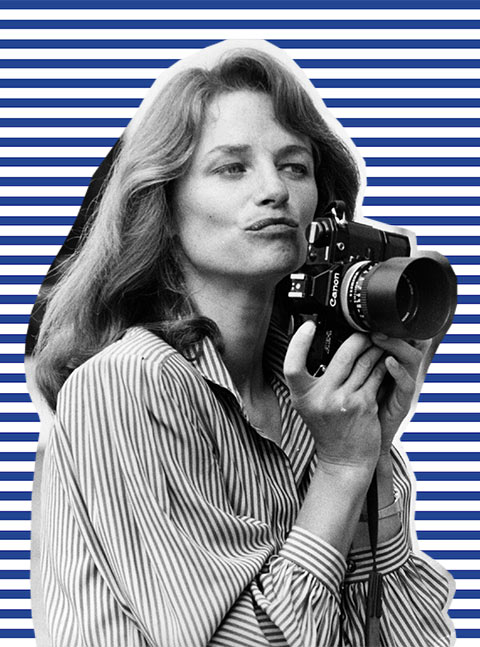 In France, her nickname is La Légende. Elsewhere, she's known as The Look, a moniker given to her early on during her 50-year career for a seductive yet piercing and defiantly cool gaze. On film, this Paris-based actress — who's worked with Luchino Visconti, Lars von Trier, Woody Allen and Sidney Lumet — has played everything from a concentration-camp inmate and a noir femme fatale to a neurotic ex (courtesy Allen, of course) and a bourgeois wife who has an affair with a chimp. She's a fashion icon, who's both received the Légion d'Honneur and been named Officer of the Order of the British Empire. She was the first to pose nude for lensman Helmut Newton. And, oh, she was initially discovered and scouted on the streets of London — for a Cadbury chocolate ad.
Charlotte Rampling's life and career doesn't follow any tidy narrative; it's one surprise turn after another. Born on February 5th, she's an Aquarian and Aquarians are rebels, ruled by unpredictable Uranus. They're adventurers, independents and, as astrology expert Susie Cox writes, "the bohemians of the world and [they] pride themselves on being different." Which sounds about right for the magnetic and still beautifully captivating Rampling, currently playing a lawyer on UK drama Broadchurch. ""Ever since I was a small child," she told The Guardian in 2011, "I've had this feeling — it's in my nature, and so it's not even pretentious — that if everyone's going one way I will go the other, just by some kind of spirit of defiance."
To discover your horoscope from Cox, now that we're in the air sign of Aquarius (January 20th – February 18th), keep reading.
Aquarius
Mercury will be retrograde in your sign of Aquarius from January 20th until February 11th. This is the time to rethink your life and release any old inhibitions so you can feel free. The goal of an Aquarius is always freedom.
Pisces
Feminine Venus and passionate Mars are joining in Pisces this month from February 3rd to the 18th. This could be a very romantic time for you. If you're not in a relationship now and want to be, this might be your chance.
Aries
After a testy day on January 24th over possible confrontations with people in positions of power, you will be redeemed the very next day with success. If you don't overreact and stay calm, you will be rewarded.
Taurus
Even though your Taurus sun doesn't like too many sudden changes, this month could bring some new opportunities to you professionally. Can you be flexible and expand into something new?
Gemini
Your power dates are from January 28th to the 30th when your creativity will be off the charts. Luckily, you will also have such a strong focus that your project will be completed easily.
Cancer
The theme of this month will be around your family. It's likely that there is a powerful person who will impose his or her will on others and cause some irritation. But never fear, because your will be the one who saves the day.
Leo
Jupiter is in your sign of Leo now, bringing you an entire year of grandness. The full moon on February 3rd is in Leo and will join Jupiter in the sky, not only giving us a beautiful spectacle to watch, but also shining its bright light on you, Leo!
Virgo
Virgo is the most organized of all the signs of the zodiac, but from February 5th to the 7th, you will feel more creative than logical. See if you can do something artistic on those days and you might be surprised at your talent.
Libra
Your sign of Libra is all about relationships and this month will test them. Don't be surprised, because you might have changes in your love life. Be proactive and make sure you get what you want.
Scorpio
Venus and Mars are joining this month and Scorpio is very harmonious with that sexy pair of planets. This is a sensual month for you, especially around February 11th to the 14th.
Sagittarius
On Valentine's Day, the Moon will be in your sign of Sagittarius and also aligns with your planet, Jupiter. February 14th falls on a Saturday this year, so try to take a little romantic road trip. Love is in the air.
Capricorn
Your power dates are February 15th to the 17th, when you will be put in a position of authority and will have to make some serious decisions. Once it's done, you will feel very relieved.
More to explore in
Culture