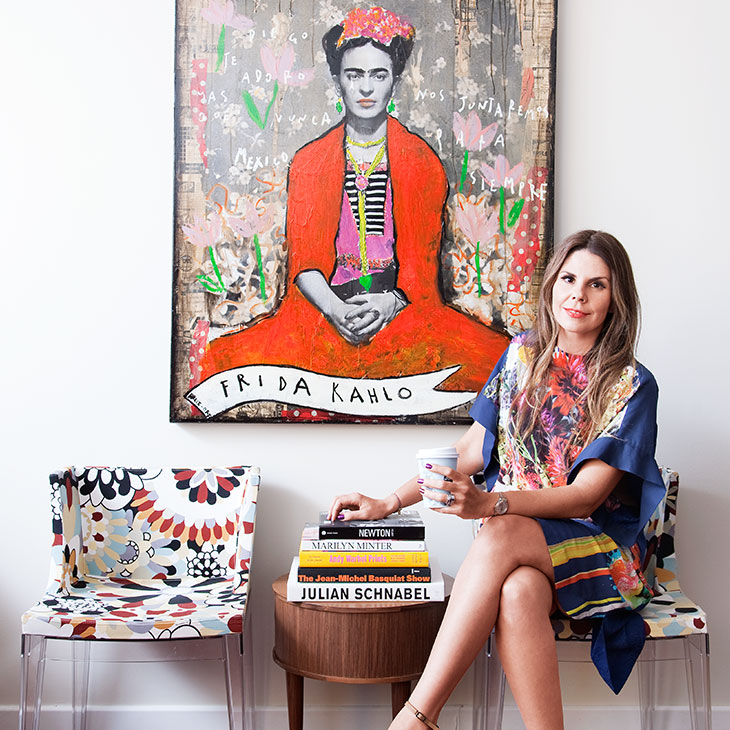 As Art Basel Miami Beach continues this weekend, we turn the spotlight on Maria Brito, a former attorney who's carved out a career in the overlap between art consultant and interior decorator, helping clients curate their living spaces. Or lifestying, as she calls it. Here, she shares her expert guide to livening up your home with contemporary art. On a budget and living in a shoebox? No matter — she's got tips for you, too.
Lifestyling is…
Similar to styling an outfit that fits perfectly well to someone, but it doesn't have to be one brand head-to-toe and it doesn't have to be all beige or monochrome. It's highly tailored to the lifestyles and preferences of my clients, following my aesthetic sense and always, always including contemporary art.
And I chose that name for my company because…
When I was looking for a name, I didn't want to pigeonhole it in the "art" or "design" categories. I wanted to help people create a lifestyle that is fun and functional, surrounded by beautiful things and most importantly art. And because "lifestyle" is used either as a noun or an adverb and I wanted something dynamic and fluid, I created my own verb and called my company Lifestyling by Maria Gabriela Brito. A few months after, I even trademarked the word "Lifestyling" and it became an asset of my business too.
Tips to displaying art at home…
Investing in bold and bright art pieces that are optimistic and make people think and feel while, at the same time, engaging the eye. I also tell my clients to go more subdued in bedrooms unless they are fearless and willing to go all the way, like hanging a Tracey Emin neon on top of a headboard, for example. I subscribe to the idea that if people don't have a lot of art, bigger is better because it will really create an impact and become the focal point of a room, taking it to the next level.
First steps for new homeowners…
Start by planning carefully. Most people commit the mistake of impulsively buying things out of a catalog or the internet because they need things "now" and then the pieces don't work, or they look dated within months. I feel that the best investment, short of hiring a professional, is to do extensive research and combine sources that add depth to a space and make them feel curated. That means that high, low, chain stores, vintage shops, flea markets, galleries and everything in between should be considered.
And if you're working with a small space…
I think people get confused with the scale quite often and feel that a small space calls for small furniture and small art. Actually, the opposite is true. A small space can look bigger and complete if the pieces are large enough to make the room come together — and if the space is anchored by a medium-to-large art piece, even better.
And if you don't know what your "style" is yet…
Research, plan, look at design magazines, look at the many amazing design and decor websites and blogs that exist and use social media platforms, like Pinterest, to organize ideas and styles. Within a few weeks, I'm pretty sure that most people will find a common denominator and whatever color scheme and/or style is repeated would be an excellent starting point.
If you're starting an art collection…
Do your research, go online and check the art websites that are content-driven (like Artinfo and Artnet); check the websites that sell art like Artspace and Artsy and go to local galleries. It's very much about "buy what you love but first know what you are doing."
Advice for the budget collector…
See above. Art websites like Artspace and Artsy really provide great value nowadays. Prints and editions are extraordinary ways to start and you still get an original from a respected artist for a fraction of what you'd spend if you were to get a one-of-a-kind. Also, there are many galleries that work mostly with emerging artists who are exceptionally good. Support those galleries and learn about those artists.
The must-visit art fairs and festivals around the world…
Art Basel in Switzerland, Art Basel Miami Beach, Frieze in London and Frieze in New York City. I also like the different versions of NADA.
Wallpaper vs. colored wall vs. wall decor…
The best wall decor, for me, is and will always be an excellent piece of art. But I don't want to treat it as "decor" — I want people to know that it is an investment that will grow in time, emotionally and, hopefully, financially. I do love wallpaper very much, though. I like many of the European brands and local brands, like Flavor Paper, which has done an amazing job. It even launched an entire line based on Andy Warhol's sketches and paintings. I love bold and dramatic, but I know that a lot of people can't go that way — if looking for a more subtle option, I think texturized wallpaper in solid colors can also bring depth and warmth to an otherwise drab space (but I will still hang a piece of good art on top of the wallpaper)!
A quick and easy way to update the home for a dinner party…
I love intensely colored tablecloths and a very cool and eye-catching dinnerware set. There is a store in Paris called Sentou that sells amazingly beautiful tablecloths. Sometimes the MoMA Store also has cool tablecloths brought to life by art and design collaborations. As for dinnerware and plates, either mix and match different styles for an original look, or go with a more traditional (but still edgy) look, like what Paola Navone did for Crate & Barrel, which was so incredible and so affordable. I also love the collections that Bernardaud has done with contemporary artists. They are relevant, chic and true conversation pieces.
More to explore in
Culture