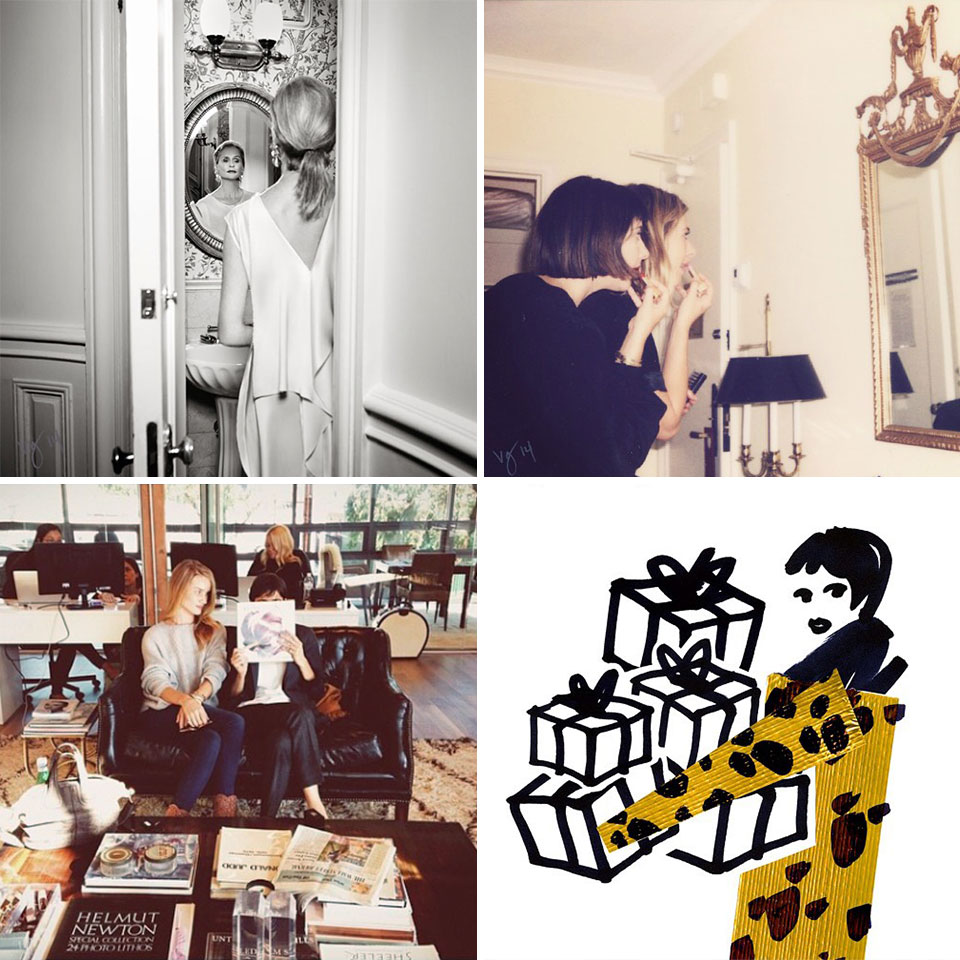 Is it e-commerce or is it editorial? Why split the two? In today's world, it's increasingly about both and, when it comes to beauty, few address the two as seamlessly as Violet Grey. It's becoming a fast favorite of ours. We love the site-wide inspiration in Hollywood glamour — Founder Cassandra Huysentruyt Grey is the wife of Paramount chief Brad Grey and pulled its "violet" moniker from the color of Elizabeth Taylor's eyes. We love the magazine-worthy stories and the shoots — they wrangle red-carpet talent such as Emily Blunt and Eva Mendes. And of course, we love the tutorials and the tips. So with the social holiday season upon us, Editorial Director Christina Han shared her master class on cocktail-party prep. Her insider guide here covers all do's and don'ts, including how to avoid tricky late-night smudges and tired morning-after eyes.

A Violet Grey holiday party is never without…
A Polaroid camera.
My favorite beauty trend for the holidays…
It's not so much a trend, but I do love how the holiday season inspires women who usually do not wear red lipstick to do so for a cocktail party. I love seeing all those crimson pouts!
Insider tips for the perfect party lip…
Lip liner! Especially if you're going for that festive red. The best trick is to select a lip pencil that closely matches the color of your natural lip, not the lipstick (a trick for those afraid of that Nineties liner look). Line the mouth, then completely fill in with the flat side of the pencil. Apply your favorite bold lip color, then go back in and perfect the outline with Lipstick Queen's Invisible Lip Liner. It will prevent colors from bleeding or feathering and since it's clear, you won't be left with an outline once your lip color has faded away.
And to avoid unwanted lip stains…
Unless you have a lip color tattooed onto your lips, it's almost a guarantee that your lipstick (or gloss) will transfer onto a wine glass, champagne rim or the lips of your love. However, matte, longwear formulas like Hourglass' Opaque Rouge Liquid Lipstick will act like a stain and leave behind a velvety finish on the lips that hardly leaves behind a trace of its existence, anywhere.
Insider tips for the perfect party eye…
For a tutorial on a five-step party-eye look, Violet Grey contributor and makeup artist, Melanie Inglessis, suggests creating a wide-eyed lash look with the assistance of two mascaras: Tom Ford Extreme Mascara in Ravenous Black for top lashes with volume and Bobbi Brown Smokey Eye Mascara in Black for defined bottom lashes. [Read Melanie's full tutorial here.]
And to avoid late-night raccoon eyes…
NARS Smudge Proof Eyeshadow Base is a must for keeping eye makeup in its place, all night long. That, and a close confidante who lets you know when a touch-up is necessary.
And to avoid tired morning-after eyes…
Drink as much water as you do champagne. Then in the morning, dab on La Prairie's Essence of Skin Caviar Eye Complex. You will instantly feel a tightening effect and since it's a serum, it really penetrates the skin and leaves the area looking plump and hydrated.
Favorite holiday manicure…
JinSoon's Jasper. It's a rich, deep, burgundy-red with tiny, metallic flecks which gives the manicure a hint of dimension and fun factor that still looks and feels sophisticated. It's the color I chose for my wedding day as well.
Holiday-party etiquette…
Do lipstick touch-ups in the powder room; it's where the best secrets are told anyways. Don't forget to write a handwritten thank-you note to the host.
More must-read features on party prep…
Our lesson in party makeup touch-ups, here on Violet Grey.
Lastly, the beauty bug bit me when…
I was little. My grandmother used to wrap my nails in the Korean bongseonhwa flower (touch-me-nots), which would stain them a light orange-red after an hour or so. Afterwards, I would always feel so pretty and suddenly much more ladylike, even at the age of six.
More to explore in
Beauty