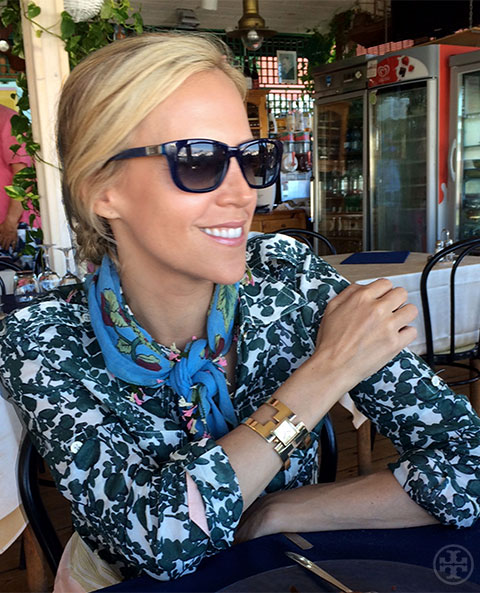 Tell us about the watch collection. What inspired it?
I'm so excited about it. It's inspired by vintage jewelry, color, art and travel — all the things I love.
What can we expect?
The collection includes seven groups, made with the highest level of Swiss artisanship and precision — that was really important to us, to have that level of craftsmanship that these watches would last as long as the ones my parents and grandparents had. We incorporated our favorite design elements: fretwork, geometric designs, a touch of saffiano leather (in the straps) and our double-T logo.
How did you come up with the names?
I love bringing in a personal aspect to our designs. The watches are named after my parents Buddy and Reva Robinson, and two of my children, Izzie and Sawyer. The Sawyer — which I'm wearing here — is inspired by a favorite vintage cuff I have, but it's named after my youngest son… but I always say he's an old soul, so it worked!
Do you have favorites?
I really like them all. We spent so long perfecting and tweaking them. I wear our Tory (not just because it's named after me) — I love that it's a masculine, bold shape that we made just a little bit more delicate. Perfectly tomboy. Our Robinson is limited edition, to celebrate our company's 10-year anniversary. It's like a piece of jewelry, with elements pulled from our archive (like fretwork and brass). There are only 500 and each is signed and numbered on the case back.
What are some cool details that make these watches stand out?
Each watch has a distinct personality and a different set of details. The Reva, for instance, comes with either single- or double-wrap Italian leather straps, and we wanted a wide array of colors. The Izzie's square case is inlaid with fretwork. The smooth, geometric cases of the Buddy are a strong, geometric design that we did either smooth or etched with a grid.
How are you celebrating the launch?
We put together a really fun film, directed by James Lima. Set to The Way I Feel by Bestfriends, it takes you through a metaphoric day in the life of our models. And we have a special issue dedicated just to the idea of time on Tory Daily this week. It's a good topic of discussion!