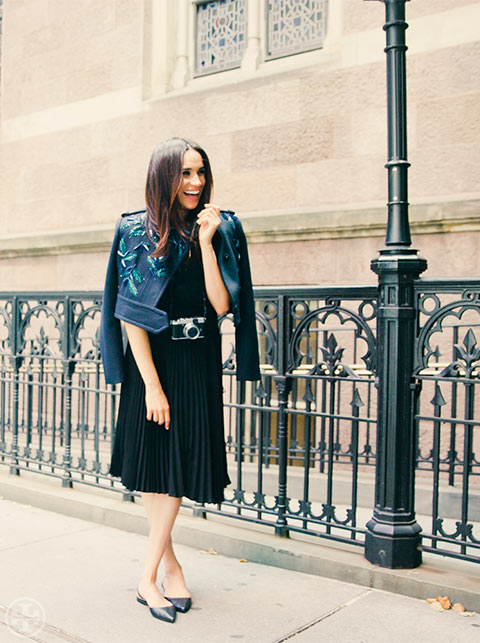 The Suits actress recently found time between filming to launch her own lifestyle blog The TIG. In between shooting in Canada and her next foodie and travel stories for The TIG, we caught up with her in New York City, where she styled her favorite look from Tory's collection, the cropped version of our Tasha coat. Next up: New York Fashion Week in between Suits shoots.

The inspiration behind The TIG…
I have always loved food and travel, especially with my mom being a travel agent. We would go to off-the-beaten path places (Oaxaca, before it was cool to take a molé cooking class there, small parishes in Jamaica, etc.). In the past few years, my access to fashion and beauty has broadened, and I have started to understand things in a different way. That feeling of "Oh…right, so clothes aren't just fabric, they're art." Or: "Right, I get it, that a finishing salt will brighten a dish better than Kosher salt." All of those aha moments came to me around the same time, and I felt an impulse to share them.
And the inspiration behind the name…
Tignanello is a full-bodied red wine that I tried about seven years ago. In wine circles, it is nicknamed "Tig." It was my first moment of getting it — I finally understood what people meant by the body, structure, finish, legs of wine. The TIG is my nickname for me getting it. Not just wine, but everything.
Favorite things to write about…
Travel and food. I love being the go-to girl for where to go when you find yourself on the outskirts of Bangkok, and where to find that perfect plate of pad thai that makes you wonder what you've been eating all these years. I also love writing about beauty because I want to reframe the way people define that word. My stories on beauty are not just about a face cream — they include poetry, handwritten notes, meditation…
How I balance filming and The TIG…
I do what I can when I can. I write 100 percent of the content — much in between scenes in my trailer or on weekends. I have someone helping with posts and emails and doing graphic design for certain posts. But the bulk of the photography and writing is my labor of love.
The stories my character Rachel on Suits would like most…
They made Rachel a foodie on the show because they know that's a huge part of my personal lifestyle. She would obviously love the Chef Talks features, but she would also fawn over the fashion posts.
Upcoming stories I'm particularly excited about…
I have a new feature called Anatomy of Design, where I talk candidly with designers about the specific impetus of two pieces in their collection: Why that cut, that color? What will this make you feel when you look at it 10 years from now? I love knowing how things work and getting inside of the head of an artist, be it a chef or a designer.
And some contributors we can expect to see…
Of course there are more chefs in the pipeline, such as the duo behind Edi and the Wolf in New York; incredible artists (Gray Malin, who I am fawning over at the moment), and a good friend of mine, Serena Williams, who I think is going to make a fantastic comeback at the US Open. I will be there cheering her on.