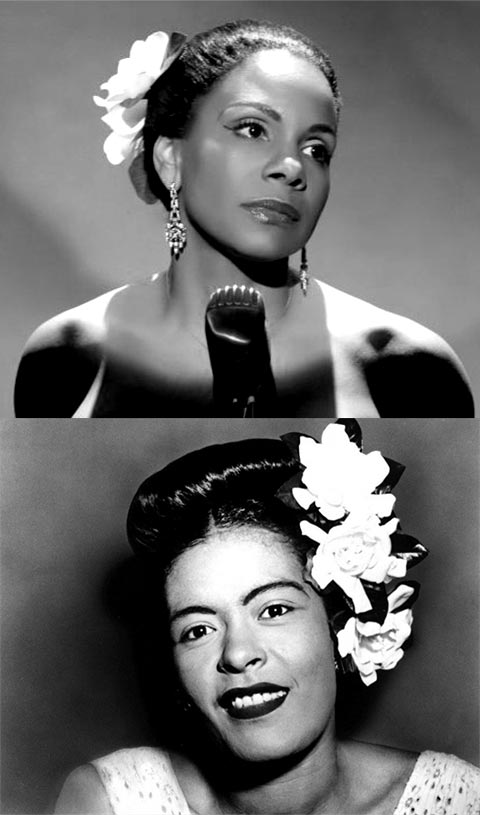 Anyone who's familiar with Audra McDonald knows the Broadway star has the booming, classically trained voice of a soprano; it's served her well through numerous musicals (Ragtime, A Raisin in the Sun), solo albums (five and counting) and countless concerts from Carnegie Hall to the White House to the Kennedy Center Honors. Which is why seeing her slip seamlessly into the raw, vulnerable voice of Billie Holiday in the play Lady Day at Emerson's Bar & Grill — and a ravaged Billie Holiday in the months before her death, no less — is awesomely impressive. We're not the only ones to think so. Just last month, Audra picked up her record-breaking sixth Tony Award for the role. Here, she takes us behind the scenes and into the shoes of the jazz legend.

My pre-performance ritual for Lady Day…
Is basically to be as quiet as I possibly can and by myself. I don't like to talk before I get on stage. Some people think I am mad at them, but it's just that I get quiet and inward. I am preparing myself to turn my soul inside out.
To get into the character of Billie Holiday…
Every night before I go on stage, I listen to Billie Holiday on my iPhone and put on Tweed perfume, which is what Billie used to wear. I interact and walk by people in the show, and it's important to me that they smell Billie, not Audra. I also put gin behind by ears and on top of my nose so I can smell what she smelled and felt.
And to change my voice to hers…
My grandmother actually had a speaking voice very similar to Billie Holiday's speaking voice. When I was a little girl I used to imitate my grandma's speaking voice, so I've been using her voice as my jumping off point. It's like I am imitating my grandmother, and then I go from there.
Favorite song of hers…
My favorite song, from the show, is What a Little Moonlight Can Do. My second favorite is Don't Explain because Billie wrote the song about her own relationship, which is just heartbreaking to me.
And favorite moment from the play…
One moment I have a lot of fun with is when Billie sings Pig Foot (and Bottle of Beer). The song comes during a part of the show when Billie is feeling good and happy to be performing. The Circle in the Square Theatre is set up like a club with many of the audience members sitting at café tables, so I sing the song while surrounded by the audience. You never know what can happen!
The biggest challenge in playing her…
Making sure no part of my singing voice or speaking voice makes its way into the theater. The moment I get on stage, it's all Billie.
If I could meet Billie now…
I would tell her how brave I think she was. She was a fighter. I am not sure anyone else born into her circumstances would have survived as long as she did. She fought. She fought to get up every single day. She believed in who she was as an artist and refused to back down.
As a child, I never stopped listening to…
Growing up, I wore out records of the original cast albums for A Chorus Line and 42nd Street. I played them over and over and over again.
The albums that changed my life…
Same as above.
My favorite musical to watch as an audience member…
That's a tough question because there are so many musicals that I love! I guess anything with my husband [Will Swenson] in it.