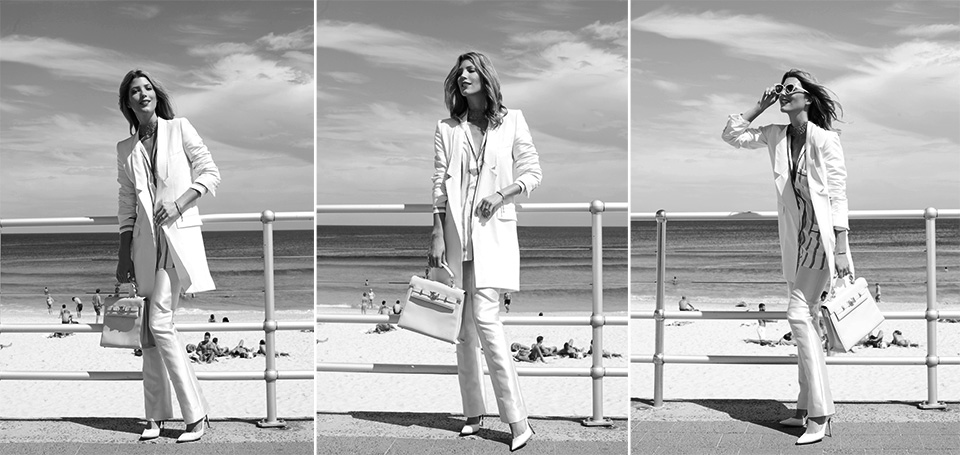 She was born in the coastal country of Croatia and now lives just steps from Bondi Beach in Sydney — it's safe to say that Tanja Gacic is drawn to the water. The model-turned-blogger behind My Empirical Life, here wearing Tory's Prisca pants, chats all things beach with us.
My style…
I coined the phrase "multiple sartorial personality disorder" to describe my style. Music has shaped a large part of it — I have gone through hip-hop, grunge and Nineties house music phases, so these are still a part of my style even if only as references. I also love vintage clothing and am a total magpie for vintage jewelry — the glamorous heroines of old inspire me.
The inspiration behind My Empirical Life…
After travelling the world and modeling for 15 years, I wanted to branch out and try different things. I always loved photography and writing, so I decided to start a blog to indulge these parts of myself after I gave birth to my daughter Coco.
And its name…
I loved My So-Called Life when I was a teenager, and empirical is a word I have always liked.
Best beach spots in Australia…
I live across the road from one of the most beautiful and famous beaches in Australia, Bondi Beach. It is really special living in a place where you are 15 minutes from an urban environment but can have a swim each morning. I'd also say head to Byron Bay's Wategos Beach for its bohemian vibe and beautiful white sand, Broome's Eighty Mile Beach for its wide, wild beach or Margaret River for amazing coves.
And Croatia…
I love Bonj Les Bains on Hvar island, Stiniva Cove or Srebrna Beach on Vis, and I have a special spot in my heart for Mljet and Mali Lošinj, where you can always find a secret cove in the pines.
Beach style in Croatia vs. Australia…
In Sydney I dress a bit more urban beach — denim cutoffs, logo tees and fedora hats — but when I visit Byron Bay, I like to go full hippie with lots of paisley, moccasin boots and beads. In Croatia I go for a more nautical, Euro vibe — white shirts, navy shorts, big labels, Hermès scarves and lots of gold!
Beach beauty tips…
To counter dryness and dehydration. I use organic or natural sunscreen such as Invisible Zinc, then after the beach slather myself with coconut oil top-to-toe and follow up with a hydrating mask for the hair by Melvita, hydrating body lotion by John Masters Organics and rose hip oil and the Advanced Renewal Moisturiser by NUDE Skincare for the face. Then, all you need is a dab of Guerlain bronzer and some YSL mascara for the night! Inwardly, I supplement with lots of vitamin C and E to counteract cell oxidation, and I guzzle fresh vegetable juice and alkaline water as it makes my skin look amazing.
Favorite beach reads…
Anything by Henry Miller, Charles Bukowski, Gabriel García Márquez or Haruki Murakami.
Favorite games to play with the kids at the beach…
My daughter is quite a tomboy, so we play things like "Who can dive out to an object in the deep?" We start shallow and progressively throw the object deeper and deeper. I always pretend that I can't dive as deep as she can! We also surf together. Then in Croatia, we have a special cove where tiny shrimp come and clean your feet. It tickles so much but we squeal so much — it's fun!
My packing tricks…
I try to be practical, although I don't think practical is a word in my vocabulary. It never works = hello, excess baggage!
My tip for traveling with kids…
I like to take lots of organic snacks, colored pencils, a pad of paper that serves as a travel diary, an iPad loaded with fresh movies and apps (very important!), lavender oil for rubbing into temples (Go the **** to Sleep by Adam Mansbach comes to mind a lot on planes!), noise-cancelling headphones, a cashmere throw and Slip's silk eye mask for both of us. Lots of water and absolutely no refined sugar or carbohydrates (and thus no tantrums)!