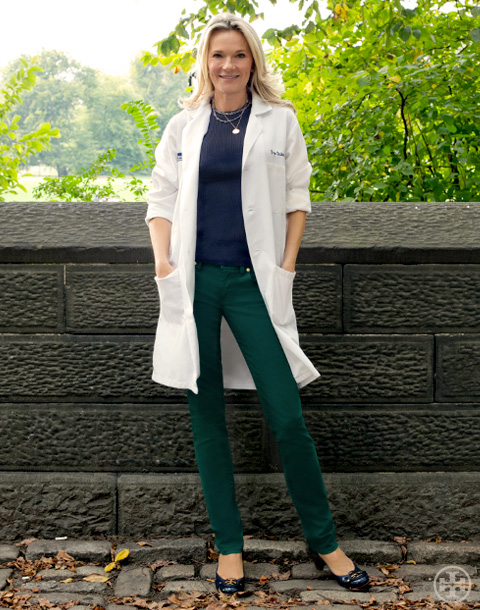 Not only did this breast cancer survivor work her way through medical school
to receive an M.D. from UCLA, but she and husband Glenn Dubin founded
the Dubin Breast Center at New York's Mount Sinai Medical Center.

7:15 AM

Wake up and have strong coffee and toasted mana bread while reading The New York Times on my terrace.

8:00 AM

Conference call with the Karolinska Institute in Stockholm. Discussing collaboration in breast cancer research.

9:30 AM

Call with Gretchen McGarry regarding the Dubin Breast Center Gala in December.

10:30 AM

Jump on to my kick scooter, travel up to the Dubin Breast Center for a meeting with Jennifer Ashton, our masseuse, to discuss expanding our massage program.

12:00 PM

Meeting with Melissa Bellino, Dubin Breast Center office manager, to go over new carpets in the waiting rooms.

12:30 PM

Walk in the park, right outside the Center, while returning morning phone calls.

1:30 PM

Lunch in the Dubin Breast Center: homemade granola, kefir and a huge salad with tons of nuts, dried fruit, lentils and grilled vegetables.
2:00 PM

Meet with Dr. Elisa Port and Dr. Kerin Adelson to discuss a new clinical trial we are planning to start.

3:30 PM

Give a tour of the Dubin Breast Center to a group of women from Connecticut.

4:00 PM

Leave to go out to Randall's Island to see my 17 year old daughter play varsity soccer for Trinity School.

7:00 PM

Family dinner at home

9:00 PM

Catch up on emails and prepare for tomorrow.

10:00 PM

Together with my husband, try to get all three kids to bed.

10:15 PM

Quick work out at David Barton Gym.

11:30 PM

Bed time
More to explore in
Experts