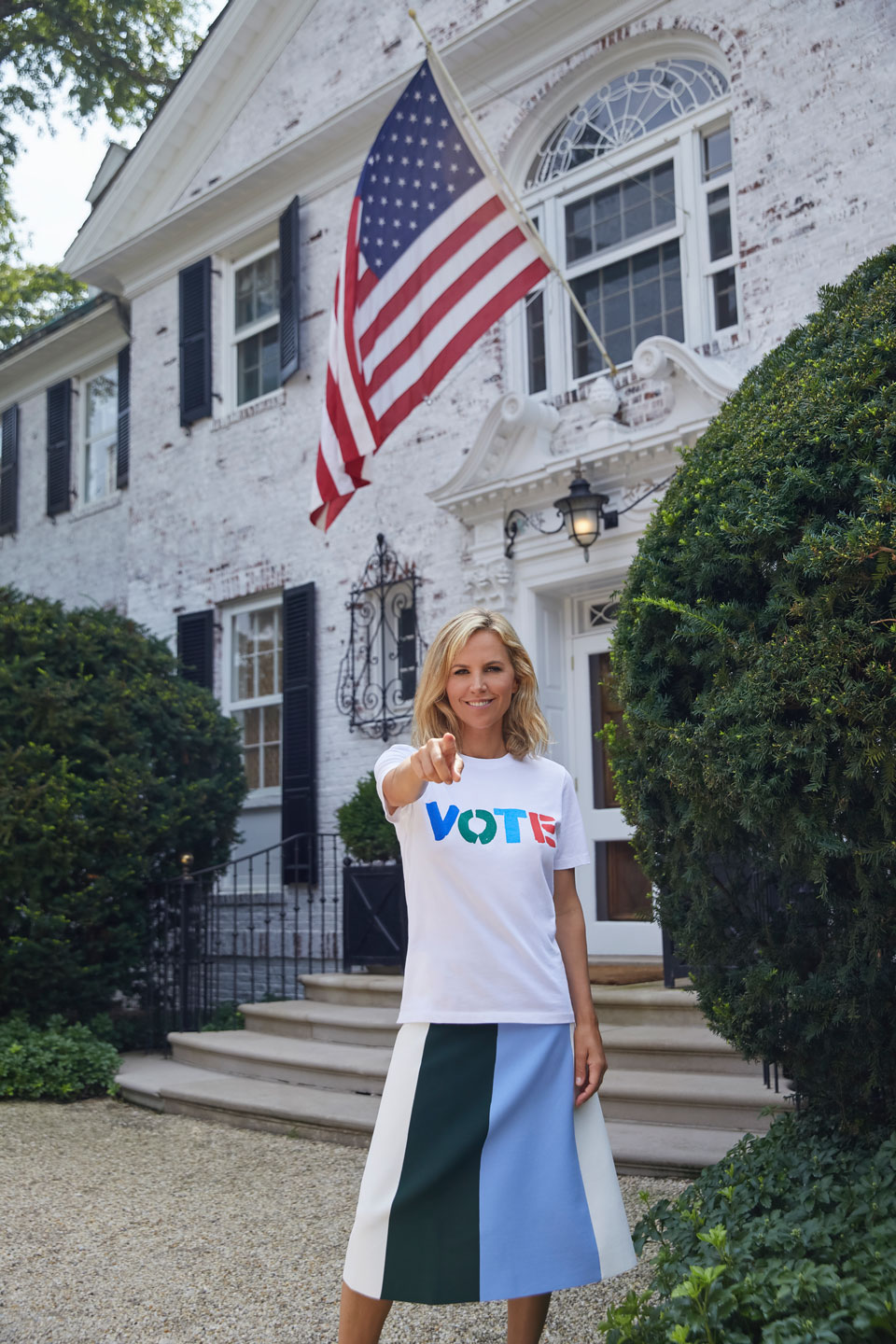 We talk to Tory — above wearing the new Vote t-shirt — about the #ownyourvote campaign and the importance of going to the polls.
Why launch #ownyourvote and create this t-shirt?
Today, voting can be taken for granted, resulting in consistently low turnout in the U.S. In the 2016 general election, 58% of Americans voted and only 40% voted in the 2014 midterms. That's dangerous. When we choose not to vote — when we choose not to facilitate voting by the broadest numbers of people possible — we risk weakening our democracy.
To raise awareness about the importance of hitting the polls in the upcoming midterm elections, we at Tory Burch have launched a campaign, #ownyourvote, and have created a limited-edition Vote t-shirt, available in our U.S. stores and at toryburch.com. We are thrilled that 100% net proceeds of the Tory Burch Vote t-shirt benefit Eighteen x 18 and its upcoming summit.
Tell us more about Eighteen x 18…
It's an exciting and innovative new platform launched by Yara Shahidi that is encouraging her generation to get engaged about registration and voting. It also — and this is so important — helps people of any age learn how to get real information about issues that will impact their lives in their districts and states. On September 29th, Yara and her peers are hosting a summit in Los Angeles, bringing together people from across the country — and parties — to discuss important issues and how to address them with elected officials in meaningful, impactful ways. There will be representatives from every state there for workshops, panels and more. It's incredible to see the upcoming generation so organized and mobilized.
How else is Tory Burch supporting registration and voters?
I'm extremely passionate about this issue. In our offices we will be setting up registration portals for our employees and are encouraging them to help their friends and family register. On Election Day, November 6th, every Tory Burch employee has #TimeOffToVote.
Voting is something we must never take for granted; it's a pillar of our democracy. We all need to do what we can to ensure that everyone registers and has a way of getting to the polls. It's not about political affiliation; it's about having a voice.
What are your first memories of voting?
I was a freshman in college the first time I voted. A group of us were going to a rally for Ronald Reagan at the University of Pennsylvania and decided to go to the polls together. I remember how excited I was to make a difference. Since then, I have voted every election, local and national — and I still feel the same excitement and power when I step up to the voting booth.
More to explore in
Culture